Here our top 10 goals for homeschool middle school!
Top 10 Goals for Homeschool Middle School
Sometimes homeschooling parents get into a tizzy about homeschool middle school. They feel pressure to  "prepare for high school" or start earning high school credits ahead of time. What if their middle schoolers aren't advanced enough when they reach high school age? Will they be failures?
The problem with putting tons of pressure on homeschool middle schoolers to prepare and perform at high school level is that they miss crucial developmental experiences they need during the tween years.
This pressure to push into the future and miss living in a healthy present reminds me of when my oldest two sons were in middle school. They both pitched in their local Babe Ruth and travel teams. Their coaches were always reminding them to not overwork their pitching arms because their bones were not developed enough to do lots of curve or fast balls.
Middle schoolers are supposed to be exploring and finding areas where they feel confident. Unless God called them to be prodigies, they are not supposed to be mastering or performing above their intellectual, cognitive or physical abilities. Middle schoolers were created by God to have brains that enjoy the present!
With that in mind, here are the 7Sisters' goals for our middle schoolers:
1. Have fun
These are the last years before the kids have to worry about transcripts. We make the most of middle school with:
Lots of good field trips
Co-op experiences
Hands-on projects
2. Love learning
As much as is practical, we try not to overwhelm our kids with busy work and boring just-fill-time lessons. We look for interesting activities and books so that the kids learn to love learning. (Well, most of our kids don't love math- that subject has been about learning self-discipline.)
3. Develop perseverance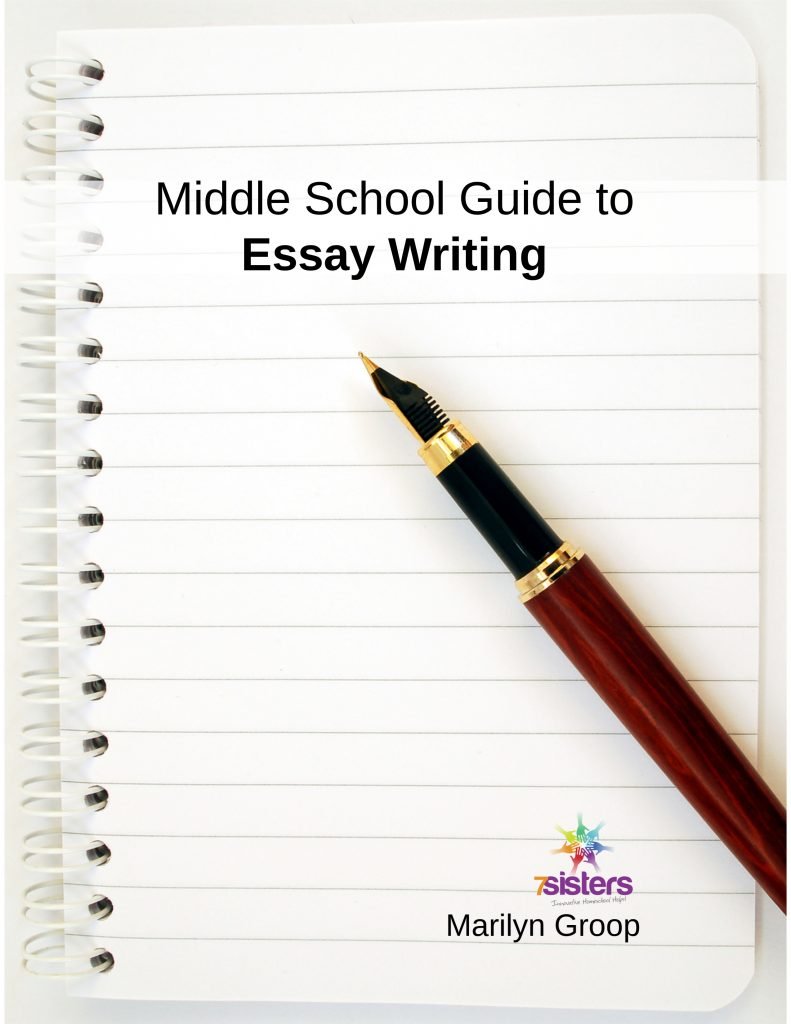 My kids never got out of bed in the morning asking if they could do math before breakfast or an extra lesson of grammar. However, they learned to persevere through the boring subjects because we didn't waste time with mere busy work texts. Busywork=frustration. Frustration is very different from perseverance. That's why we developed 7Sisters Middle School Essay Writing course. It is a good introduction to the necessary 5-paragraph essay, without busywork.
4. Get used to textbooks
We use texts for math and workbooks for vocabulary, spelling, and grammar and ease into science textbooks for some of our kids, at age- and ability-appropriate levels.
5. Have some great group experiences
Our middle schoolers participate in our homeschool youth groups and choirs, and umbrella school and/or co-op classes. They are also involved in church activities and some are into group sports.
6. Work on skills
Our kids have tried on a variety of hats during middle school. Various kids have participated in team and individual sports, riding competitions, service opportunities, bands, choirs, dramas, art classes. They begin learning more adulting skills at home, also.
7. Begin identity formation
We help our tweens begin to discover the identity that God has created for them. We do this byimmersing them in atmospheres we value (family time, church, homeschool community). We give them rich experiences in life. We try to model and discuss the values that are important.
8. Give them opportunities to know the Lord          
MOST important to us was to lovingly provide experiential knowledge of our faith our through living life together, through discussion, through reading, through music, through role models, through experiences, and through praying together.
9. Teach them social skills
Middle schoolers feel awkward. It's part of being a tween. We empower them to handle themselves with confidence with some simple, basic social skills. Most of our kids learned these skills in late elementary but many of them need a solid review in middle school. The basic 10 skills are in 7Sisters Social Skills ebook.
10. Develop character

Middle school is the time to start thinking of others first. We know from Human Development that adolescents can become *egocentric/self-centered*. Doing service projects in the neighborhood and at church is one way our middle schoolers have developed good character and avoided that egocentrism.
We're hoping your middle school years are your best years yet!
7Sisters email subscribers receive periodic practical encouragement, special offers and NO SPAM EVER.

Click the image above to periodically receive real homeschool value in your inbox.
Top 10 Goals for Homeschool Middle School