Here are 3 activities for homeschool high school co-op Literature class.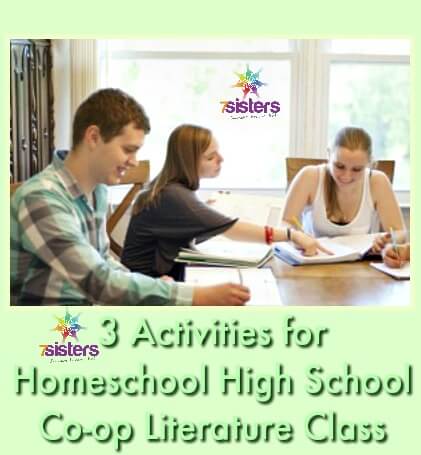 Activities for Homeschool High School Co-op Literature Class
Our homeschool high school co-op and group literature classes have been in-demand for years. That's because Sister Sabrina teaches them. Teens love her classes because the gift she gives her teens is engagement. If homeschool high schoolers are engaged in their literature course (or any course, for that matter), they will learn and give it more effort.
Here are some of the successful ways Sabrina engages her literature students. You can take her ideas and adapt at will!
She engages the teens with:
choices of novels and biographies that inspire aspirations
study guide work that truly guides student learning without killing the subject, that's because Sabrina has created many of 7Sisters Literature Study Guides. Our 7Sisters philosophy requires no-busywork, leveling guides, and inferential thinking in our Literature Study Guides.
GREAT group activities
Here are some of our homeschool high schoolers' favorite activities in literature class at co-op:
Ask who liked (and didn't like) the book and ask why.
Pick a character in the book and ask who, in our homeschool community does he/she remind you of?
Identify the "voice" of the author (didactic, humorous, etc).
Using the voice of the author, write an announcement for an event that will happen at co-op.
Sabrina likes to get the students in groups of two or three to work on quick writing assignments like one above. My son gets a kick out of the brainstorming and laughter that happens as he and his fellow homeschoolers hammer out creative ideas. The peers then learn from each other as the groups share their assignments with the rest of the class.
Here are 10 of our homeschool high schoolers' favorite books (very often, these books are free or inexpensive on Kindle). I'm including links to study guides:
Study guides are useful tools for homeschoolers because they give teen a chance to learn independently.
Study guides can also benefit co-ops or group classes:
The class teacher can share background information with the group.
Students work through the study guide questions and vocabulary as they read the book at home.
Suggested activities in the book and those above are completed during class time.
Homeschool high school literature is fun in a co-op or group class setting!
LOTS more co-op ideas for homeschooling high school Literature class.
Here's an entire authoritative guide to homeschool co-ops.
Also, here's a post on creating the plans you need for Language Arts class.
Here's a post with ideas for teaching American Poetry in co-op class.
Another post with ideas for teaching our popular Cinema Studies for Literature Learning in co-op class.
Here's a post with a great list of discussion question for high school co-op Literature class.
Also, here's a post with fun ideas for teaching the Chronicles of Narnia in homeschool high school Literature class.
Here's a post with useful ideas for teaching Great Christian Writers in co-op class.
One last  post with 3 ideas for introducing poetry to teens at co-op.
By the way, what' is the best sequence for teaching the various Literature courses?
There's not ONE right way to teach Literature and there's not ONE best sequence but here is the order of Literature used by our friend Betsy at BJ's Homeschool.
7Sisters email subscribers receive periodic practical encouragement, special offers and NO SPAM EVER.

Click the image above to periodically receive real homeschool value in your inbox.
3 Activities for Homeschool High School Co-op Literature Class