will Here are 3 enjoyable ways to introduce homeschool high schoolers to Philosophy and why you should.
3 Enjoyable Ways to Introduce Homeschool High Schoolers to Philosophy and Why You Should
When many people hear the word *philosophy*, their eyes roll and their brains think: Stuffy! Boring! Not relevant for real life!
But here's an irritating truth: Philosophers run the world!
Or rather: philosophers' ideas run the world!
Think about the moral, political, medical, business and ethical messes our world is experiencing. Think about the good things that are happening in those same arenas. Therefore, each area of life is being guided by a set of ideas. These ideas are philosophies. There are many different philosophies and they drive our culture from behind the scenes.
When we watch news, advertisements, notice fashion, choose a medical insurance plan or vote, we are participating in the particular philosophic ideas that are creating those things.
When homeschool high schoolers learn to recognize ideas behind actions, they can:
More easily spot manipulation in advertising
Also, more quickly recognize misguided information in social media
Make better decisions for themselves
Vote more responsibly when the time comes
Become world changers, themselves
Besides this, adolescents are at the age where they need to ask big questions and wrestle with ideas. This is a natural part of human development called "metacognition". As part of learning while growing, they have a natural questioning and thinking which is a teenage *itch* that can be scratched by studying Philosophy.
Thus, it is wise to teach teens to be wise idea-recognizers and thinkers. Philosophy is the love of wisdom. Wisdom is a wise thing to study AND philosophy doesn't need to be boring or intimidating. It CAN be accessible and useful for homeschool high schoolers.
Here are 3 enjoyable ways to introduce homeschool high schoolers to philosophy:
When studying history or religion, teens can actually be interested in and enjoy studying Philosophy! Here's how:
Turn World History credit into something useful!

7Sisters' History and Philosophy of the Western World uses a lighthearted, accessible, interesting format to give homeschool high schoolers an overview of world history and the ways the philosophers of each time period influenced what was happening. While learning useful world history, teens are also learning the basic philosophic thinking skills.
Not only are teens learning thinking skills but they also earn a full World History credit using this no-busywork ebook text. It is adjustable to various levels from college prep through rigorous honors by adding suggested engaging assignments.
(Here are even more reasons your homeschool high schooler should study Philosophy.)
History and Philosophy of the Western World was co-written by philosopher Dr. Micah Tillman (of the popular podcast: Top 40 Philosophy).
We heard from so many teens that they liked History and Philosophy of the Western World so much that they wanted more, which leads us to: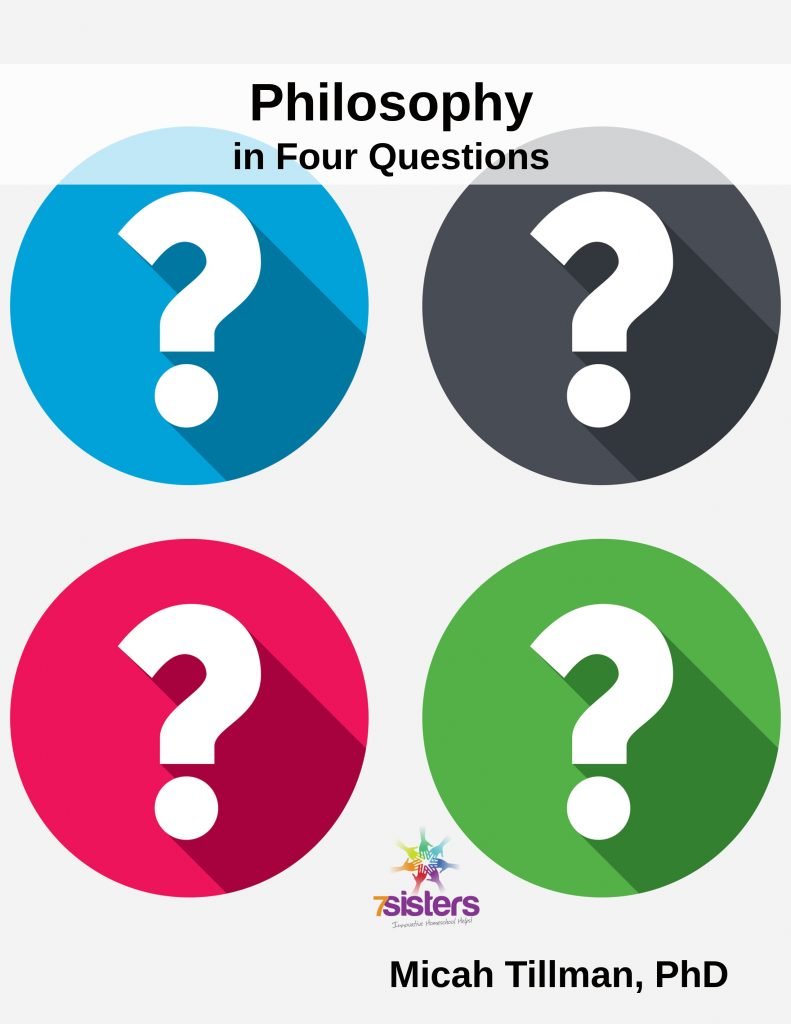 Learn basic Philosophy at a fun, novice level.

For teens ready to learn some real Philosophy but at a high school level, download Philosophy in 4 Questions by Dr. Micah Tillman. A favorite course for many of those teens who ask big questions, this no-busywork text is great for thinking and discussion in a group or as an individual study. (Click for an excerpt from the text.)
When teens complete Philosophy in 4 Questions, they are better prepared to ask big questions and explore answers as well as notice the ideas/philosophies behind many things, events and activities in our culture and world.

Learn basic Apologetics with a FREE course.
Your homeschool high schoolers will be better prepared to be the thinkers of the future as they study these introductory philosophy courses. Download a course for your teens.
Dr. Micah Tillman philosophizes on education.
7Sisters email subscribers receive periodic practical encouragement, special offers and NO SPAM EVER.

Click the image above to periodically receive real homeschool value in your inbox.
3 Enjoyable Ways to Introduce Homeschool High Schoolers to Philosophy and Why You Should