Here are 3 reasons Physical Education improves homeschooling and 5 ways to make it happen.
3 Reasons Physical Education Improves Homeschooling and 5 Ways to Make it Happen
Physical Education sometimes seems like a throw-away class for homeschoolers (or other schoolers).
But WAIT! It is not. Here are 3 reasons you need a rigorous physical education program in your homeschool:
1) Young people who have had good, aerobic-type exercise tend to think more clearly.
Exercise increases blood-flow to the brain. That better-moving blood carries oxygen and glucose to the brain- both of which help aid in clear thinking, reasoning, and memory. (Interestingly, fewer than 1/4 of American children get 30 minutes of exercise per day and about that many do not have physical education at school.
2) Increased oxygen from exercise helps lower anxiety levels and improve depression.

In my work as a therapist, I often tell the parents that their anxious or depressed child will have a reduction in symptoms if he/she gets daily exercise. When they believe me and try it, they usually find that it is true. Here are three good articles from the Mayo Clinic , Babble About and your Federal Government.
3) Children who exercise regularly tend to sleep better. When they sleep better, they tend to perform better academically.
Exercise burns off stress hormones that keep children (and adults) from getting good sleep. Sleep is important to good functioning of the frontal lobe (where learning and decision-making happen). Three nights without enough sleep will lead to deterioration of those neurons and resulting lowered thinking capacity. ALSO- every 3 hours of sitting (doing anything: studying, tv, games) means 3 minutes longer to get to sleep.
So, get your kids out there an make some movement happen! REMEMBER: Log hours until you have met the requirement for graduation for your state or supervising organization (in our area, homeschool high schoolers need 2 credits, which for us is 270 hours).
Here are 5 ways to help Physical education Improves Homeschooling
1) Go for daily walks together.
2) Get a fitness game for your teens' game console.
3) Join a sports league.
4) Take lessons (karate, dance, swim).
5) Take up orienteering or hiking as a family.
6) Bonus: Raking leaves and shoveling snow are GOOD fitness activities!
7) Extra Bonus: We have a Foundations to Physical Education curriculum!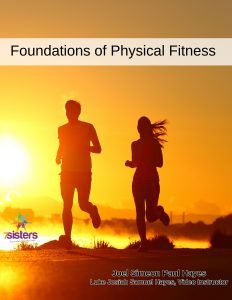 8) EXTRA EXTRA Bonus: Enjoy this episode of The Homeschool Highschool Podcast about Phys Ed.
9) Extra Extra Extra Bonus: Check out all these ideas on earning Phys Ed credit in homeschool high school.
What are some ways your kids get their exercise?
We have written 5 Fun Ways to Log Physical Education Hours!
7Sisters email subscribers receive periodic practical encouragement, special offers and NO SPAM EVER.

Click the image above to periodically receive real homeschool value in your inbox.
3 Reasons Physical Education Improves Homeschooling and 5 Ways to Make it Happen