Here are 3 surprising reasons homeschool highschoolers need Creative Writing.
3 Surprising Reasons Homeschool Highschoolers Need Creative Writing
In my years as an academic advisor for homeschool high schoolers, I often heard parents worry about wasting time with creative writing. They would say things like:
My teen won't be writing stories in college, why should he waste time with that in high school?
Aren't the only real kinds of writing research papers and essays?
Creative writing is just silly and embarrassing.
My teen is NO poet, why should she try?
Let me share with you 3 surprising reasons homeschool highschoolers need Creative Writing.
*Students who have experienced a reasonable amount of Creative Writing in high school make better college-level writers. 
This may seem surprising but it is true: Poetry and short stories are disciplines that train the brain to use words well. Take these two *examples* from a potential research paper:
Scientists believe that cats sleep an average of 15 hours per day. (petmd.com)
vs
The veterinarians at petmd.com suggest that furry felines sleep an average of 15 hours per day.
The first sentence is okay but not great. The second sentence shows more college-level wording. It includes more specific nouns (veterinarians vs scientists), alliteration (suggest/sleep, furry/felines) and richer vocabulary. High schoolers learn to use words well by experiencing Creative Writing assignments like short stories and poetry.
*Students who use words well don't bore their professors.
I was surprised about some information that my sister, who was at the time a Psychology 101 professor, told me when I was starting to homeschool high school almost 30 years ago. She admitted that reading 200 freshman papers was torture. It was torture, that is, until she got to a paper that had good word usage: those papers that could sneak in a pleasant or humorous alliteration and had excellent vocabulary. THOSE papers got the A's.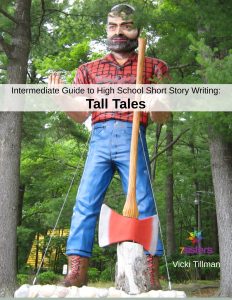 Teens learn this A-producing writing ability by doing yearly Creative Writing projects.
*Even non-college-bound homeschool high schoolers benefit from Creative Writing.
Are you surprised? Homeschool graduates who started their careers after high school have told me that they:
feel more confident explaining things to their work teams
writing company communications
taking exams for advancement because they learned to write (not necessarily love) poetry and short stories
Creative Writing is an exercise, not a talent. Creative Writing exercise comes in 2 forms: Poetry Writing and Short Story Writing.
Good Poetry Writing and Short Story Writing curricula include these things:
Developmental levels (introductory is easiest, intermediate builds on those skills, advanced builds on previous skills)
Short, fun lessons
Self-directed lessons
No busywork or wasted time
Instructions to make it adaptable to various levels (average to honors)
Rubric for short stories (poetry doesn't necessarily need a uniform standard)
Decades of success in all those areas is what makes 7Sisters Poetry Writing and Short Story Writing curriculum perfect for teens who are headed to career or college.
You'll be surprised how much your teens like Creative Writing with 7Sisters Homeschool.
Download a poetry and a short story curriculum today!
Read more about having fun with short story writing.
Five ways to make creative writing less intimidating.
Reluctant writers? Try a progressive story.
Check our our Authoritative Guide on High School Writing Requirements and for a in-depth discussion on goals and grading writing assignments for homeschool high school, check out this post.
3 Surprising Reasons Homeschool Highschoolers Need Creative Writing
7Sisters email subscribers receive periodic practical encouragement, special offers and NO SPAM EVER.

Click the image above to periodically receive real homeschool value in your inbox.