"Hey, let's write an MLA research paper thesis statement, kids!" (Look how excited they are!) Writing MLA research papers can be stressful, whether you write them for a traditional classroom or as part of your homeschool education.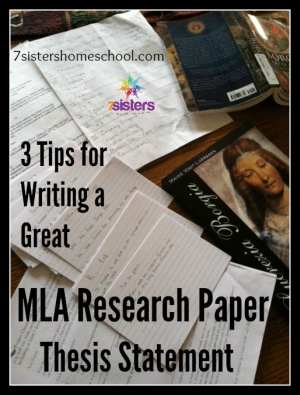 MLA Research Paper Thesis Statement
As you are planning for a new school year, you will probably be wanting your homeschool high schoolers to write a research paper. One of the most common forms of research paper is the MLA style paper. A hallmark of the MLA paper is its thesis statement.
Many students agree that writing a good thesis statement for an MLA research paper is the toughest part of the challenge.
According to Allison Thorp, author of 7Sisters' MLA Style Research Paper Writing Guide ,
"The thesis statement is the most important part of your research paper.  Think of it as the hinge on which the door is hung and swings.  It holds everything together and gives it purpose."
Here are some tips from Allison's MLA Style Research Paper Writing Guide to help you create a thesis statement that really works.
First, ask yourself some questions about your research paper thesis statement.  What is the point of my research?  What do I want my paper to do?  Will I tell my reader something new, offer a new slant on this topic?  Do I have a solution to offer to a problem?  What is my theory on this subject?  The answers to one or more of those questions may help  you begin to craft a good thesis statement.
Incorporate keywords into your MLA research paper thesis statement.  By the time you have completed some preliminary research on your topic, you should have a few words that you know will be important in your paper.  These keywords should be a part of your thesis statement.
Make sure that your thesis statement is a full, declarative, compound sentence (one with dependent clauses) that is specific; it should only address what you will be covering in your paper.
Allison's MLA Style Research Paper Writing Guide provides more than simply helpful tips like these.
It is a step-by-step breakdown of the process of writing an MLA-style research paper.  It provides examples at each point, suggests a time-frame for accountability, recommendations for working out a problem or "stuck spot," and more.
Do I sound like I'm writing a review of this curriculum?  I am!
My son, Jonah, has used it for two years now as he's tackled MLA-style research papers in our homeschool.
I LOVE this resource.  Highly recommended!
While we're on the subject of research papers, here's a link to my vlog about Understanding and Avoiding Plagiarism.  Feel free to share this important resource with parents of teens everywhere….whether they homeschool or not.
Are research papers important? Read more in this article from "Teach Thought".
7Sisters email subscribers receive periodic practical encouragement, special offers and NO SPAM EVER.


Click the image above to periodically receive real homeschool value in your inbox.
3 Tips for Writing an MLA Research Paper Thesis Statement