Here are 3 powerful ways to earn character-forming World History credit.
3 Powerful Ways to Earn Character-Forming World History Credit
Why waste 4 good years of high school with your teens simply learning dates and facts but having NO life change?
Character formation has always been my goal in teaching history with my homeschool high schoolers, co-op teens and group classes. Adolescent minds (as we know from Human Development) are arriving at metacognition- which means they can think, perceive, perspective-take and form character like never before in their lives.
World History is one of those subjects that best lends itself to character formation. Teens can read, think and discuss the great things that have happened over time, and the human-character disasters that have happened.
We all know the quote from the philosopher George Santayana, "Those who cannot remember the past are condemned to repeat it."
Homeschool high schoolers need a World History credit for their homeschool transcript. Why not create a character-forming World History credit? Here are 3 ways: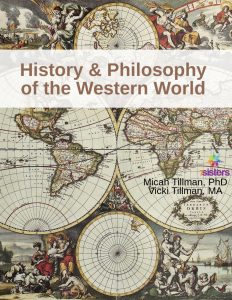 Use a text that integrates thinking skills, Christian history and World History
Character formation and critical-thinking skills development is exactly why 7Sisters published History and Philosophy of the Western World. Teens need to learn the
church leaders from the past who boldly lead God's people

philosophers who molded the thinking and actions that shaped cultures

political leaders who changed their worlds
7Sisters' History and Philosophy of the Western World covers all that in a light-hearted, student-friendly, no-busywork, inspirational format. Co-written by philosopher, Dr. Micah Tillman, the text gives introductory thinking skills without being intimidating or boring. It is also levelable (includes interesting extra activities for teens who want to earn rigorous Honors credits).
Follow current events
Following current events is easily done to enrich your World History credit. A weekly discussion about major events in politics, missions or culture will give homeschool high schoolers the opportunity to think about:
places where people HAVE learned from the past
places where people HAVE NOT learned from the past and are thus, repeating it
places God may be calling teens to pray, learn or serve
Integrate Language Arts' research paper and books 
Homeschool high schoolers need Language Arts credits each year. Each year they should include some personal reading that helps fill out the number of books they need to read. Each year they need to write a research paper.
Level up your World History credit by including biographies of leaders or books from the past as part of the credit:
missionary or church leaders' biographies
biographies of modern philosophers such as C.S. Lewis
biographies of great political leaders
Level up your World History credit by reading books written in past times from around the world. 7Sisters' World Literature course includes no-busywork, understandable study guides for books such as:
Choose a topic from World History for your teen's research paper (MLA, APA or Chicago styles):
How does life (or government) in Ancient Rome compare to life (or government) in America today?
What does Aristotle teach about virtue?
What was life like for Christians during the Roman Empire?
Who was Kierkegaard and why are his ideas influential with Christians and non-Christians?
Who were the Empiricists and how did they change the ways that politicians, scientists and theologians think?
What was the life of C.S. Lewis (or other modern philosopher/Christian leaders)?
Your teen needs a World History credit. Make the most of it for character formation! Download History and Philosophy of the Western World and World Literature for your homeschool high schooler.
7Sisters email subscribers receive periodic practical encouragement, special offers and NO SPAM EVER.


Click the image above to periodically receive real homeschool value in your inbox.
3 Powerful Ways to Earn Character-Forming World History Credit