Here are 3 ways to help homeschool high schoolers find  callings.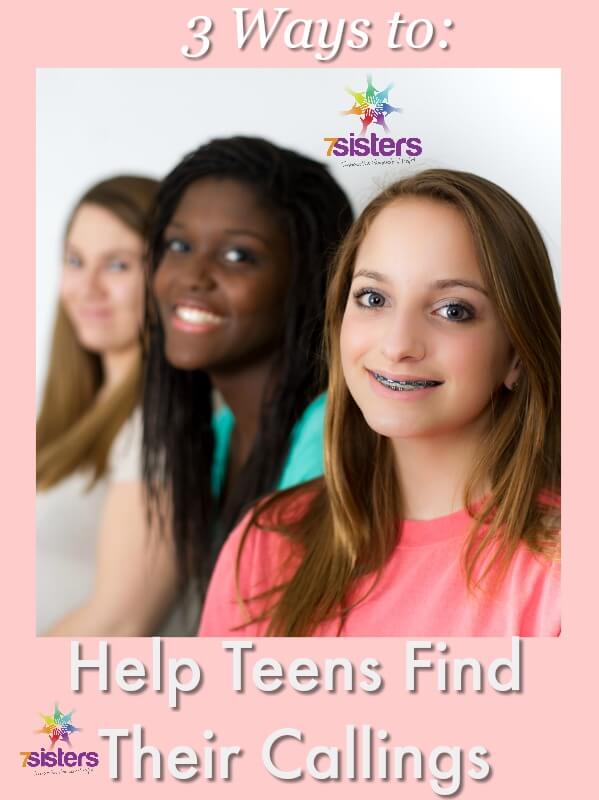 3 Ways to Help Homeschool High Schoolers Find Callings
God has created all people for his purposes.
We know that but it can be easy to imagine that teens will wake up one morning and it will have *dawned on them*…just like that!
Some teens have always known their calling. One of my teens, from middle school on consistently said she wanted to be a photographer. Being a *wise* mom, I informed her that you can't earn a living from photography, so that couldn't be a vocation, it must be an avocation. Not a calling but an interest.
What is calling anyway?
Simply put: Calling is what God has called you to do.
He has called us to do many things:
Love him with all our heart, soul and mind…and our neighbors as ourself.
Renew our mind.
Go into all the world…
Everyone is also called by God to become a virtuous person through his workings.
Allowing the fruit of the Spirit to grow
Not thinking of ourselves more highly than we ought  while knowing we are made in the image of God
Do justly, love mercy and walk humbly with our God
There is a practical part to calling that our teens need to explore. (Note that I said explore. Understanding our callings is an unfolding process…people discover callings as they faithfully live day by day.)
Here are 3 ways to help homeschool high schoolers find callings:
*Give them tools for a personal devotional life. This may sound silly because many homeschooling families raise their children in the faith. However, in my informal surveys of homeschool teens (and young adults) less than half *have the time* to read Scripture on a regular basis. Around the same report a meaningful prayer life. (That's one reason we put together our prayer journals: creative prayer activities that I have used with young people I work with.)
*Help them find their God-given strengths. God places in every person strengths or giftings. These are not meant to be *hidden under a bushel*:
If your teens have some obvious strengths, help them explore those strengths. Give them elective credits, service projects and apprenticeships in those areas.
If your teens hasn't discovered their strengths yet, that's okay. It is now time to help them explore with LOTS of NEW and DIFFERENT:

Out of the box courses and electives
A variety of service projects until they find one or two that they are most passionate about
Opportunities to experience different kinds of role models:

Listen to missionaries speak
Shadow someone with a professional job and/or a trade
Go to museums when docents are leading tours or there are special events
Watch biopic movies about inspirational people
Invite people from different occupations over for dinner and conversation
Take field trips to a variety of different places
*Give them a for-real, comprehensive but do-able Career Exploration course. A good Career Exploration course will include:
Exploring God-given experiences (What he's shown them already)
Exploring God-given strengths (What he's gifted them with…and NOT gifted them with)
Exploring God-given wisdom from others (What God is saying through role models and others)
Exploring God-inspired interests (What they are attracted to)
Exploring God-inspired values (What is important to them about money, time, family, faith)
Those are the areas covered in 7Sisters' Career Exploration course. This popular course has been guiding teens for years. Download a copy for your teens.
Here's a 4th BONUS WAY to help homeschool high schooler find callings:
Parents, YOU are not God. Beware advancing your own agenda! Speaking from experience. As in the story of my daughter. I wasn't God. My fear of her not being able to earn a living with photography could have been a disaster if I did not learn to submit that fear to God.
Here's how my daughter's story played out:
She politely listened to my nay-saying but remained firm in her interest in photography. So I respected that:
We checked out all the courses at the library and did freebie online courses in photography
When she was old enough, she took courses in art and photography at the community college (graduating with certificates in Digital Art and Photography the same week she graduated high school- which earned her a special scholarship for college)
At the community college, she did volunteer work for the professors there
She also did a strong Career Exploration course
She took a wide variety of electives so that she had a rich background (and something to compare her interests and talents to)
She did LOTS of service and extracurriculars in a variety of areas
She is grown up and married now. She is a successful professional photographer. As she has been faithful in her calling in photography, God has opened up other doors of service for her, such as working with immigrants. God is a director of footsteps!
Homeschool high school is the time to invest in exploring teens' callings. What are some ways you and your teens have done this?
7Sisters email subscribers receive periodic practical encouragement, special offers and NO SPAM EVER.


Click the image above to periodically receive real homeschool value in your inbox.
3 Ways to Help Homeschool High Schoolers Find Callings