Here are 3 ways to use 7Sisters' College Application Essay Writing Guide.
3 Ways to Use 7Sisters' College Application Essay Writing Guide
Many colleges and online college application systems require a college application essay. Over the years, we at 7Sisters have read hundreds of these essays as our local homeschool advisees start their application processes.
And over the years we at 7Sisters have cringed at some of the attempts we've read…
The good news is that we've found tricks and tips that have helped the poor essays become good and the good essays become great.
Do your homeschool high schoolers need a hand-up on writing their college application essay? Here's some easy help!
Download 7Sisters' Guide to Writing College Application Essay and in a short, simple few days your teens can use the guide and their good skills to turn out an excellent presentation of themselves.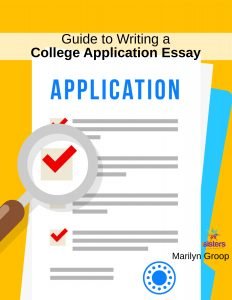 The Guide includes topics that help teens understand in the why's and how's of the application essay, such as:
How important is the admissions essay?
What are typical college application essay prompts?
How to avoid common mistakes.
What are the must-include pieces of this process?
Here are 3 ways you can use our guide in your homeschool:
There's not ONE right way to homeschool high school…or write that college application essay. With that in mind, here are some meaningful ways to make that assignment happen!
Make it a special *relieve the stress* summer project.
Once teens get this important project finished, the rest of the application process during the fall seems so much easier. Getting it done during the summer is a BIG help to lots of high school seniors. Offer an extra fun summer incentive to get the essay done.
Make it the first official writing project of the school year.
If you save it until fall, do it first thing. Get it off their plate. They can count it as one of their required writing projects! Take them out to lunch have a fun brainstorming meeting! Sometimes the hardest part is figuring out what to write about.
Use it in co-op.
If your homeschool co-op includes writing for the high schoolers, why not make it a co-op writing project. Even underclassmen can benefit with a practice run at a college application essay. We always say that *group suffering* makes stressful projects more fun! Misery loves company…well maybe. But either way knowing they are not the only ones writing can help with getting things done.
Still not sure why not take a look at an excerpt from Guide to Writing College Application Essay.
BTW, to help your teen stay on track, here is more information on what colleges like to see on homeschool transcripts.
Also, for students applying to HBCUs, here are some tips for that specific Common Application.
Download your homeschool senior's Guide to Writing College Application Essay today!
7Sisters email subscribers receive periodic practical encouragement, special offers and NO SPAM EVER.

Click the image above to periodically receive real homeschool value in your inbox.
3 Ways to Use 7Sisters' College Application Essay Writing Guide