Here are 4 steps to help teens learn revising and editing skills.

4 Steps to Help Teens Learn Revising and Editing Skills

Some families have whole sisters, half-sisters and/or step-sisters. We 7Sisters are blessed to have 3 Editor-Sisters! For many years 2 of our Editor-Sisters, Marilyn and Allison, have taught our local homeschool high schoolers the skills of writing essays and MLA research papers. They share this practical post to help us moms help our homeschool high schoolers truly learn to revise and edit their essays, reports and research papers.
(BTW- Your teens will love their no-busywork, self-directed, user-friendly guides to writing Essays and MLA Research Papers.)
4 Steps to Help Teens Learn Revising and Editing Skills
There is more to editing than just checking for spelling and grammar mistakes. Many students don't seem to understand this. While taking things in these four steps will not be necessary for the more natural writers, especially in shorter compositions, it can be a great exercise for less experienced writers or for editing longer papers.
Watch the following video to understand why revising and editing need to be a process. While this
breaks the process down into three steps, for really important pieces a writer may need to add a fourth step. Three Step Revision Process 
Here is another video about the revision process. It is a bit elementary, but it explains the process clearly: 4 Revision Choices
Step One – The big picture
First look at the essay or report as a whole. Some questions to ask:
Does the paper stay on topic?
Does the organization make sense? For example, if I am doing a report on Peru and I'm writing about the culture, do I suddenly have a sentence about Lima being the capitol?
Does the paper flow?
Step two – Paragraph by paragraph
Does each paragraph have a topic sentence?
Is each paragraph limited to one topic?
Does each paragraph include some details or examples that relate to that topic sentence?
Do I have good transitions between paragraphs?
To understand this part of the process, watch the following video: Writing  a Perfect  Paragraph
One way to evaluate the paper's paragraphs is to have the student take a colored paper or highlighter and mark each topic sentence and then evaluate each of the other sentences to see if they stick to the topic. If he/she can't identify a topic sentence, he should write one.
Step three – Proofing for spelling and grammar
First read-through, look for obvious grammar and spelling mistakes.
Read through each sentence starting at the end. This can often help you focus better because you aren't anticipating what you expect to see.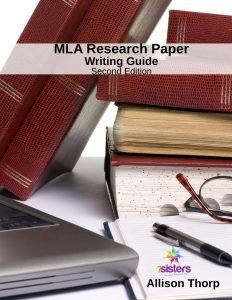 Step four – Have someone else read the essay(s)
Choose someone you trust and has good editing skills.
Be willing to accept feedback.
Listen to someone else read your composition aloud, or record yourself reading it and listen critically.
Download 7Sisters' essays and MLA research papers today!
Read about why some teens hate the editing portion of a paper and how you can help!
7Sisters email subscribers receive periodic practical encouragement, special offers and NO SPAM EVER.


Click the image above to periodically receive real homeschool value in your inbox.
4 Steps to Help Teens Learn Revising and Editing Skills