Here are 4 yearly writing projects to include for solid Language Arts credits.
4 Yearly Writing Projects to Include for Solid Language Arts Credits
Language Arts is a huge credit that must be completed each year! It includes:
Literature
Writing
Grammar
Vocabulary
Public Speaking
As homeschool high school advisor, I've often been asked by new homeschooling parents: What needs to be included in the writing component of the yearly Language Arts credit?
Here are the 4 yearly writing projects to include for solid high school Language Arts credits (PLUS why and how long for each):
Poetry: Give your homeschool high schoolers 5 weeks of poetry writing. If presented well with no lofty, must-be-a-Shakespeare expectations, poetry can be a game-changer in the quality of student writing. For most teens, poetry is a fun discipline rather than an art. The skills gained from learning to use words well help them to communicate and write more powerfully.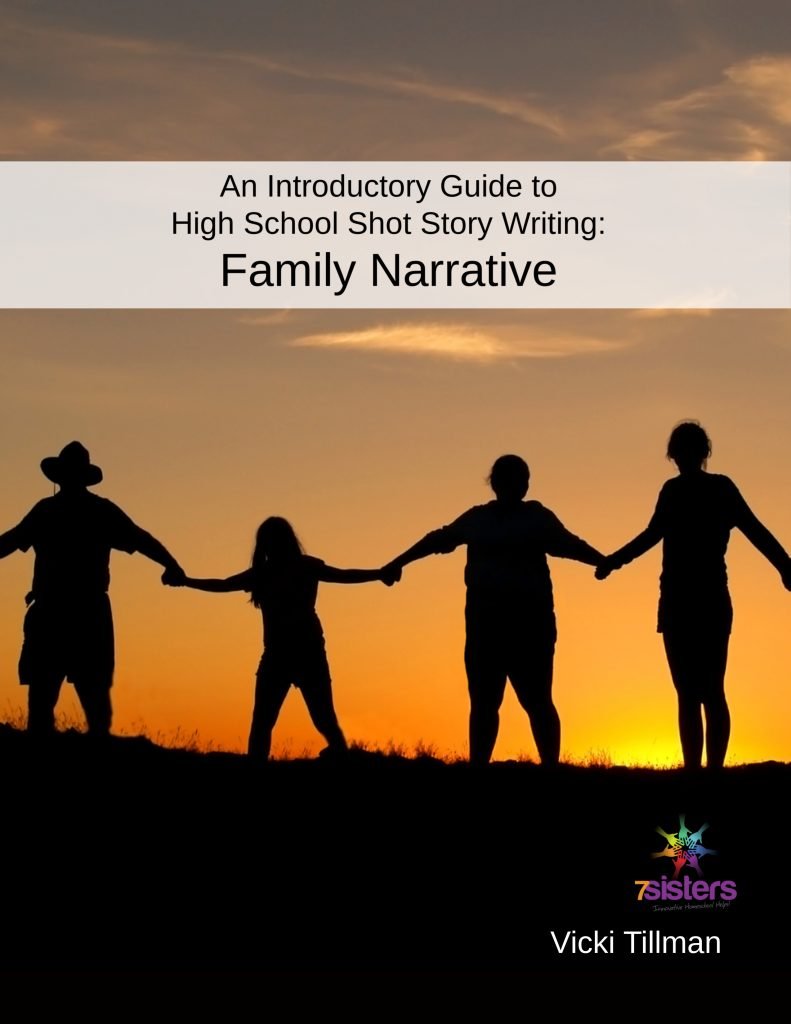 Our 7Sisters' teens needed to write poetry, but we didn't want to kill it for them. That's why we developed (and teens have vetted for years) our 5-week poetry guides: Introductory, Intermediate, Advanced. They are FUN, no-busywork, self-directed and USEFUL guides broken down into 15-minute lessons.
Short Stories: Give your homeschool high schoolers 5 weeks of short-story writing. When story writing is presented in a success oriented, no busywork way, teens learn to use creative thought and express it well. Creativity is the root of problem solving in real life!
Our 7Sisters' teens and hundreds of other local teens have vetted our story writing guides. The delightful, 15-minute daily lessons teach the writing skills they need while they gain confidence in their creativity. Short story Writing Guides in 7Sisters' series include: Family Narrative (Introductory Short Story Writing), Tall Tales (Intermediate Short Story Writing), Myth-Fantasy (Advanced Short Story Writing).
Essays: Teens need about 10 weeks of Essay Writing. Essay writing is where the rubber meets the road for high schoolers! They learn to capture their ideas and defend them well. All teens need to be able to express their thoughts and back them up with pertinent information. That's what essay writing is about.
7Sisters Essay Writing Guides are not-intimidating, no-busywork, self-directed guides that build teens' confidence in their thinking and writing skills. Vetted, as usual, by homeschool high schoolers these user-friendly guides give teens short lessons but powerful communication skills at Introductory, Intermediate or Advanced levels.
Research Papers: Homeschool high schoolers need to spend 4-10 weeks on research paper writing. Although college-bound teens need the training in longer-paper writing, even non-college bound students benefit from learning critical thinking and focused-writing skills.
In college, our teens will most commonly face MLA, APA and Chicago-Style papers. Giving them experience with at least one of each over the 4 years of high school will give them great preparation. 7Sisters' Research Paper Writing Guides do just that! In manageable, no-busywork, self-directed lessons, homeschool high schoolers work through the many research-paper writing skills.
Our friend, Betsy, has lots of creative ideas on how to get these writing projects done. Check out her post on college-prep writing.
When you shop at 7Sisters' estore, you can choose to download each type of guide individually OR choose the entire year's writing projects bundled into Introductory, Intermediate, Advanced High School Writing Guides. Senior Year Writing Guide! (Click here for an excerpt of the Introductory Guide to High School Writing.) Check our our Authoritative Guide on High School Writing Requirements and for a in-depth discussion on goals and grading writing assignments for homeschool high school, check out this post.
4 Yearly Writing Projects to Include for Solid Language Arts Credits
7Sisters email subscribers receive periodic practical encouragement, special offers and NO SPAM EVER.


Click the image above to periodically receive real homeschool value in your inbox.