Here are 5 basics for homeschooling children with learning disabilities.
5 Basics for Homeschooling Children with Learning Disabilities
I know by experience that homeschooling a child with learning differences or learning disabilities can be a challenge.
One of my children had dyslexia, auditory processing disorder, and a bit of childhood ADD-inattentive. Fortunately for me I had training as a counselor and my mother, Dr. Rose Kellermann, was an educational psychologist. I had good support and lots of ideas.

1) Develop strengths
God made each child to have gifts and a special place in the universe. Homeschool parents have the opportunity to help their children discover and develop these gifts. My son is creative, visual, and loves movies. His strengths are in story-writing, art, silliness, and (as we learned over time) filmmaking. In elementary school, he told and drew stories, he scribbled pictures, he reveled in silliness.
Today, he's an education major at Lancaster Bible College. All his strengths from childhood gave him sparkle in his studies.
2) Compensate for weaknesses
My son's dyslexia was a weakness because it hampered his ability to read. We worked on compensating for his weakness by using sight words instead of phonics. (Our favorite books for sight reading are Mary Manz Simon's Bible Stories.) We would read these aloud together (me reading just a little louder than him), pointing to each word as we read. We read over and over, for days, until the book (and each individual word in it) was memorized. Simon's books revisit those same words so there is much reinforcement.
To help with his auditory processing struggles, we found a 1904 diction book that was filled with ditties and rhymes. We memorized and said them daily, enunciating consonants carefully and emphasizing leaving space between words. Here's one of our favorites: Round and round the rugged rocks the ragged rascals ran.
He had just enough ADD to feel awkward in social settings, so I worked with him on 10 basic social skills. (They can be found in our book Social Skills for Children.) This paid off with his ability to employ skills and make friends at church, AWANA, karate, and co-op
3) Use multi-sensory techniques
We did lots multi-sensory learning. We did hands-on work with reading: making letter and word cards of glue and glitter, felt, and sandpaper. We wrote in shaving cream, finger paint, and sand. We rubber banded 4 color-makers together to write multi-colored letters and words. We sang spelling words. (We hopscotched math problems, too.) It took a long time to get the basics down.  But it clicked in around 3rd grade.
7Sisters has excellent Literature Activity Guides for young readers. These guides are real study guides for classic children's literature and are chock full of hands on activities and phonics skills that are accessible to children with learning disabilities. Download one and give it a try. You will love them!
4) Have fun
My son specialized in silliness. We made sure to give him plenty of time for fun (this often included interrupted lessons while he and siblings made up noisy conversations between imaginary characters).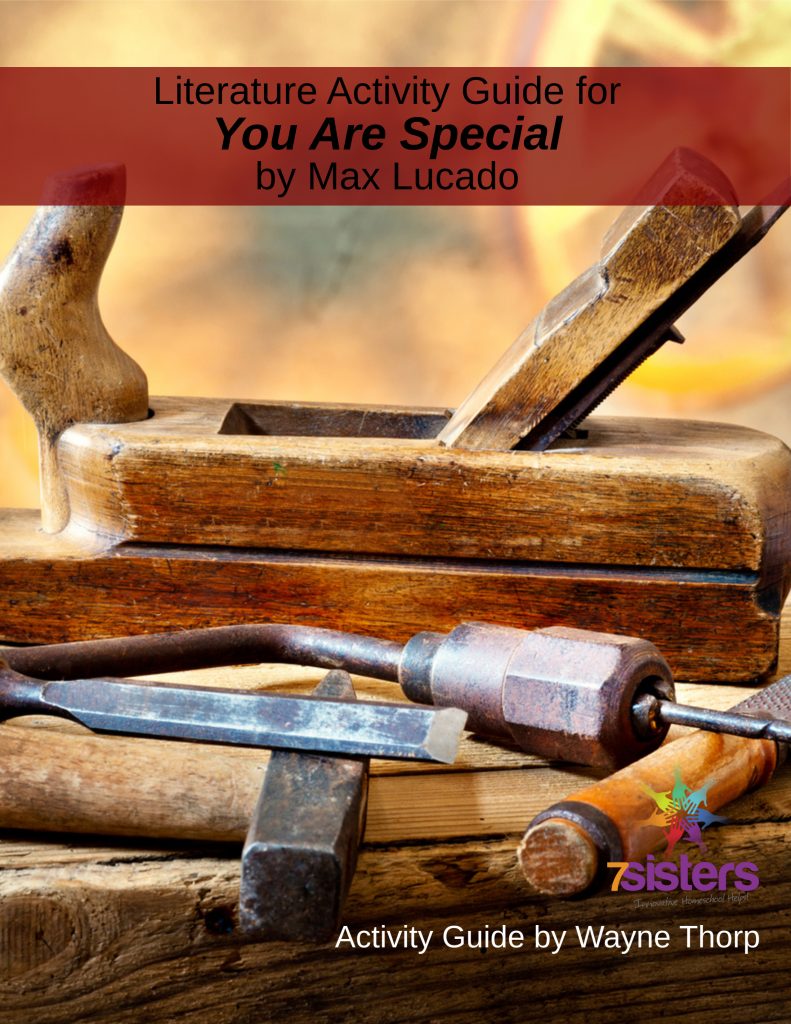 5) Pray
Of course. "Nuff said. (But if you'd like some encouragement look at our prayer journals– activities to help expand your prayer life.)
7Sisters email subscribers receive periodic practical encouragement, special offers and NO SPAM EVER.

Click the image above to periodically receive real homeschool value in your inbox.
5 Basics for Homeschooling Children with Learning Disabilities