Here are 5 fun ways to improve high school vocabulary.
5 Fun Ways to Improve High School Vocabulary
1.Crossword Puzzles
One of my favorite ways to improve my own vocabulary is by working crossword puzzles. The clues given (even the "easy" puzzle books from the dollar store) challenge my brain to think about words differently than I automatically would. A familiar word described in a different way than I anticipated sharpens my brain's word wiring. Crossword puzzles are great for helping older kids grasp shades of meaning in words, idiomatic uses, and archaic definitions.
This is a great online tool! You start with easy words and as you get them right, the program quickly increases in difficulty until you hit a level that is challenging to you. The coolest feature: for each answer you get right, grains of rice are donated through the World Food Program to help end world hunger.The words get harder the more you get right.This is a fun, rewarding way to work on vocabulary and bless those in need. (There are also quizzes at FreeRice for many other subject areas.)
3.Literature Study Guides
Lists of words drawn from a work of classic literature for the student to research and learn while reading the book integrate vocabulary learning with reading. 7 Sisters has study guides with vocabulary lists for lots of wonderful books!
4.Vocabulary.com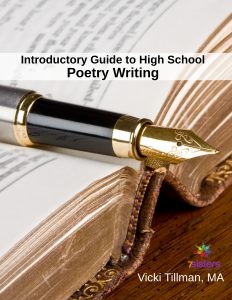 The exercises here work with words in context, and if you get the answer wrong, hints are available, and an in-depth explanation of the word is given. They boast that their program builds a model of your knowledge as you get answers right or wrong. Then it uses that information to tweak the program for you.
5. Write poetry
Poetry is a delightful way for a teen to train his/her brain to think creative words. Teens who don't think they like poetry find out they can enjoy it, write it AND expand their vocabulary when they use a fun, no busy work study guide like 7Sisters Introductory Guide to High School Poetry Writing.
5 Fun Ways to Improve High School Vocabulary
7Sisters email subscribers receive periodic practical encouragement, special offers and NO SPAM EVER.


Click the image above to periodically receive real homeschool value in your inbox.