There's hope! Here are 5 fun ways to log Physical Education hours for non athletic homeschoolers.
5 Fun Ways to Log Physical Education Hours for Non Athletic Homeschoolers
Got a non-athletic, doesn't-care-about-sports teen? That's okay, not all teens are supposed to be athletes! The problem for some homeschooling families is that it can be difficult to earn the required Physical Education credit(s) for the homeschool transcript when your teen isn't the fitness-type kid. Check are fun ways to log phys ed hours for non athletic homeschoolers.
Logging Physical Education doesn't have to be a nightmare. When you aim for your teens' Phys Ed credits by logging hours, you can simply accumulate over the 4 years until the goal is met. Try some out-of-the-box activities.
Here are some creative ways some teens we know have been able to creatively handle logging Phys Ed hours.
Hiking
Hiking is a great family field trip. Keep a log of hours on the trail. This log can go toward your homeschool high schooler's Phys Ed hours AND in your youngers' records to give evidence of physical activity. While you are at it:
Learn some practical life skills while hiking (never step over a log before checking what's on the other side…I remember once there was a rattle snake on the other side, that ended THAT hike).
Log some Biology hours by learning some basic birding, tree and/or plant identification (just use an app on your phone to make it simple).
Practice quiet walking skills (Americans tend to walk like elephants). Once learned, it is a useful social skill.
Yard work
Some teens actually LIKE yard work. If so, log the hours they spend:
Gardening
Mowing (push mowers, weed-wacking)
Raking leaves
Shoveling snow
Even if they are earning Career Exploration credits by running a side-business doing yard work for the neighbors, they can still log those same hours for Physical Education.
Heavy Housework
Does your family do a heavy spring or summer cleaning? The kind of lifting and scrubbing that work up a sweat and wear a person out? Log those hours! Doesn't sound like fun? Maybe not, but it heavy cleaning sounds a LITTLE more fun when there's something in it for the teens (as in: do these chores and you don't need to go for a 30-minute jog…).
Summertime activities
Summertime means a break from academics for many teens. However, it also means more physical activities: swimming, hiking, mowing, field trips with lots of walking. Capture the phys ed hours (and more) during the summer and keep logging credits. Here's how.
For lots of ideas for homeschooling high school during summer, check out this Homeschool Highschool Podcast interview with our friend, Anita Gibson.
Juggling
Never thought juggling could count as fitness? Watch homeschool graduate, Justin Weber:
Here's another video from Justin:
One last surprising but fun way to log Physical Education hours is…
Ballroom Dance
You might be shocked to find out that many teens who hate sports, enjoy ballroom dance if they have the opportunity to learn in a friendly, fun environment. For years, our local homeschool group would arrange ballroom dance lessons with a local studio (run by a homeschool dad, in fact). The teens had a blast, then they would celebrate with a cotillion, and at the end of the year, a prom.
Here's a post with a video made by some of the 7Sisters' sons when they were taking ballroom dance lessons back in their high school days.
Logging Physical Education in creative ways can make it fun for the whole family while giving your teens good memories and life skills. Need more help? Contact us for homeschool coaching and listen to this episode of Homeschool Highschool Podcast.
We are excited to offer Foundations of Physical Education, to help get your teen moving.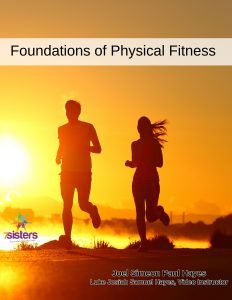 Distinctives:
– real intentionality (not content to just log hours of varying kinds of activity),
– desire to learn about the anatomy and physiology associated with fitness,
– need for video component because parent does not feel competent to guide from the written page with illustrations,
– no already established fitness routine like would come from following coach's instructions for their team sport of choice.
Your non-athletic teens will thank you!
We have even created another fitness curriculum to help your teen achieve their goals! 
Framework of Physical Fitness, by Joel Paul Simeon Hayes, builds on the knowledge that students gained from Foundations of Physical Fitness. While it is intended to be a follow-up to Foundations of Physical Fitness, Framework of Physical Fitness can be studied independently.
Read more about earning Phys Ed credits in your homeschool high school.
7Sisters email subscribers receive periodic practical encouragement, special offers and NO SPAM EVER.

Click the image above to periodically receive real homeschool value in your inbox.
5 Fun Ways to Log Physical Education Hours for Non Athletic Homeschoolers