Here are 5 good resources for struggling readers in high school.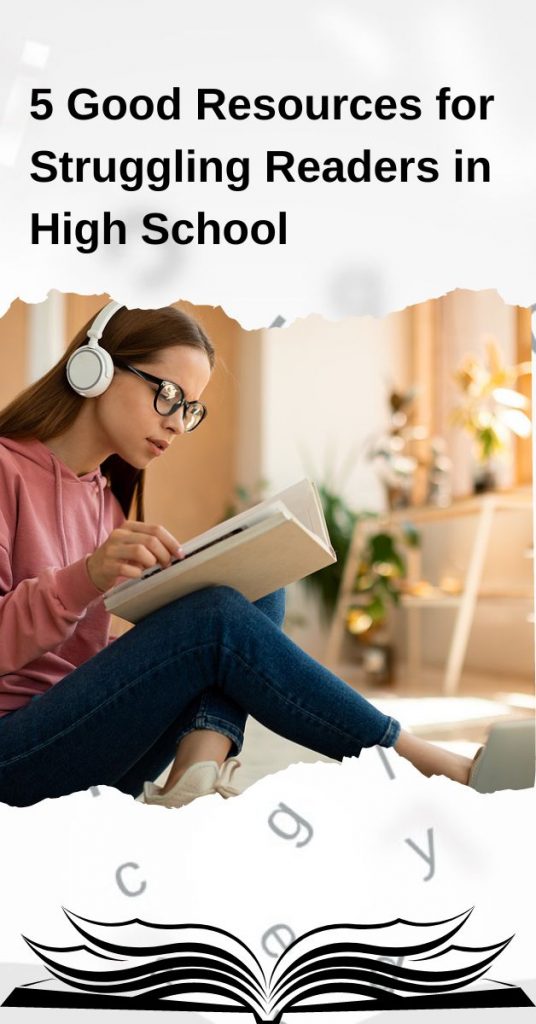 5 Good Resources for Struggling Readers in High School
God did not make all high school students alike. Some like to read. Others hate it. Some struggle with it.
Of course, the kids who like to read can blast through a reading list with Pilgrim's Progress and Tale of Two Cities. But some high schoolers would never survive.
How can a student who struggles get through classics and the large numbers of books that a valid high school English/Language Arts credit needs?
Here are 5 Good Resources for Struggling Readers in High School:
Start your reader at remedial level. Here's a post to explain recording levels on the transcript. After all you want to start at a level that is right for YOUR teen.
Before we even start the list, remember that 7Sisters Literature Study Guides are levelable. You can adapt them to any learning ability (discussing questions out loud to develop critical thinking, comprehension and inferential skills). You can skip parts that may be too difficult (if vocabulary is too difficult, you can skip it. Use the guides to accompany audio versions of the books for better learning experiences.
One of our struggling readers series favorite is Great Christian Writers. Often these books show how different people have overcome all kinds of struggles. Recognizing they are not alone in the struggles often helps teen to not feel alone in their personal lives.
Helps your student know they are not alone! You can require the workload that matches the level that best serves your student.
Here are our 5 resources:
1) One of my favorite series is Edcon's Back to the Basics.
This is a series of 6 levels of readers. Each level contains about 6 workbooks. While each workbook contains a classic such as The Time Machine or Rebecca of Sunnybrook Farm. The cool thing is that each chapter has been condensed to one page, with read-for-information-and-comprehension illustrations and questions. At the end of each chapter are questions and some of which target inferential skills.
Start at Level 1 if you have a severely struggling reader.
2) Another terrific resource is Great Illustrated Classics series by Baronet Books.
Hard cover books with Reader's Digest style condensations of great books like King Arthur and War of the Worlds. With over 66 books printed you can select books based on topics like historical fiction, fairy tales, and/or family favorites. For visual learners they will enjoy the illustrations.
3) AGS Classics Series- Short Stories and Plays, from Pearson Education.
The books are really condensed, but contain some good classics. You can find them used on Amazon and other websites that sell used books.
Additionally we have also heard good things about Saddleback books from other homeschool moms.
4) A really good idea is to listen to some audio versions unabridged classics, non-fiction and other good books.
It is good for a student to listen to books above his/her reading level.  Remember you don't need to do this for all the books, but works great for a few each year.
5) Books of the Bible can be included on your book list!
Find one of the contemporary versions you like, and encourage your student to have devotions daily.
In the meantime, you can also join our Facebook group! Ask all the other 7Sisters what books they are reading with their struggling readers. You are not alone! We are here to help you along this homeschooling high school journey.

What are some of your struggling or hate-to-read students' favorite books?
You are NOT a slacker mom if choosing some of these options is what is best for your student!
If you need other resources to help your struggling readers in high school we suggest:
We also love the support and encouragement from SPED Homeschool., because their goal is to empower families to homeschool children with specialized educational needs.
BTW- This is a non-sponsored post. We just wanted to share resources with you.
Plus you will love our silly and wise advice about handling tough homeschool times (or tough anytime) with this episode on homeschool mindset…not platypus!
7Sisters email subscribers receive periodic practical encouragement, special offers and NO SPAM EVER.
Click the image above to periodically receive real homeschool value in your inbox.
5 Good Resources for Struggling Readers in High School