Here are 5 reasons for research papers in homeschool high school.
5 Reasons for Research Papers in Homeschool High School
Many teens hate them but they all need to write them: Research papers!
Research papers are important writing experiences for homeschool teens. Moms know that but teens often just think of intimidating projects and boring assignments when they think of research papers.
Writing an annual research paper is easier when we get our teens' buy in. Why should they take these big projects on? You can give them 5 reasons for research papers in homeschool high school.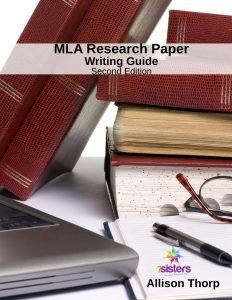 Critical thinking skills:
Non-college bound teens (and all teens, for that matter) need to be able to think critically. Critical thinking skills that research paper writing develop include:
honing their ability to recognize good sources and to
strengthening their abilities to notice pitfalls and avoid plagiarism
Brain training:
Research papers are topics for helping teens develop brain strength. Just like working out at the gym develops muscle strength. Writing large research papers strengthen homeschool high schoolers' brains by helping them develop the ability to identify key thoughts and develop them well.
Earn credit while exploring an interest:
Writing research papers in homeschool high school are an excellent way to earn credit in an interest area. Use the logging Carnegie credit method to add to history, science or fine arts credits or to level these credits up. Log hours researching and writing the paper for topics like:
special interests in history (Teens I have advised have done their research papers on WWII, American presidents, history of Italy-and lots of other countries, fashion through time, British kings and queens, and more.)
special interests in science (Teens I have advised have done research papers on topics like sharks, food science, solar system, history of dog breeds, neurotransmitters, mental health, and more.)
special interests in the arts (Teens I have advised have done research papers on topics like history of church music, art history, biographies of various artists or musicians, comparing types of paintings and more.)
(Teens I have advised often take one year's research paper to explore possible careers. Papers I have read include: professional dancer, personal trainer, athletic trainer, psychologist, cosmetician, auto mechanic, HVAC and plumbing training programs, and more.)
Homeschool high schoolers must face it. Many homeschool umbrella schools or other accountability programs require research paper writing.
*Bonus Reason: College Prep: Many of our local homeschool graduates tell us that their excellent training for research-paper writing (using 7Sisters' Research Paper Writing Guides, of course) truly gave them the leg up in their college classes. The 3 top research-paper styles that they have been reporting to us are APA, MLA and Chicago styles.
This will get the discussion started. Check out and download 7Sisters' user-friendly, step-by-step no-busywork research paper writing guides: MLA Research Paper Writing Guide and APA Research Paper Writing Guide. For absolute novice reluctant writers, download our how-to guide.
For tips on how to help your teen get their research paper done, check out this post.
7Sisters email subscribers receive periodic practical encouragement, special offers and NO SPAM EVER.


Click the image above to periodically receive real homeschool value in your inbox.
5 Reasons for Research Papers in Homeschool High School