It may be controversial, but here are 5 things we have liked about homeschool prom.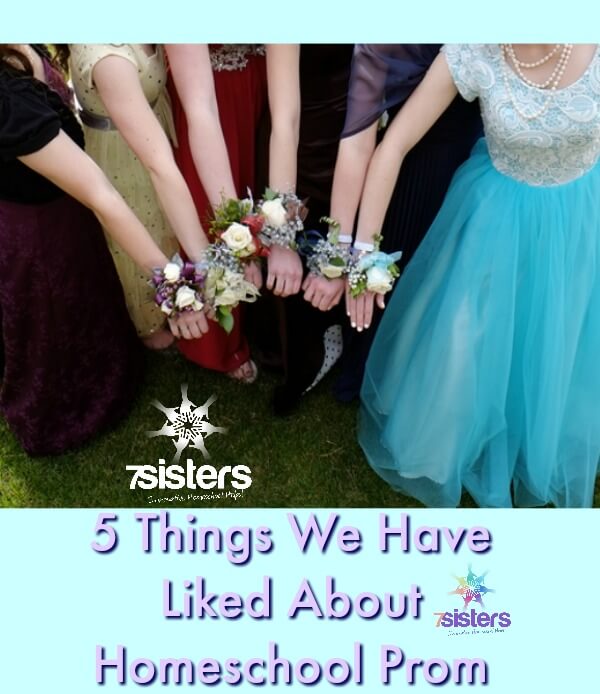 5 Things We Have Liked About Homeschool Prom
Years ago, some of our homeschool high schoolers came to us moms and asked for a homeschool prom. This was back in the early days of homeschooling when dancing and proms were quite controversial.
We made a deal with the teens:
Monitor yourselves.
Respect the organization, chaperones, facilities and each other.
We'll give it a try. If it goes well we'll offer a prom again.
Here are 5 reasons we like homeschool prom:
Memory creation. One important part of the adolescent years is creating positive memories that will anchor them as they grow into adulthood.
Identity formation. Humans love ritual, it helps them to create their identities. Special events like proms are useful in that identity formation.
Dress up. Really! Homeschool high schoolers are just like any teens. Most of them love to play dress up once in a while. (Even the boys!)
Special projects. It is good for teens and parents to work on big, meaningful projects together. It gives teens a chance to develop teamwork skills.
Fun for teens and chaperones. With a respectful bunch of teens, homeschool proms are fun for everyone.
BONUS reason: Social skills. Teens struggle with confidence. Practicing social skills ahead of time builds confidence that they can use in other places. Here are ways we have developed those needed social skills so that our homeschool high schoolers have the best time ever at prom.

Social Skills lessons. 10 quick, easy lessons that we repeat with our kids from elementary through high school years.
For years, 7Sister Sabrina organized and helped chaperone our umbrella school's homeschool prom. Here are her thoughts about one of those proms.
Proms get a lot of bad press. Teenagers drunk.  Teenagers dancing inappropriately.  Teenagers trashing banquet halls.  Teenagers sneaking off to the bathroom to use drugs.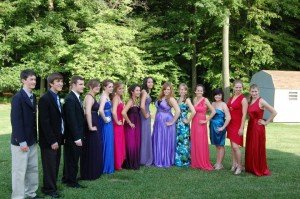 But the truth is that proms don't have to include any of those unsavory elements. A prom can be a great opportunity for teenagers to practice being grown-up and dressed-up.  A prom can be a special memory from a student's high school years.
Almost ten years ago, the homeschool community in our umbrella school decided to take a chance on that theory and host a prom.  Many of the parents in our area were skeptical; can prom really be a positive event?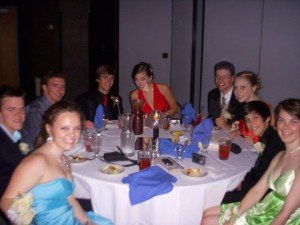 After chaperoning 9 of these evenings, I'd like to share with you a few "snapshots" of what a prom can (and should, in my opinion!) be.  Last night I got to watch:
* graduating seniors celebrate with their friends the huge accomplishment of finishing their high school adventure.  Many of our seniors reminisced about their years homeschooling in community together, and even the guys gave each other a hug at the end of the night.
*popular, confident girls going out of their way to tell shy, nervous girls, "You look so pretty!  Who did your hair?  Come on, dance with us!"
* regular hallway and bathroom checks at the banquet hall that yielded NO behavior incident reports. None, in 9 years.
* teenaged guys walking up to teenaged girls and saying, "Would you like to dance?" only to take to the floor keeping their hands in respectful dance position.
* sober, well-behaved teenagers laughing, talking, dancing, laughing, eating, and did I mention laughing?
* male students coming up to me, the old-lady chaperone, and saying, "Mrs. J, may I have this dance?" Female students coming up to me, the old-lady chaperone, and saying, "Mrs. J, I love your dress!"
Last night encouraged me to remember that the years we are pouring into our children as homeschoolers CAN and DO yield really fabulous fruit. What started with 30 kids a decade ago now sees over 100 names on the reservation list.  Parents who were skeptical now make sure they get their child signed up for what is a safe and special evening.
The years we've spent modeling and teaching character, equipping our kids with social skills, and coaching them regarding relationships really do pay off!
The caterers at the banquet hall comment every year on our kids.
"They stay on that dance floor all night!  They look like they're having such a good time!"
"We love having your group in here because they never break things or damage the facility."
"Your kids always tell us, 'Thank you!' as they leave at the end of the night!"
Sometimes it hard to see the forest for the trees.  We spend so many hours dealing with the areas our children have yet to master in terms of maturity that we benefit from a special occasion that spotlights just how much they have achieved as well-rounded, respectable, caring human beings.
For me last night, that occasion was prom.
7Sisters email subscribers receive periodic practical encouragement, special offers and NO SPAM EVER.

Click the image above to periodically receive real homeschool value in your inbox.
5 Things We Have Liked About Homeschool Prom