Time to write your homeschool goals. 7Sister Marilyn is our local homeschool guru on goal writing. Here is her classic post on creating homeschool goals.

Writing Homeschool Goals
Just as there is no one right way to homeschool, there is not one right way to write your homeschool goals, but here are some goal setting guidelines. Adapt them to your purposes:
1) Think about what you want for your child by the time he or she graduates from high school.
You may want her to go to college. You may even want or need him to get a scholarship to help pay for said college.
You may not think college is in your child's future, but you probably do want her to be able to support herself and move out on her own.  That would mean that your child would have a marketable skill.
You probably want your child to be able to support a family, prepare a meal, have friends, be serving in church, balance a checkbook, and bring your grandchildren back to see you!
These are all long-term homeschool goals and can be written as such.
Read more about setting 4 Year Goals for High School.
BTW- If balancing a checkbook and other financial stewardship skills is one of your goals, you will really appreciate 7Sisters' interactive Financial Literacy from a Christian Perspective. Our teens who have used this curriculum have loved it and are using their financial skills all the way into their adulthoods!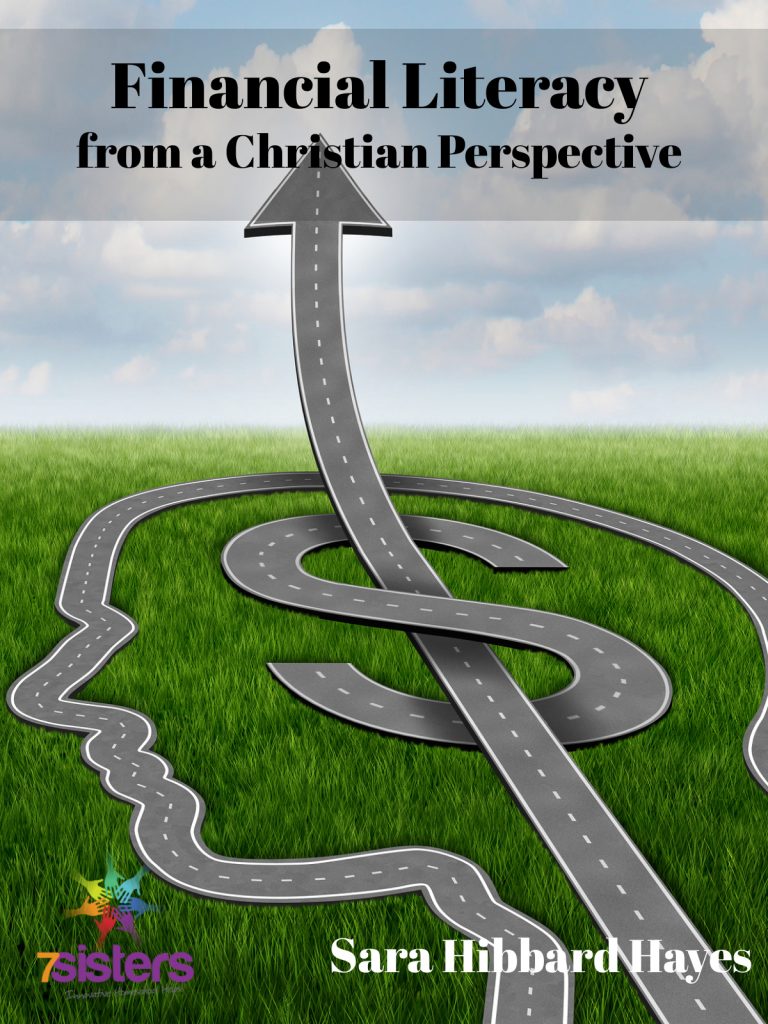 2) Once you have your long-term homeschool goals written, think about what steps you need to take this school year to bring you closer to these goals.  These will be your short-term homeschool goals.
If my child is in ninth grade and my long-term goal is being able to balance a checkbook, I might need him to be able to balance equations accurately.  This would bring him a step closer to my goal.
If I want her to be able to study her Bible, perhaps working on inferential skills would be a good start. Giving her some apologetics skills would be a great idea.
Did you know 7Sisters has teamed with Good Answers Ministries to provide a FREE Apologetics curriculum? These are terrific voice-over powerpoint lessons so there is no preparation or training needed! Plus, here is a syllabus to help guide homeschool high schoolers through the Apologetics curriculum.
3) Once you have your long-term and short-term homeschool goals, think about the "how" of accomplishing them.
What is my plan for this year that will bring my child closer to this goal?
Do I need to complete algebra?
Do I need to study another culture?
Do I need to teach her about proper nutrition and exercise?
Does she need to learn a World Language?
Does he need a Social Science on his high school transcript.
Do you need help deciding which courses your homeschool high schoolers need to cover for their high school transcripts? Check out this post.
Need help choosing curriculum? Check out this post on no-fail ways to choose curriculum and download our  How to Choose Homeschool High School Curriculum.
4) When you set your goals, don't focus entirely on academics.
You can include physical, social, and spiritual goals.
When my boys were little, I included a goal of being able to "handle a variety of social settings".  For years, it seemed that the short-term goal was accomplished if they burped and said "excuse me" instead of "that was a good one".  As they matured it included things like being able to handle a job interview, knowing how to dress appropriately for an occasion and proper etiquette on a date or on the dance floor at a wedding. For basic social skills check out our Social Skills guide.
5) Remember as you set goals that each child and family is unique. 
We can glean from each other, but it is detrimental to compare ourselves to others.  Remember to include your homeschool high schoolers in the goal-setting process. Here's a post that shares ideas for bringing teens into the planning process for their high school years.
Remember: You can't fit everything in but you can be creative so that your teens has the academics they need and the extracurricular experiences they need. Here's a post to help figure out how to fit things in for homeschool high school.
Once you have your written goals, you can use them to help you decide which curriculum or activities fit for you.  And, you will be surprised to see how much you accomplish each year!
7Sisters email subscribers receive periodic practical encouragement, special offers and NO SPAM EVER.


Click the image above to periodically receive real homeschool value in your inbox.