There are 5 types of elective credits you and your homeschool high schoolers can plan for if they want a well-rounded transcript.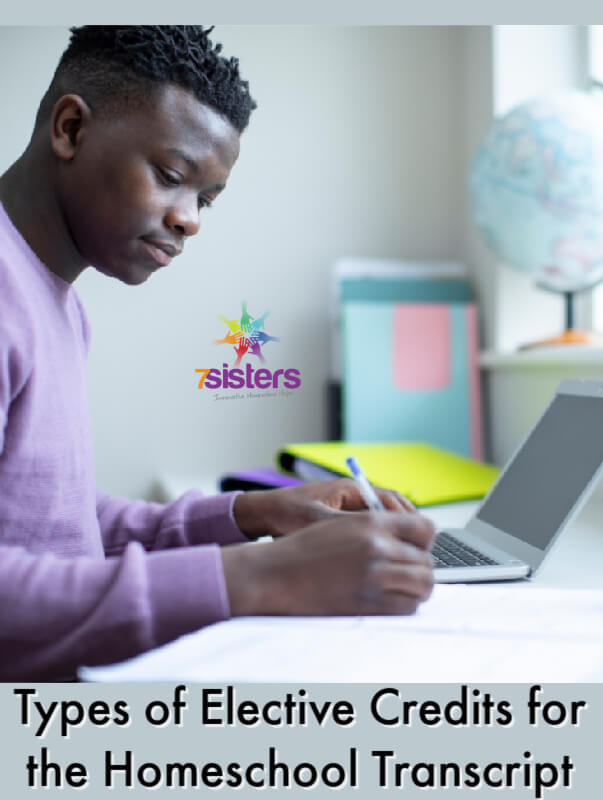 5 Types of Elective Credits for the Homeschool Transcript: Tips from a 20 Year Vet
My kids loved their homeschool high school electives. These were the courses that THEY got to choose. As you know, they HAD to take geometry, chemistry, civics, and the other core classes. However, when it came to filling out their transcript, it was the electives that really made some of my teens' academic record sparkle and their hearts glad.

We all know, the transcript needs to show around 26 credits for graduation. This varies state to state and umbrella school to umbrella school. Check Homeschool Legal Defense Association for details.
Five types of electives for the homeschool transcript:
Beyond the core classes, your homeschooling high schooler needs to show electives on his transcript.
1. Electives required for graduation
These often include Fine Arts, phys ed, and career pathways (all my kids did Career Exploration Workbook).
2. Building power in the transcript with electives
If your homeschool high schooler is interested in a college major that is based on a core subject, extra (elective) credits will add power to the transcript. (With that in mind, your homeschool high schoolers can level up their courses to give college-attractive rigor on the transcript.) Often there are textbooks or online courses available for these topics.)
For a budding science major, some types of elective credits for sciences (those beyond the required 4 sciences for graduation) could include:
Anatomy and Physiology,
Advanced Chemistry,
Marine Biology,
Astronomy,
Environmental Science,
Computer Science.
(My oldest took Computer Science classes in preparation for his college major- back in his day, they were mail order…).
For a budding psychology major, electives might include (if not included in required core classes):
Human Development
Sociology
Philosophy (All my kids built some power in their transcripts with philosophy.)
For a budding history major, electives might include special studies in:
3. Investigating an interest can lead to types of electives to take
If your homeschooling high schooler has a special interest, help them develop a study plan and log 120-180 hours of learning (required number of hours varies by state).
This might include types of elective credits for special studies in:
All my teens have taken speech and competed as part of the local homeschool support group's Rhetoric League using what became 7Sisters' Speech curriculum. Interestingly, colleges seem to really like to see Speech credits on the transcript.
My youngest took Home Maintenance from the local community college. All of the kids have done home ec in some form- whether they were interested or not.  

4. Developing a gift for taking electives
If God has given your teen a talent, it should be developed. Log 120-180 hours of lessons or educational activities in these areas for a credit.
This kind of elective credit might include:
taking art or voice lessons
playing on a soccer team
learning leadership skills
My youngest is a musician. Also, he wrote his yearly research papers on this history of church music. He played in church worship team and a Christian rock band. Not only that, but he took voice lessons, music theory, and piano lessons. All of these are electives for him.

5. Exploring career options with electives
Types of elective credits can be completed with career exploration. Therefore, you can log 135 hours of lessons or educational activities per credit. Every teen should have a career exploration credit or two before graduating.
This can include Career Exploration texts and also learning activities.
Activities may include:
Volunteering at zoos, nursing homes, urban schools, libraries.
Apprenticeships are also good career exploration activities; try helping out a veterinarian, classroom teacher, coach, office administrator, etc.
(My youngest did some work at a recording studio. Another son helped out at a local video production agency.)
Sometimes even a part-time job in high school may count.
More resources about elective choices
With all of this in mind, you can help your homeschool high schoolers build the best-fit transcript for them and their future goals. To help with the process, check out 7Sisters Authoritative Guide post on planning homeschool high school.
7Sisters email subscribers receive periodic practical encouragement, special offers and NO SPAM EVER.

Click the image above to periodically receive real homeschool value in your inbox.
5 Types of Elective Credits for the Homeschool Transcript: Tips from a 20 Year Vet