American history has always been a favorite subject for my homeschooling high schoolers. Each of them had a slightly different learning style. But that is fine because homeschool American History high school credit is one of the best subjects to tweak to my teen's learning style.
5 Ways to Earn Homeschool American History High School Credit
Here are 5 ways to earn that homeschool American History high school credit!
1) For hands-on learners:
If your student is absolutely hands-on, you might want to go with the Carnegie unit "hours-of-instruction" method. Your high schooler can log 120-135 hours of instruction in history. (Some states require 180 hours- the number varies according to the state rules or your umbrella school rules. Check HSLDA for more information- and join if you haven't yet).
Instruction can look like, projects on various historical topics, with field trips, re-enactments, mapwork, and dvd's. It would be best to get a timeline yourself and use it as a jumping off point so that you know you have covered everything.
Keep good logs of time spent and descriptions of work done, along with photos of projects and trips as evidence of instruction.
Click here to access some virtual field trips for when you can't go in person.
2) For just-get-it-done learners:
Textbooks are a no-fail way to earn a credit. Get the book done and you've got the credit. Be sure to have your student answer the questions in the text, along with taking the assigned tests. (Don't forget to grade them and keep grades recorded.)
3) Research-based learners:
Future historians usually enjoy solving mysteries, exploring issues and reading history through reading original documents from history: the Constitution, letters from political leaders and average people, old newspapers and magazines.
Usually, the student documents hours and writes papers to detail his discoveries.
4) Avid readers:
If your student loves to read real books, a credit can be earned by reading biographies, documentary-style books, historical novels, and books written in the time period being studied. Our umbrella school has found that if a student reads around 16 books with study guide or summaries, reports, or essays it is easy to reach 135 hours to earn a credit.
Keep an accurate log and all the papers. Assign grades by the quality of the work on the paper, comprehension, and attitude.
5) Combine the above:
One of my teens loved history and wanted to go beyond textbook learning and truly experience his homeschool American History high school credit. He read a number of real books, read original documents, went on field trips, wore period appropriate clothing, learned to play fife and other period-appropriate musical instruments.
He could also use the books he read on his American Literature book list for Language Arts credit. Here are some that we 7 Sisters have used with our teens. (We don't use study guides for all the books our high schoolers read, but we do use our no-busywork, self-guided lit guides often enough that we are sure of our homeschool high schoolers having great comprehension.)
Here are some study guides we use for 20th century issues in American History
A Tree Grows in Brooklyn (immigrant experience)
A Raisin in the Sun (African-American experience in mid-20th century)
Born Again (Chuck Colson's experiences with Watergate, jail, and redemption)
Joni (Joni Eareckson Tada's experiences serving those with disabilities)
For visual learners, or simply to add some variety, consider watching some history-themed movies. Click here for a list of some of our favorites.
7Sisters email subscribers receive periodic practical encouragement, special offers and NO SPAM EVER.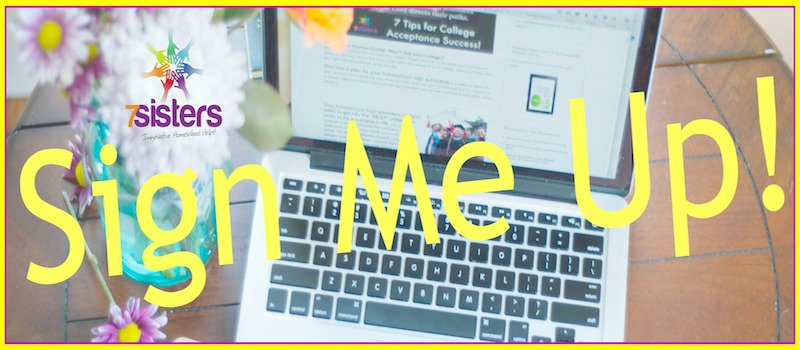 Click the image above to periodically receive real homeschool value in your inbox.
5 Ways to Earn Homeschool American History High School Credit