Homeschool high schoolers need a fantastic Financial Literacy credit on their transcripts.
Fantastic Financial Literacy Credit
Many states have started requiring a Consumer Math credit for high school graduation. That's exciting news! Many of adults can remember heading off to college or career after high school and not having a CLUE about how to manage money and make wise financial decisions. Now that it is a requirement, we have an excuse to squeeze this training into our teens' education schedules.
But we've learned something else over the many years we 7Sisters have been homeschooling high school (with our own kids and hundreds of other local teens in our homeschool co-op and group classes):
Your high schoolers' homeschool transcripts look better if they have *sparkle* credits. For instance, they may be required to have Consumer Math on the transcript. However, if you *sparkle it* by making it a fantastic Financial Literacy credit, the transcript will have more power.
Here are 5 ways to give your homeschool high schooler a fantastic Financial Literacy credit: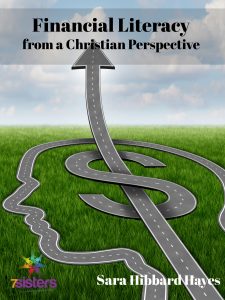 1) Choose an excellent curriculum for Financial Literacy
A favorite course for many of our local homeschool high schoolers has been Sara Hayes' Financial Literacy class. Our teens have enjoyed learning from Sara in person. That is such a gift. Sara can't be teach Financial Literacy in person to many teens, so that's why she captured her popular lessons in her interactive Financial Literacy from a Christian Perspective.
This downloadable etext has become one of 7Sisters most popular courses. It teaches homeschool high schoolers about:
Money: What is it really?

Financial goals and strategies (including budgeting and planning for the future)

Biblical look at saving and investing (no preachy lessons, just practical guidelines taking into consideration what Scripture actually says)

Biblical outlook on credit

The various kinds of financial institutions that they will be interacting with through life

The many kinds of insurance and how to choose

How career choices impact finances and how to know *best fit*

What kinds of taxes they will be facing as adults

2) A fantastic Financial Literacy course will be leveled according to student need and interest
7Sisters' Financial Literacy from a Christian Perspective text includes instructions for *leveling* the curriculum. For instance, a homeschool high schooler who is capable of doing simple *average* level work, can take tests open book and requires parent discussion on some in-depth subjects.
On the other hand, an *honors* homeschool high schooler will do the book on his/her own. He/she will follow the instructions in the text for *leveling up* the curriculum (including reading a couple of books by experts like Suzy Orman or Larry Burkett- something we adults could benefit from). This makes a rich, practical experience with varied perspectives.
For more information and how-to's about leveling up curriculum or credits, check out this post.
3) Have some fun with infographics and  games!
Infographics are an awesome extra to add to a fantastic Financial Literacy credit (check out this post). They add pizzazz! While not in the 7Sisters' text, your homeschool high schoolers can use infographics to solidify their learnings.
Also, homeschool high schoolers need to have a little fun with their education! That's why we love to incorporate games into our courses. One of the best courses for including games is Financial Literacy because many government and private organizations have produced online or board games that teach and reinforce key concepts. Check out this post for links and ideas for online and board games for Consumer Math/Financial Literacy.
4) Do some projects
7Sisters fantastic Financial Literacy course includes small projects for each chapter, such as:
actually monitoring spending

creating realistic budgets

look at cost-benefit for several colleges

interviewing parents about their income taxes

and more
These real-life, hands-on experiences make the financial learning stick!
5) Share with your learning co-op
Discussing topics together like college, career, and car choices make co-ops fun and a fantastic Financial Literacy credit. Sharing budgets, research, and making presentations are so rewarding in the co-op setting. Click here to view the Table of Contents.
Interested in more ideas on creating a fantastic Financial Literacy credit for your teens? We share lots of encouragement and ideas on this episode of the Homeschool Highschool Podcast. Listen in!
Financial Literacy was a fantastic credit on my son's transcript. The skills he learned in this course have helped him manage his college budgeting and choices. Your homeschool high schooler will be blessed, too! Download a copy today!
AND here are 7Sister Sara's top picks for financial literacy.
7Sisters email subscribers receive periodic practical encouragement, special offers and NO SPAM EVER.

Click the image above to periodically receive real homeschool value in your inbox.
Fantastic Financial Literacy Credit