This is the affiliates section of this store. If you are an existing affiliate, please log in to access your control panel.
If you are not an affiliate, but wish to become one, you will need to apply. To apply, you must be a registered user on this blog. If you have an existing account on this blog, please log in. If not, please register.
Our Affiliate Program is now accepting new registrations. Please email us if you have specific questions not answered in the information here.
7Sisters Affiliate FAQs
Welcome to 7Sisters Homeschool Affiliate Program!
Check out our simple, user-friendly, easy-to-put-money-in-your-family's-budget Affiliate Program.
What is 7SistersHomeschool.com Affiliate commission?
• Commission of 40%
Where do I find resources and creatives?
• Easy to use resources
• Creatives and sample text with active links for easy use in your affiliate dashboard
How will I hear from 7Sisters?
What is the cookie duration?
• 90 day cookie
May I guest post?
• Guest Posting opportunities on the 7SistersHomeschool.com blog
Start energizing your affiliate program today!
Who Makes a Good-Fit Affiliate?
The 7 Sisters Homeschool Affiliate program is a good fit for people who believe in designing unique homeschool experiences for their families, using ebook curriculum to pursue learning that stirs the spirit and avoids busywork.
You might be an Affiliate who is:
• A mom who writes a blog or runs a website that highlights homeschooling regularly
• The owner/administrator of a group site with homeschooling content
• A distributor of digital curriculum looking for new publisher accounts
• A homeschool or parenting newsletter editor
• A fan of 7 Sisters Homeschool products
We'd love to partner with you!
What is special about the 7SistersHomeschool.com brand?
Understand and share the 7Sisters Homeschool brand
• Adaptable, NO-busywork ebook curriculum
• Expert advice from 20+year veteran homeschool moms
• Mostly fun!
Our Distinctive: We create our materials to have a NO-busywork, lighthearted attitude. In our experience, enjoying a curriculum promotes student success in life. (All of our kids who have been called to attend college have been successful there- with some PhDs, even. And those who weren't called to college tended to like their high school education.)
Adaptability: 7 Sisters etexts are level-able. Written at an average high school level, instructions are given for meaningful ways to level-up to college prep, advanced, or honors level.
Who are the 7Sisters, anyway?
7Sisters Homeschool is 6 homeschool mom-friends (Kym, Vicki, Sabrina, Marilyn, Allison, Sara) plus YOU!

The Homeschool EBook Curriculum Affiliate Program from 7SistersHomeschool.com
What is a Homeschool Curriculum Affiliate Program?
If you have a website or blog, you can earn money by promoting ebook curicula and resources from 7SistersHomeschool.com.
Sign up

to be a 7Sisters Affiliate.  It only takes a moment to fill-in the form.

PLEASE ALSO SEND AN EMAIL TO KYM@7SISTERSHOMESCHOOL.COM telling her that you have registered.

That way we will be sure to note your registration and start the activation process. PLEASE INCLUDE THE FACEBOOK PROFILE YOU WOULD LIKE US TO USE to add you to the closed FB 7Sisters Awesome Affiliates Group.

Upon approval, you will receive an introductory email, including login information and 7Sisters button links to display on your site.

On your site/blog, share a 7Sisters button link or a text link in one of your posts.  As your readers click through to the 7Sisters site and make purchases, you earn 40% commission on each item they buy from our ebookstore – simply because you sent them to us from your site!
How Does the 7Sisters Homeschool Affiliate Program Work?
So easy…and FREE!  Each time someone clicks a 7SistersHomeschool.com link or button on your site and then purchases an ebook in our store, you earn a commission on the sale!
40% commission paid to the Affiliate up to $500.00 in one month

90 day cookie

commissions paid securely via Paypal monthly after you reach our $10 minimum payout threshold
Let's Do This!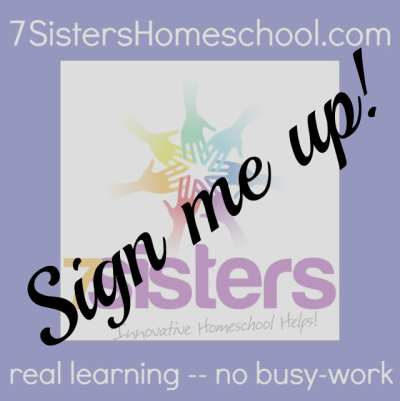 Click here to apply to become a 7SistersHomeschool.com Homeschool Curriculum Affiliate.
Remember: PLEASE ALSO SEND AN EMAIL TO KYM@7SISTERSHOMESCHOOL.COM telling her that you have registered.
We are excited to partner with you – we all need "Sisters" in the homeschool community to work alongside us in our endeavors!
If you are already an Affiliate, you can click here to login to your Affiliate account and check your sales and commissions or grab buttons for your site.
As an Affiliate of 7 Sisters Innovative Homeschool Helps, you are agreeing to these terms.