For years, homeschool moms have been asking. Now it's here: All-in-one Language Arts Curriculum- 7Sisters Style!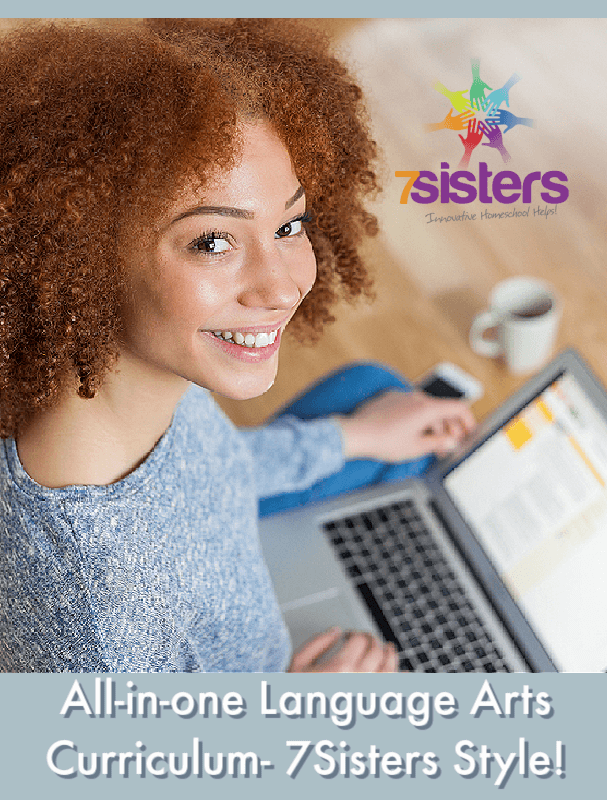 All-in-one Language Arts Curriculum- 7Sisters Style!
Back when our own homeschoolers reached high school, they let us know pretty quickly that the curriculum available for English/Language Arts was boring, stuffy, had too much busywork and killed good books by over-analyzing them.
Well, we knew how our teens liked to learn, after all, we had been homeschooling them for years (and co-oping together for years), so we went about creating curriculum that would teach what they needed to know in a way that they could appreciate what they were learning.
This is what they wanted in their ELA curriculum:
They wanted study guides for literature books (but not for all the books they read).

However, they wanted study guides that didn't kill the book! They just wanted one or two themes to explore.
Most of them had also outgrown comprehension questions. They enjoyed the inferential-type questions.
They wanted to learn real vocabulary from their books, not just random word lists they did not care about.
They wanted to study Movies, too!

They were "over" doing grammar workbooks, after 8th grade they were pretty fed up with them

Of course, they never had access to Melanie Wilson's Grammar Galaxy workbooks…btw-we are not affiliates, but really like her grammar courses for kids).
They wanted to count editing their papers as applied grammar. All they wanted was a guide they could check with and a rubric to know what they were aiming for.

They wanted their writing guides to have bite-sized daily lessons, at least most of the time.

(They realized that research papers are a little more time consuming.)
They wanted their writing guides to be laid out for them with understandable daily lessons.

They felt like they wanted to learn Public Speaking but they did not want to get all serious about it.

They wanted their teens to enjoy and have confidence in their skills in speech.

Because each of our homeschool high schoolers had different goals, abilities and interests, they wanted to be able to complete their work at a meaningful level:

Some were average teens (Level 2)
Some were college prep teens (Level 3)
Some were advanced Teens (Level 4)
Some were Honors teens (Level 5)
So that is how 7Sisters' Language Arts guides were born. As time has passed, more and more homeschool high schoolers have used and loved 7Sisters ELA curriculum. You can view and also download a free suggested syllabus for One Year of High School English/Language Arts (grade 9). As well as view and download a free suggested syllabus for Another Year of High School English/Language Arts (grade 10).
BTW- If you have not discovered Homeschool High School Podcast yet, check out these pertinent episodes:
However, sometimes moms and teens found choosing the individual guides for each year's study was becoming overwhelming.
So they started asking us for an all-in-one Language Arts curriculum that they could simply download and work through.
We heard! Now we are offering a comprehensive English/Language Arts curriculum that is all in one place, all the guides chosen, along with how-to-use guide, schedule and grading tools!
The $75 price for each ELA/Language Arts bundle is 42% off the prices of each of these guides purchased separately.
Each of our new, four full-years' Language Arts bundle includes:
Reading with literary analysis, same guides your homeschool high schoolers know and love

Movies with literary analysis, same guides your homeschool high schoolers know and love

Writing for the four types of papers that should be covered each year:

Research papers
Essays
Short stories
Poetry

Vocabulary, included in each literature guide, taken straight from the book!

Grammar, practiced in editing and guided by rubrics along with Grammar Granules, (links for those who want more in-depth). 

Public speaking modules from our popular Speech curriculum

A suggested schedule

Tools to help with

grading

tweaking the assignments if they do not fit your needs perfectly

adjust the level of rigor to fit your child's level of competence (average – honors)

stay on track and record your teen's progress as the year unfolds
As always, we remind homeschool moms that there's not ONE right way to homeschool high school, so the all-in-one Language Arts curriculum is described as "a good fit for…" but not that your teen MUST use a particular one at when they are in a particular grade.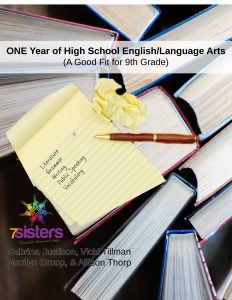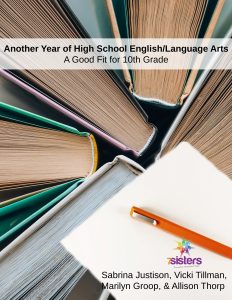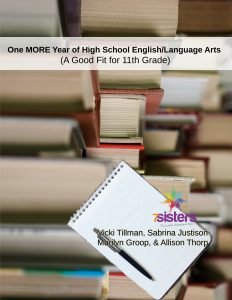 You can also check out the suggested syllabus for this course.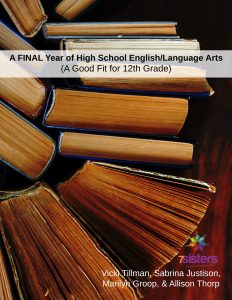 Here's what each one-year bundle includes: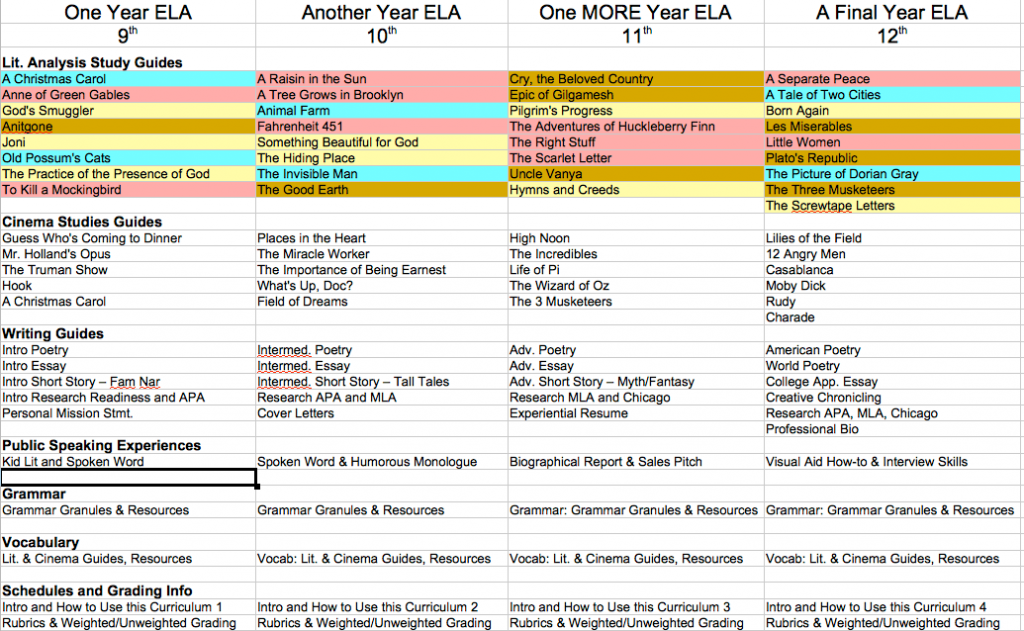 You can visit each of the product pages for deeper descriptions. We believe that having ELA all in one place is going to simplify the choosing and organizing process for homeschool moms and teens.
Download your teens' bundle!
Wondering why all the language arts credits in high school? Read this interview with Katie Glennon.
7Sisters email subscribers receive periodic practical encouragement, special offers and NO SPAM EVER.


Click the image above to periodically receive real homeschool value in your inbox.
All-in-one Language Arts Curriculum- 7Sisters Style!