Finally, it's here! At Last: Full ELA Courses for All Four Years of High School!
At Last: Full ELA Courses for All Four Years of High School!
Homeschool moms have been asking us for this and now it is finally here. A 7Sisters style full ELA/Language Arts curriculum that covers each necessary aspect of the credit. AND a level for each of the four high school years!
Get Ready for something NEW! Four Full Years of English/Language Arts
The ELA credit is complex — so many pieces to put together. Sometimes, it's good to have everything all in one place. 
7Sisters' new, full-year, adaptable, no busy-work English/Language Arts curriculum for your high school student fits the bill. Each of the four years' ELA bundle includes:
Reading with literary analysis for for not only books, but also movies!

Writing (4 types of papers: Research, Essays, Poetry, Short Stories

Vocabulary

Grammar

Public speaking

A suggested schedule

Tools to help with

grading

tweaking the assignments if they do not fit your needs perfectly

adjust the level of rigor to fit your child's level of competence (average – honors)

stay on track and record your teen's progress as the year unfolds
Choose a bundle for your 9th, 10th, 11th or 12th grader, and enjoy the adaptability of 7Sisters curriculum with the added support of a one-year comprehensive structure — your ELA credit is covered!
Remember, 7Sisters curriculum is designed to help you steer clear of busywork or overkill that might make your student come to hate ELA!
What are these ELA/Language Arts bundles called? Well, as you have noticed, we like to have fun with our titles (and our curriculum), so these full-year, no-busywork, adaptable bundles are called: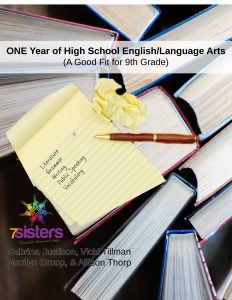 You can view and also download a free suggested syllabus for One Year of High School English/Language Arts.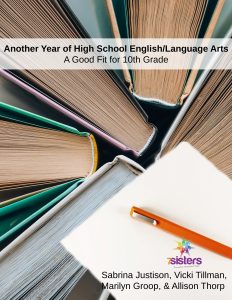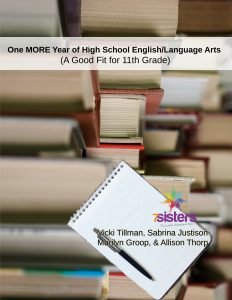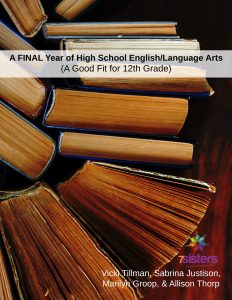 Note: There's not ONE right way to homeschool high school! That's because there's not ONE kind of homeschool high schooler. So if you have an advanced 9th graders, they might enjoy starting at Another Year of High School English/Language Arts. If you have a struggling senior, it is okay to start with One Year of High School English/Language Arts.
Here's what each one-year bundle includes: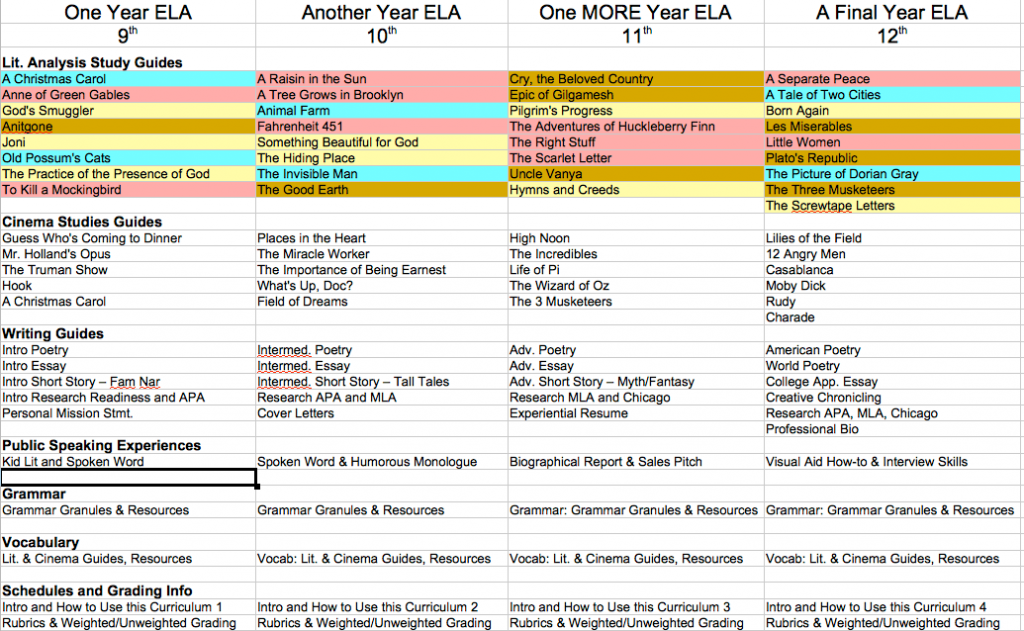 The price for each ELA/Language Arts bundle is 42% off the prices of each of these guides purchased separately. Affordable curriculum, because we want to bless our many 7th Sisters! (There are 6 of us 7Sisters: Sabrina, Marilyn, Kym, Allison, Sara, Vicki…who is the 7th Sister? YOU are!)
We believe that this English/Language Arts curriculum will help you and your teen get the most out of this year's reading and writing, and enjoy yourselves in the process!
Would it help to have a FREE download that gives you an overview of the 4 years of comprehensive ELA curriculum bundles…and a glimpse of the suggested schedule for each? You can get your PDF here to help you wrap your brain around these terrific new resources!
Here's what you will cover with each year of the

Full ELA Courses for All Four Years of High School
Literary Analysis
Each ELA bundle includes guides to accompany 8 books. These are all well-written, thought-provoking, respected pieces of literature at a high school reading level. (You will need to buy copies of these books for your teen to read, or borrow a copy from the library.)
Your teen will begin by reading the introductory material at the beginning of the guide and then read the book with its accompanying guide close at hand.
Some questions should be answered while reading the book; others will call for a bit of reflection after finishing  the book. Each guide makes the process clear. 
"Sum It Up" and "Write in Response" sections in most of the guides help students pull together what they have learned and articulate it using their own words, cementing the new knowledge or understanding in their brains as they do.
These guides are designed to help students mature as readers and thinkers, to do more than simply comprehend the meaning on a surface level and begin to think about what they read more deeply.
Immature readers ask: What happened? Who did it? When did it happen? Where?
Mature readers ask: What is likely to happen as a result of that event? Why did that person do that? How did the passage of time affect the outcome? Might it have been different if it had happened someplace else?
This is the goal of literary analysis, to help teens practice thinking in deeper ways about the words they read on a page.
Your curriculum also includes guides to accompany movies for the purpose of literary analysis.  (You will need to buy or rent these movies; many are available on streaming services like Amazon Prime, Hulu, or Netflix, or borrow them from a friend or from the library.)
Why are we assigning MOVIES for literary analysis??
Good storytelling is good storytelling, and because literary analysis is more about practicing THINKING SKILLS than it is about practicing the physical reading of printed words on a page, literary analysis can be practiced using the medium of movies as well as books. 
Your teen will begin by reading the introductory material at the beginning of the guide and then watch the movie once with its accompanying guide close at hand.
Like with the books they read and analyze this year, some questions should be answered as they watch the movie (just press pause and jot down a few notes); others can wait until the final credits roll. Each guide makes the process clear. Then, a few days, or a week or two later, the student watches the movie a second time, likely now noticing far more about the elements making up the story and the excellence with which they fit together (we've chosen movies that do a really nice job of demonstrating particular literary devices). After a second viewing, they're ready to write in response to the movie, using prompts at the end of the guide to get them started.
Most teens love a good movie
Also, struggling readers, in particular, really thrive when given the chance to separate the thinking process of literary analysis from the visual processing challenge of reading printed words. A nice blend of books to read and movies to watch draws high school students in to really engage in the learning available to them as they move beyond comprehension and into analysis.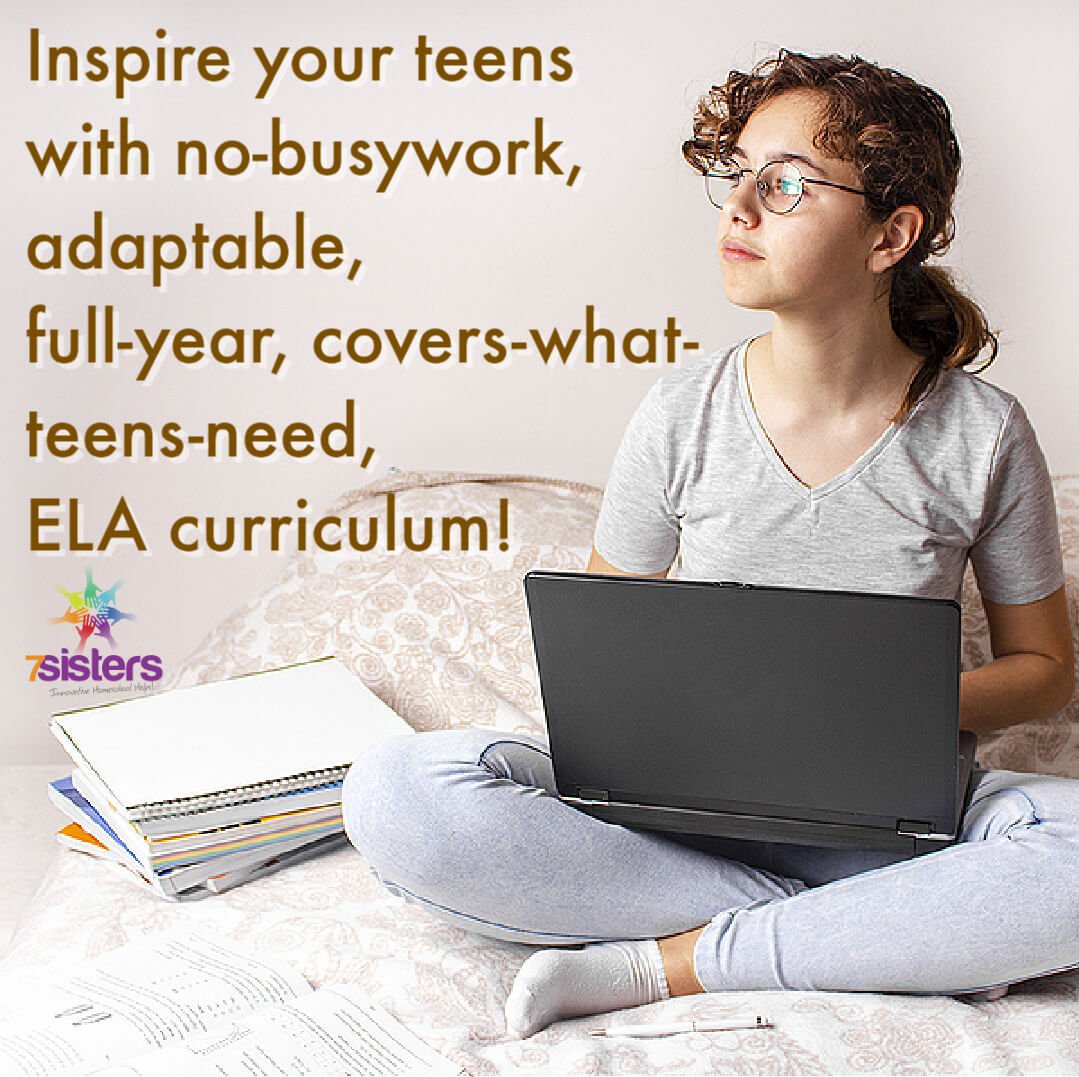 Writing
High school students need to write a lot, and they need to practice with varied types of writing. Your curriculum gives them what they need for the year. Essays, Poetry, Short Stories, Research Papers, and Real-World Writing guides are included. These guides give daily assignments that are designed to foster confidence in writing!
Grammar
The structure of the English language is not always simple or obvious. Grammar instruction helps teens learn the rules, practice following them, and learn the many exceptions to the rules that can trip them up when they write. Grammar Granules – Essential Elements of English is the perfect tool for students who are strong natural writers or who have a fairly strong background in grammar instruction in middle school.  While not an actually curriculum, this "pocket guide" offers quick and easy reference to clarify terminology, get examples of proper usage, demystify complex constructions, and check for correct grammar in a piece of writing before turning it in for a grade. (It will also be a LIFESAVER for the homeschool parent doing the grading!)
For many homeschool high schoolers, the writing and editing processes is enough grammar for them. Grammar Granules will help them with this.
If using Grammar Granules as a reference is not enough for your student, try a true grammar curriculum to supplement your reading and writing instruction and assignments. This bundle includes a list of recommended websites with program info to help you find the right curriculum for your homeschool this year.
Vocabulary
Each literature guide includes vocabulary words taken from the books for your student to learn. This is often enough vocabulary for teens.
However, if you want more, this bundle includes a list of recommended vocabulary programs available on the internet. One of our favorites is free and fun: FreeRice.com
Public Speaking
Practicing public speaking skills and learning effective strategies for oral presentation is so important in high school. This bundle includes two Public Speaking Experiences guides that will help equip teens without intimidating them (many people are terrified of speaking in public!). The fun activities, lighthearted tone, and detailed instruction get teens moving forward on the path to confidence in front of an audience.
Scheduling
There's not one right way to use this bundle; homeschoolers follow many different schedules, so it's hard to say exactly what you should do when. It's important that you remember to fit this curriculum to your homeschool, rather than trying to cram your homeschool into the curriculum if it isn't shaped exactly right for you!
Each bundle offers a basic framework for earning the ELA credit over the course of a traditional academic year. 
Also included are some thoughts on:
Need course descriptions for your ELA course? Check out this post.
7Sisters email subscribers receive periodic practical encouragement, special offers and NO SPAM EVER.

Click the image above to periodically receive real homeschool value in your inbox.
All New: Full ELA Courses for All Four Years of High School!