A good book can really inspire a young homeschooler to love American history. In honor of Independence Day, I asked my Facebook friends what are their favorite American history books for young readers.
American History Books for Homeschool
The novel that was suggested most often was:
Sarah, Plain and Tall by Patricia MacLachian
These were also favorites:
Calico Bush by Rachel Field

Esperanza Rising by Paul Munoz Ryan

George the Drummer Boy by Nathaniel Benchley

King George's Head is Made of Lead by FN Monjo

My Brother Sam is Dead by James Lincoln Collier

Sarah Bishop by Scott O'Dell

The Matchlock Gun by Walter Edmonds

Turn Homeward, Hannalee by Patricia Beatty

Who Comes with Cannons by Patricia Beatty

Dear America Series

Jean Fritz' American History Series

Joan Lowery Nixon's Series: Orphan Train Adventures

Laura Ingall's Wilder's Series: Little House on the Prairie

Mary Pope Osborne's Series: Magic Treehouse

Sarah, Plain and Tall by Sarah MacLachlan  (We have a literature study guide for this classic book. Click here for an excerpt.)
Read about our favorite history-themed movies for your homeschool. 
We asked our Facebook homeschool-friends to share their favorite movie adaptations of a book. (We love good movies for enriching our children's educational experiences.)
Barnes and Noble has a list of historical fiction for teens.
Do you students like music?
We have teaching aids for American history: Songs for learning American Documents!
Homeschool graduate, Ezra Tillman, created a series of videos and shared them on YouTube. In each of these videos, he shows engaging historic paintings and photos that are accompanied by a catchy song with the words of one of our of important American documents.
Need Ideas for you high student? 
Our favorite American history books can be found in this blog post! (the list is not vetted and is geared for various ability readers)
7Sisters email subscribers receive periodic practical encouragement, special offers and NO SPAM EVER.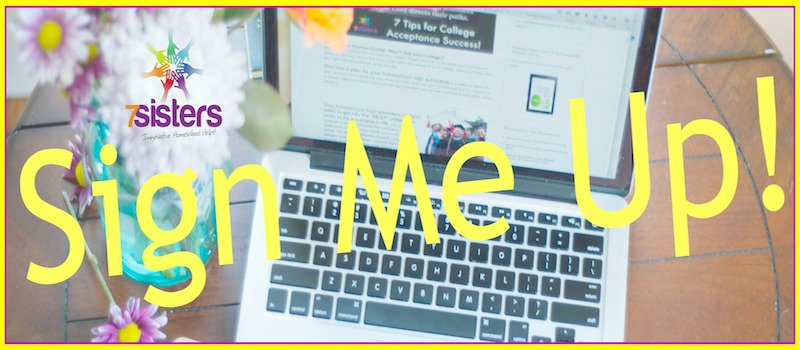 Click the image above to periodically receive real homeschool value in your inbox.
American History Books for Homeschool
SaveSave