Planning on homeschooling your teens? Here's an authoritative guide on how to homeschool high school.
An Authoritative Guide on How to Homeschool High School
Are you feeling intimidated by the idea of homeschooling high school? Don't worry. You CAN do it! Your 7Sisters are here to help. (BTW- there are 6 of us 7Sisters, so who is the 7th Sister? YOU are!)
How do we know you can do it? Well, we 7Sisters have homeschooled our kids through graduation as well as advising hundreds of local homeschool high schoolers. They have all made it through homeschool graduation!
We have got a system down that has become our *unofficial authoritative guide* for homeschooling high school. We want to share it with you, right here!
As you prepare to homeschool your high schoolers, take a look at our guide. Use it to develop your own way to homeschool high school. (Remember: There's not ONE right way to homeschool high school. If our way does not work for your family, you can create your own process!)
Homeschooling high school: Here's how
Step 1: Pray
As 7Sister Kym always says, "Pray first, last and always!" Families who are homeschooling high school need God's guidance and help. It would be a hard task to homeschool without God's help! Here are some of our thoughts on prayer and homeschooling high school.
We truly believe that prayer is the true secret of success in homeschooling high school!
Step 2: Set goals
As 7Sister Marilyn says, "Why would I give up all my free time to homeschool if I didn't have goals?" Why are you homeschooling high school? Then that's your main goal.
What are the other goals that you and your teen want to accomplish by the time they graduate? Here are some of our ways to set goals for high school. (Don't forget to invite your teens to participate in goal setting!)
Take a deep dive into goal setting for homeschool high school with our Authoritative Guide to Planning Homeschool High School and if you have not discovered our Homeschool Highschool Podcast, check out these episodes on goals and planning.
Be sure to set realistic expectations! For more excellent tips for start-up goals for your homeschool high school, check out this post from our friend, Marcy at Ben and Me.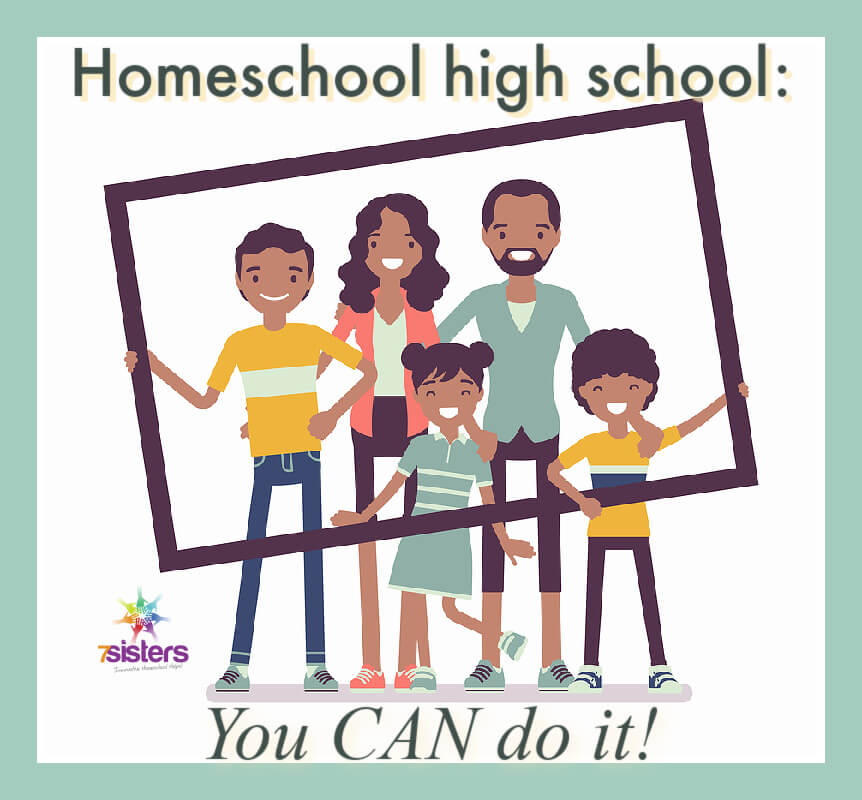 Step 2A: For new homeschool high schoolers who are transitioning from traditional school settings
As a newbie homeschooling high school parent, you will want to start with your teen's school records. Using those records, decide what your teen has left in order to fulfill high school graduation requirements (see Step 3). Then set your goals.
You will find our Authoritative Guide to Transitioning to Homeschool High School to be helpful. Be sure to include your teen in this process! You can find more tips from our friend, Melanie Wilson on Homeschool Sanity Podcast.
Step 3: Choose courses that will meet graduation requirements
There are 26 or 27 basic credits that homeschool high schoolers need to include on their transcripts. However, as you choose your courses remember:
Each state has specific requirement for graduation (check your state's Department of Education website or Homeschool Legal Defense for your state's requirements)
Supervising organizations (like umbrella schools or charter schools) will have their own requirements
Individual colleges will have different courses that they are looking for, check college websites for that information.
With those in mind, these posts will explain course requirement that will cover many students' needs:
Also, keep in mind that your homeschool high schoolers are not just earning basic education requirements. They are also preparing for life. You can capture all those life preparation skills on the transcript. This Authoritative Guide to Life Skills will help.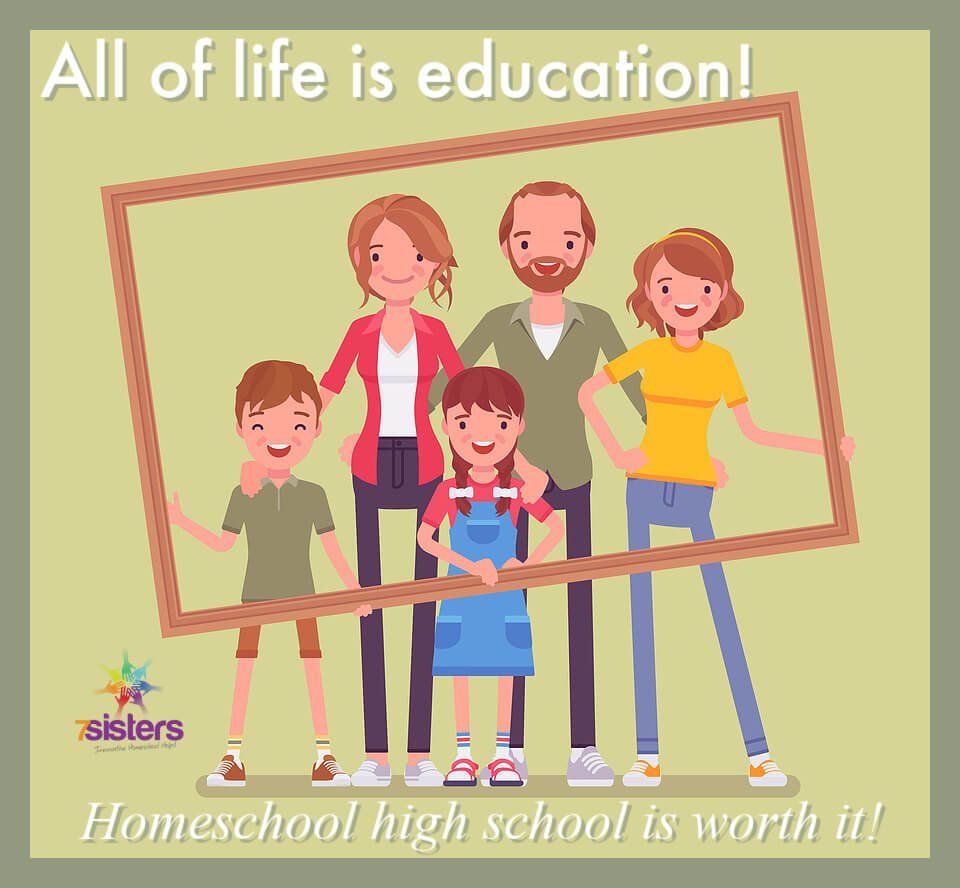 Step 4: Note the difference between college-bound transcript needs and non-college bound transcript needs
There's not ONE right way to homeschool high school…or to be a person or to choose a career. Some young people are called into a career that requires college, some are called into a career that does not.
First off, some homeschool high schoolers are planning on going into the military. If so, talk to a recruiter as soon as you can, so that your transcript can reflect what they need to see. Your teen might also want to join an organization like Civil Air Patrol. Check out these tips for preparing your teen for military careers.
College-bound homeschool transcripts need some course that SPARKLE. These special courses help your homeschool high schoolers' transcripts grab the attention of admissions officers. Here are some posts that explain choosing and naming these courses.
Non-college-bound teens need to concentrate on other areas, like life and career preparation. Here are some posts with ideas for those teens:
Step 5: Decide how each credit will be earned
This is the big one! Will your teen use textbooks? Log hours for a Carnegie credit? Take a class online/in a co-op/at an umbrella school? As we always say: There's not ONE right way to homeschool high school. Choose what is best for your teens. Here are some posts to make those choices:
Note: If your teen has special needs, homeschooling high school is an excellent choice. You can sculpt each course to meet your teen's needs and interests. We even have an Authoritative Guide to help you develop out-of-the-box credits for your teen.
For parents interested in unschooling their teens, here's an interview with Julie Polanco to help.
Step 6: Choose courses and experiences to develop your teens' strengths
Use the higher levels of rigor (such as College-Prep Level, Advanced Level and Honors Level) to build on your homeschool high schoolers' strengths. This helps your teens to grow intellectually (and personally, as they stretch their abilities). Here are some posts that explain levels of rigor.
Step 7: Choose courses and experiences to explore your teens' interests and values (Career Exploration)
You don't have time to not have time for Career Exploration. Much of what homeschooling high school is about is helping your teens explore their interests and values. Ask yourself these "What is" questions. What is:
Important to them?
God-given gift(s) that they already understand?
Their current awareness about themselves so far?
The area of "need to know" in their lives?
Here are some posts to help you take next steps with Career Exploration:
Step 8: Choose courses and experiences to help your teens explore their callings
As 7Sister Vicki says, "You were created on purpose, for purpose!" Understanding God's callings for your teens lives is a lifetime process, but they should get started in high school. Here are some thoughts about helping your teens explore their callings.
Step 9: Choose courses and experiences that develop character
When you homeschool high school your teens, you can teach them, as part of their education, skills that truly matter. Here are some posts about character building:
You will get best results when learning about character (or any topic) if you take a conversational approach- talk together, ask questions. (For more on conversational homeschooling, check this post.)
Step 10: Choose curriculum
You've got lots of ideas! Now it is time to choose your curriculum! This is a lot of fun…and a lot of pressure. Think about what is best for your family's interests, abilities, budget and lifestyles. And remember: Just because one particular curriculum works for your friends, doesn't mean YOU must use it. There's not ONE right way to homeschool high school!
Check out these "How to" posts with more information that you can imagine! How to:
Step 11: Develop life and college or career preparation skills
Homeschool high school years are the time for life and career and college prep. There's so much to learn. Here are a few skills:
Step 12: Keep good records
Record keeping is necessary. You need a syllabus and/or a course description for each course. You may keep them anywhere (a crate or binder). We suggest you create a Master Portfolio and include these in it. Here are the how-to's on record keeping, syllabi, course descriptions and Master Portfolios.
Step 13: Start a transcript
To work on the transcript, you will need to decide order of courses for each year, where to include extracurriculars, service hours, competitions, testing and how you will compute the GPA. Here are some posts to help with that:
Step 14: Decide how to assign grades for each course
We often get questions on how to grade assignments and how to assign grades for courses. This can feel overwhelming if you're worried that there's only one right way to do it. Think about your goals for each student. The grading process may look a little different for each one. Here are some posts that will help you decide how to grade:
Step 15: Set up a plan and a schedule (but stay flexible with it)
Homeschool high school is a busy lifestyle. If you don't create a good schedule, you and/or your teens will get lost in the *forest of wasted time*. Here are some posts on planning and scheduling:
Step 16: Remain flexible
We can plan our ways but as we've often found out, things don't always to our ways. It is God who directs our paths…and our teens' paths. Sometimes you'll end up ditching a curriculum, changing course formats, or dropping a course altogether. That's okay! One benefit of homeschooling is being able to do what's best at EACH moment. Here are some posts that help with flexibility:
Remember: You can't fit everything in but you can be creative so that your teens has the academics they need and the extracurricular experiences they need. Here's a post to help figure out how to fit things in for homeschool high school.
Step 17: Do yearly reviews of your goals
Many homeschool high school families have a supervising organization or have reviewers by state regulations. That's fine, but the most important reviewer is you. How are you and your teens doing with the goals you all have set? Here are some encouraging posts to help you do your own personal reviews:
Step 18: Decide if you will need PSATs, SATs or ACTs
Only college-bound teens need to take these tests. Some colleges are not requiring them any more. Here is some food for thought about whether to PSAT.
We 7Sisters have developed curriculum that teens like and helps them move toward the next phase of life. It is no-busywork and adaptable. Check out this post for more on what makes our downloadable curriculum a great fit for many homeschoolers.
Bonus Step: If you are concerned about your teens having the attitude to own their education, check these out:
Additional Bonus Steps:
If you are a single parent who is homeschooling high school, click here for a post with advice from single parents who have homeschooled high school! You can do this!
Our friend, Terry, McKee has a post on with lots of resources on homeschooling high school. Not only that but we have a great podcast on Handling Homeschool Fears, Interview with Homeschool Super Freak. 
Follow our Pinterest board on How to Homeschool High School.
Remember, God's in charge of the outcome! Homeschooling high school: You CAN do it! Thank you for allowing your Sisters be part of the process. Thank you for being our 7th Sister!
7Sisters email subscribers receive periodic practical encouragement, special offers and NO SPAM EVER.


Click the image above to periodically receive real homeschool value in your inbox.
An Authoritative Guide on How to Homeschool High School