If you have homeschool high schoolers, you need the information in this Authoritative Guide to Homeschool Career Exploration.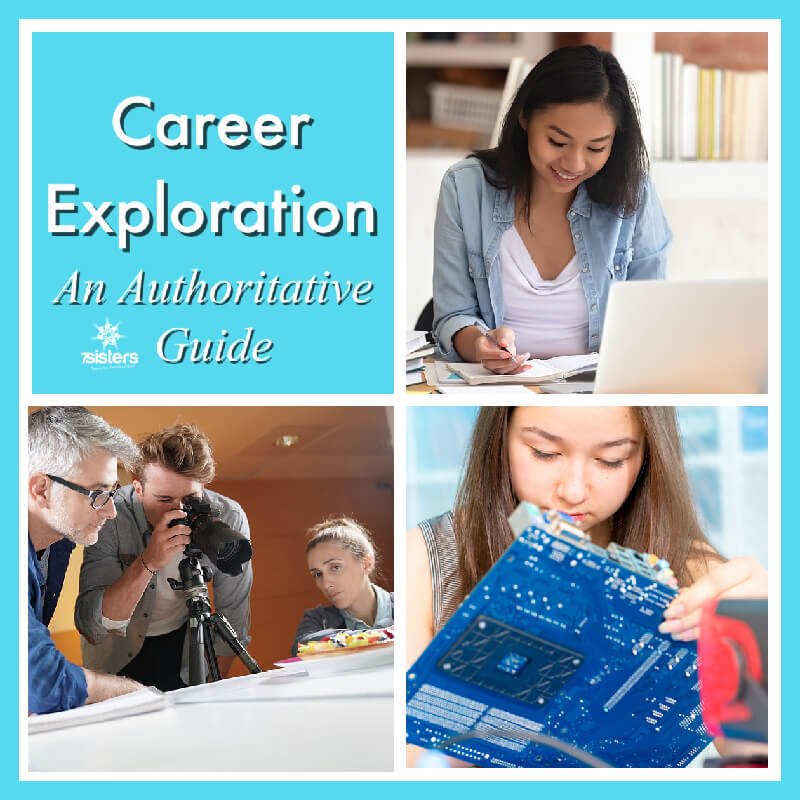 Authoritative Guide to Homeschool Career Exploration
I (Vicki) serve as a career coach, not only for the homeschool community, but I also serve as a career coach to my local (and online) community. One of the saddest things I experience is the not-uncommon *lost and bewildered* high school or college graduate who doesn't have a clue about what they *want to do when they grow up*. This is especially heartbreaking when the young person is a college graduate and I know they just spent thousands of dollars on that education.
How can you avoid this painful (and expensive) *don't have a clue* experience?
It's not that hard! Build time into your homeschool high schoolers' busy schedule for Career Exploration.
When teens spend time on Career Exploration, they:
Come to know themselves better
Gain a sense of God's callings, gifts and purposes for them
Build experiences that help them gain confidence
Build experiences that help them eliminate career choices or explore career choices (each is good)
Are better prepared for life
Better own their education
At 7Sisters, we are passionate about Career Exploration. We have taken the work I do with teens and put it together in our Career Exploration Bundle. This curriculum has been vetted by homeschoolers for years. But, we'll discuss it more later. First we need to discuss what is included in a great, life-preparation Career Exploration credit.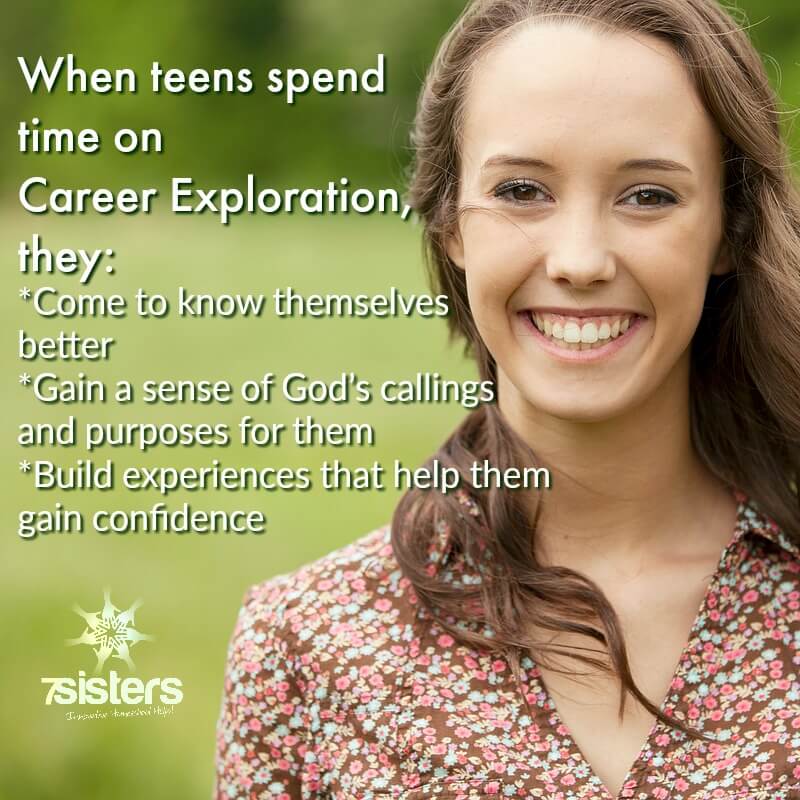 A good life-preparation guide (like this post) will look at each component your teens need in this authoritative guide to Career Exploration:
Understanding God's plans and how he guides teens
Noticing the ways God has worked in their lives already
Noticing their strengths, gifts, talents
Understanding their weaknesses
Exploring their interests
Exploring their mission
Exploring their purpose
Exploring their values
Trying on career hats
Making a choice
Being realistic in the current times
You can start early!
Even middle schoolers can be easing into Career Exploration. Do some gentle introductions of various careers and role models. Check out this post for introducing Career Exploration to eighth graders.
Understanding God's plans and how he guides teens
There are lots of ways to understand God's leading. The way we understand Scripture is that God guides us as we trust him:
A man's heart plans his way; but God directs his steps. Proverbs 16:9 NKJV
Trust in the Lord with all your heart; Lean not to your own understanding. In all your ways acknowledge him and he will direct your paths. Proverbs 3:5-6 NKJV
Have a little fun with the ways God has conducted *Career Exploration* in the Bible with this freebie.
Noticing the ways God has worked in their lives already
Sometimes teens haven't learned to notice how God works in their lives. In small ways and large, He works in and through them. One of the gifts we can give teens is the skill of noticing. Why? Because God is directing their paths somewhere…so it's good to notice and appreciate the path.
How can you develop that skill of noticing? Here are several ideas:
Start with the obvious: Who has God used to influence your life? Download 7Sisters Free Career Exploration Questionnaire to explore influencers in their lives.
They can also sharpen their *awareness of God's work* skills with some of these:
Read this post: Teaching your teen to listen to God.
Download 7Sisters' interactive prayer guides. They are just different enough to get teens engaged.
Download the freebie from 7Sister Vicki's Coaching website: Ignatian Examen (which teaches teens to watch for God's work in the simple things in life)
Guide to Career Exploration: Noticing their strengths, gifts, talents
For many teens, one of the most difficult facets of Career Exploration is admitting to their strengths, gifts or talents. They are often concerned that if they embrace their gifts, they will seem boastful or proud. It is important to encourage teens to simply be grateful for these gifts. When they are grateful for their strengths, it will not come off as boastful. Read this post for more on helping teens discover their gifts.
One way to develop their awareness of their strengths, gifts or talents is to interview their parents and other significant people. Teens can ask those significant people what they see. This important task is one of the assignments in 7Sisters' comprehensive Career Exploration curriculum (as are the other topics discussed in this post). Download it for your teen and help them get solid Career Exploration experiences.
Understanding their weaknesses
I once advised a high schooler on college major choices. She maintained that she wanted a pre-med major so that she could become a surgeon. When asked why she wanted to be a surgeon, she replied that they make great money. When asked what her weakest subjects on her transcripts were, she replied, "Math and Science." For this young person, a pre-med major was probably not going to happen. It was not likely that she would be admitted into those competitive programs. After she thought about it for a while, she decided to do a little more Career Exploration for a career she might actually enjoy and that would employ her many strengths.
Understanding weaknesses is an important part of Career Exploration. It is included in 7Sisters Career Exploration Bundle.
Exploring their interests
There are several kinds of teens in the world:
Those who are interested in EVERYTHING

For these kinds of teens, help them pick several topics to explore. Earn elective credits on the transcript in the various areas. Don't worry about settling down on ONE topic yet. (Even if your teens have someone nagging them to pick a college major, remind them that college major choice is important, but exploring a lot during high school will most likely help clarify the choice.)

Want some examples on how to explore careers with a teen who loves everything?
Those who aren't interested in ANYTHING

Actually these teens do have interests. Their interests just may be buried within them. Perhaps they are anxious, depressed or bored. Perhaps they just need a shake up of routine. One good thing to do with teens who don't think they are interested in anything is to take field trips. Doing new things is good for body and soul. Try some volunteer work, too!

Those who don't have a clue about what they are interested in

Teens who don't have a clue about what they are interested in need to do lots of new things. Go on field trips. Do some science experiments and hands-on history projects. Attend some concerts. Do service projects. As they are exposed to new things, they begin to uncover the things that they truly are interested in. There are lots of great ideas in this Homeschool Highschool Podcast episode.
Exploring their purpose
Teens sometimes wrestle with the idea that their lives have purpose. They sometimes feel they are too young to count, that they don't matter. God has other ideas. No life is wasted and God doesn't wait until teens are grown to bestow purpose upon them. So don't skip this step. Read this important post of exploring God's purpose.
Another term for *purpose* is *calling*. Here's a post on exploring God's calling.
Here's another post on exploring purpose.
Exploring their mission
One of the most fun projects we've done with our homeschool co-op classes is writing a personal mission statement. While teens can do Career Exploration without it, having a mission statement for this part of their lives helps clarify their goals and builds their confidence. We use Sabrina's simple format in Writing Your Personal Mission Statement (can't go wrong at $1.99). Download it for your teen (and you).
Exploring their values
In Career Exploration, the term *values* means *what's important to me in a career?*.
Exploring values includes these (and more):
Do I want to climb the corporate ladder or work a 9-to-5 job with low stress?
Do I love continuous education or am I totally over it?
Do I prefer working with my hands or working with my head?
One of the big considerations in Guide to Career Exploration Career values these days is the big debate over the ideas of choosing a career by one's passion versus choosing a career by the possibilities.
If your teens have the value that they want to be *passionate* about their career, they will want to choose a college major or trade that they are really interested in. This will give them the energy they need to study or gain skills in their chosen field. (One caveat is that they need to know that just because they like a field, they won't always feel passion about it. Who always feels passionate about anything? Really? In my opinion, the question is really more about interest than passion.)
If your teens have the value that *possibilities* are more important, they look for a field with lots of employment opportunities. They will also need to examine their other values, so that their job also fits their needs (income level, desire for security, and more).
Understanding values is so important that 7Sisters devotes an entire section of the Career Exploration Bundle to this. Your teens will thank you for this discussion.
For more information on values in Career Exploration, check out this post.
Trying on career hats
This is the tale of two pre-vet homeschool high schoolers that I advised a few years ago:
Both young ladies had, for most of high school, wanted to serve as large animal veterinarians. They both took rigorous Math and Science courses. They both volunteered at local veterinarian's pet clinics during their first couple of years of high school. Then, during their senior year, they each volunteered for large animal vets.
The experience was a deal breaker for one of the young ladies. One of her career values was spending time with family. She realized that the vet she was shadowing rarely had regular hours and was often on call, taking her away from home during suppertime and during the night. This young woman decided that, while she loved large animals, she would choose a different career path.
The other teen had the same type of experience with her large-animal vet. Long hours, on-call, disruptions to the daily schedule. However, she LOVED the experience. Her values included adventure. Serving diary farmers, ranchers and horse farmers was the perfect career for her. (She is, in fact, finished with vet school now and is a large animal veterinarian. Check out this Homeschool Highschool Podcast interview with her.)
Do some interviews with people in the field
Your homeschool high schoolers are busy. They don't have time to do 10 internships, but they can add some interviews to the mix. I know that in my job as a counselor, I am often interviewed by high schoolers about my job. They ask questions like:
Our friend, Ticia from Adventures in Mommydom, has an entire post on how to conduct one of these interviews.
Make a plan for Career Exploration
Career Exploration tends to happen better if you and your homeschool high schoolers have a specific plan. We can help with that. Here's a basic how-to for a Career Exploration credit.
You can also use this syllabus to organize your teens' Career Exploration program.
One good resource (IMHO) for Career Exploration advice and encouragement is Homeschool Highschool Podcast. Here's an episode on integrating Career Exploration into the high school curriculum. In fact, in this post we dive deep into how to make the most of Career Exploration by integrating it into the Language Arts credit.
Here are some ideas for courses that count as Career Exploration.
Teens need internships
What I'm getting at is that homeschool high schoolers, more than many other teens, have the ability to work internships (or apprenticeships) into their schedules. We HIGHLY recommend it! Here's how to capture the internship for Career Exploration elective credit on the homeschool transcript.
Many teens work their first jobs during high school. These jobs are rarely related to what they want to do as a career (in fact, they are often good experiences for what they DON'T want to do as a career). You can still capture some of those job hours on the homeschool transcript- this post will tell you how.
Looking for internships is sometimes like looking for a job, so teens will need the same skills. Check out these job hunt skills posts:
Also, many teens do not have a resume because they have never had a job before. However, by the time they are in high school, they've had LOTS of experiences. Homeschool high schoolers can turn these experiences into an Experiential Resume. Download the instructions here.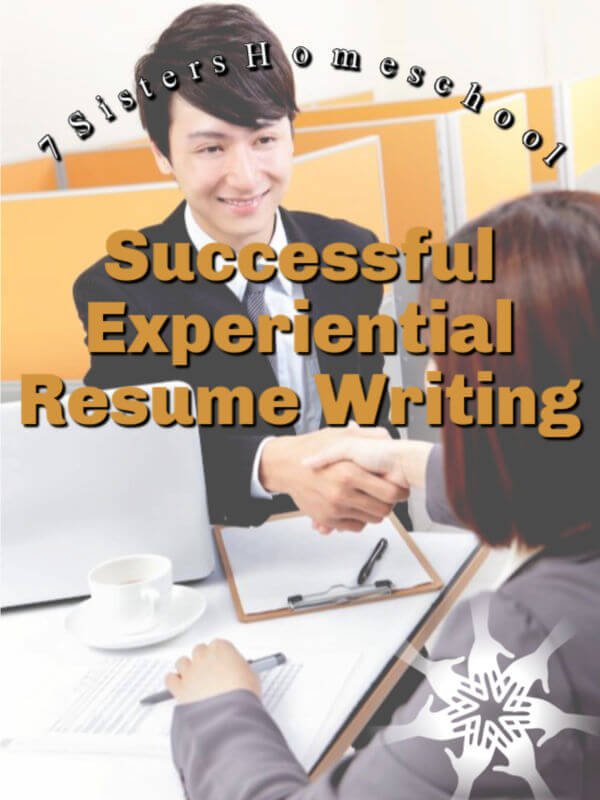 Here's a post on how to record a job experience on the homeschool transcript.
Making a choice
Eventually a career choice or college-major choice must be made. You can encourage teens that their job is to get started and allow God to direct their paths. In their generation, it is not likely that they will graduate high school or college and find one job that will last their entire career. Rather, they will probably have several jobs within their field or branch off in other directions. The point is: Get started and trust God.
When working through Career Exploration with your homeschool high schoolers, a great place to begin is a post by our friend, Marcy at Ben and Me. She has an amazing post on the 16 Career Clusters. It explains the 16 general career fields. It's a great post and a great conversation starter.
Want some encouragement? Read this case study of one homeschool high schooler's Career Exploration journey.
Being realistic in the current times
When making choices, keep realism in mind. There is a future after graduation and it is a good choice to start planning for it during high school. Here's a post on being realistic about career choices.
One way to be realistic is to collect facts. Have your teens explore possible career choices on CareerOneStop.org
Career One Stop is the US Department of Labor's extensive website that gives teens the opportunity to find out:
Job descriptions (and even watch interviews with people in those jobs)
Employability outlook
Education needed
Average salaries (not all teens need a college degree, here are some tips for non-college bound teens)
and more!
Homeschool Career Exploration is one of the most important gifts you can give your teens. Get them started with a comprehensive Career Exploration Curriculum and go from there! Your teens will have a good start toward their futures!
BTW- When your teens are ready to take a Career Exploration course, 7Sisters also has a:
Want some more ideas about how to do Career Exploration with your teens? Check out this post from our friend, Susan Evans, at Hands-on Learning.
Many homeschooling families do 7Sisters Financial Literacy, Career Exploration and Apologetics. Did you know you can save a lot of money when you purchase  together in the Curriculum Bundle to Prepare for Independence?
If you're new to homeschooling high school and need a little guidance and encouragement, check out our Authoritative Guide post series on how to homeschool high school.
Also, our friends at FundaFunda Academy have some excellent information on Career Exploration in this post.
Join Vicki as she speaks with Nathan from the Homeschool Project Podcast about the military as an option.
Follow our Pinterest board on Career Exploration.
7Sisters email subscribers receive periodic practical encouragement, special offers and NO SPAM EVER.


Click the image above to periodically receive real homeschool value in your inbox.
Authoritative Guide to Career Exploration