Here's help for group classes: Authoritative Guide to Homeschool Co-ops for High School.
Authoritative Guide to Homeschool Co-ops for High School
One of our favorite parts of homeschooling is co-op. Our high schoolers have loved co-op, our middle schoolers and elementary schoolers have loved co-op, our pre-schoolers have loved co-op. Hey! Even us moms have loved co-op!
Co-ops have their ups and downs, especially those that continue for a few years, but when we all look back on it, the good times have outweighed the bad times.
We would like to share our decades of experience with you about homeschool co-ops for high school. We will discuss:
Types of homeschool co-ops for high school
What's the difference between co-ops and group classes at umbrella or hybrid schools?
How to start a homeschool co-op
And how to run a homeschool co-op
Resources for homeschool co-ops
Troubleshooting for homeschool co-ops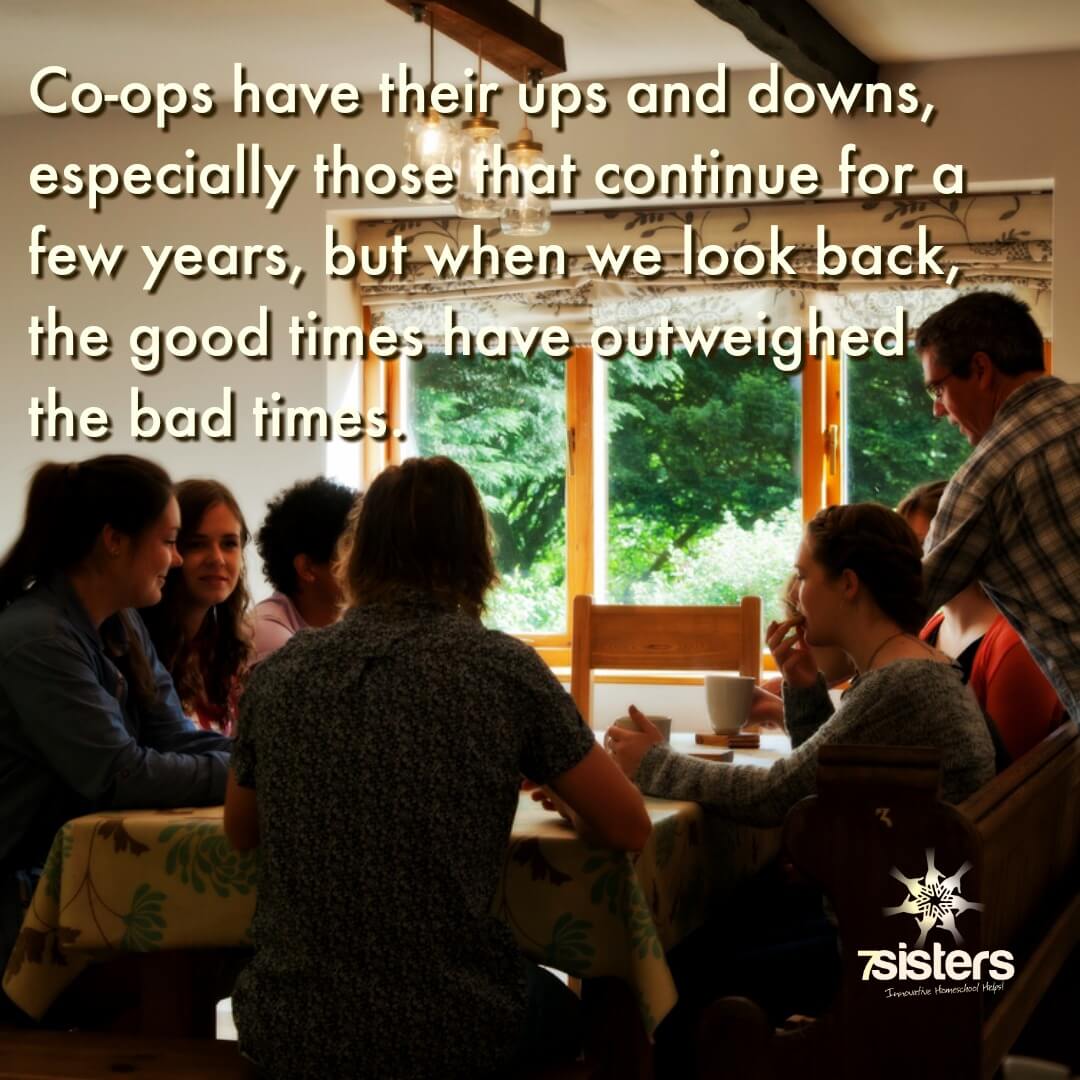 Types of homeschool co-ops for high school
There are so many kinds of co-ops for homeschooling families with teens.
Here are some co-ops that we or our friends have done:
Some have classes for each age group (preschool, elementary, middle, high school and moms)
Others with classes only for homeschool high schoolers
Co-ops that meet at one homeschool family's house
Others that rotate houses
Co-ops that meet at churches
Some that meet at libraries
Co-ops that meet only online
Easy ones that only do field trips
Co-ops that only do special events and sports activities
Special co-ops that only teach one subject (like labs for Biology or Chemistry)
Co-ops that only teach electives
Serious co-ops that only teach the core courses (Language Arts, Math, Social Studies, Science, World Languages)
The list is endless
What's the difference between co-ops and group classes at umbrella or hybrid schools?
We are often asked this question. It can get confusing!
Co-ops consist of families of homeschoolers joining efforts to teach. They are less formal than umbrella schools or hybrid schools. Co-ops rarely assign credit or issue transcripts. They are not usually required to be registered with the state or department of education. While many co-ops charge a fee to cover expenses, most do not operate to earn income for any of the members.
Umbrella schools have several other names:
hybrid schools or
university-model schools or
sometimes they are referred to as "charter schools" in some states)
These "schools" are schools that help homeschooling families with group classes, along with assistance with records and guidance. They are often run by an organization and are registered with their state or department of education in some manner.
This allows the umbrella school to officially assign credit and grades. They usually provide a transcript and help with college application references or job references, when needed. Some umbrella schools are run by volunteers and charge minimal fees, others charge tuition and a few are run as businesses.
How to start a homeschool co-op
You know that there's not ONE right way to homeschool. It's also true that there's not ONE right way to start a co-op. Here's how we have started our co-ops (Note, this information PLUS a checklist is in our FREEBIE How to Start a Homeschool Co-op):
Click here for an excerpt from How to Start a Learning Co-op
Take a breath.

Make up your mind to have fun.

Pray.

Pray about the project. Ask God to send you families that would fit well with your family.

Start talking it up.

Whenever you are out and about where there are homeschoolers, talk about your desire to start a co-op. If there is a local support group, post information about what you want to do and your children's ages on their chat-group or in their newsletter.

Invite a couple of key people over to your house to discuss the idea.
Decide on a limit.

If you don't need to limit to its size the first year, you will need it later. This is going to be a popular group!

Set apart some time with the moms who are interested in co-oping.

It could be an afternoon or an overnight retreat. You will need a good chunk of time in order to share ideas, brainstorm a format, and set goals. At your set-apart time:

Discuss

have one co-op day per week for 30 weeks?

meet once a month?
get together a couple of times per week?

Decide your general goals. Do you want to:

It is not imperative to be in charge of assigning the credit that teens need for their co-op courses. Instead, the individual parents can keep track of coursework and hours. Then, they can assign credit themselves.
Decide what topics to cover.

You will discover what you should cover as you survey your group. It is likely that if there is a mom present in your planning group, that topic should be covered during the school year.

What are the gifts, talents, and interests of the moms?

Next survey the students' needs.

Do some of the high schoolers need a specific course like biology this year?

Also, do state regulations require you to cover certain subjects (such as Health and Safety) each year?

Discuss whether these are topics the co-op should cover. (The needed subjects may not be first loves to the moms, but might be areas of some skills. Or maybe they could be taught in a rotation. Mom #1 teaches in September, Mom #2 in October, Mom #3 in November, then back to Mom #1 again in December…)

Decide what dates and times you will meet.

This will be determined by a number of factors, for instance:

What are the extenuating circumstances? For example:

Does Mary go to physical therapy every Friday morning?

Then co-op would not work then.

Is Sally working part time on Monday and Wednesday afternoons?

Do most of the high schoolers have debate team or other activity on Thursday afternoons?

Ah, well, with all those needs, probably Tuesdays are the best time!

While you're at it, listen to this episode of Homeschool Highschool Podcast on starting co-ops your teens will like!
Choose a location.

Will it be at someone's house or at a church or other location?

Will you rotate from house to house?

If you don't do this right up front, it probably won't get done. Once the year starts, everyone is busy trying to keep the momentum without adding something new. Also, schedules get set and it is difficult to squeeze extra things in if they are not listed up front.

Decide who will be the planner and point people for these events.
Choose field trips and dates for the field trips.

If you organize these before the school year begins, you will be WAY less stressed!
Choose celebrations and their dates

.

Again, if it doesn't go on the initial schedule, it is not likely to happen. However, celebrations are an important part of community building. Celebrating things like the start of the Christmas Holidays, the completion of a history unit, someone's birthday- all these create positive memories and shared experiences that help with community identity formation.

Decide who will be the planner and point people for these events.

Provide for prayer times weekly.

In our co-op, the moms would pray for each other during lunch time. The kids amused themselves while we spent time together with the Lord. This became a very important time to us all- much bonding happened through the honest sharing, caring and lifting up of each other in prayer. Mostly, it felt good to be seeking God together.

You can also choose to do some prayer and listening-to-God times with your homeschool high schoolers if it fits the style of your co-op (watch out and try not to get preachy with them, though).

Decide which students will be where.

Now that you have decided what topics will be covered and who will be teaching each topic, you need to decide which students will be in which class. For example:

Imagine there are ten kids in the co-op: five high schoolers, two middle schoolers, and three elementary- aged youngsters. There are some classes the middle schoolers will enjoy attending with the high schoolers. However, if you decide to do Chemistry- middle schoolers might have panic attacks if they had to participate. Instead of Chemistry, perhaps the two middle schoolers could have a creative time- painting or music OR perhaps they could help teach the elementary children.

Devise a co-op day schedule.

Now you know everything but the exact times for everything. Make a schedule showing which student will do what, what time that will happen and when it will end. (And which room it will happen in…)

Take a poll. Find out who is punctual and who struggles to get places on time. This is important. If someone is late, it disrupts or delays a class, cheats all the students of learning times, and tells the on-time folks that they are not valued. If the time-strugglers are honest, everyone will know up front what to expect and can brainstorm ways for the struggler to get to co-op on time.

Post the schedule everywhere on co-op day for several weeks This will really help until moms and students all know where they are headed and when.

Don't forget to schedule lunches! Here's an episode of Homeschool Highschool Podcast on handling co-op lunches. Don't miss this one!
How to run a homeschool co-op
For lots of practical planning tips for teaching homeschool co-ops, check out this post.
Create a syllabus for each high school course.

Teens need to become more independent learners. Using a syllabus for each class will help develop this skill. Here are some posts to help:
You can also help teens choose the levels of rigor at which each will work

Create course descriptions.

This is optional but often helpful (especially if a homeschool high schooler will be going into a trade school, working with a branch of the military where local recruiters are not familiar with homeschoolers, or going to a college that is not familiar with homeschooling.
Grade with rubrics and answer keys.

If your co-op will be providing grades for some or all classes, then rubrics should be used. 7Sisters Writing Guides contain rubrics. All our texts include answer keys.
Here are some posts with more on rubrics and grading: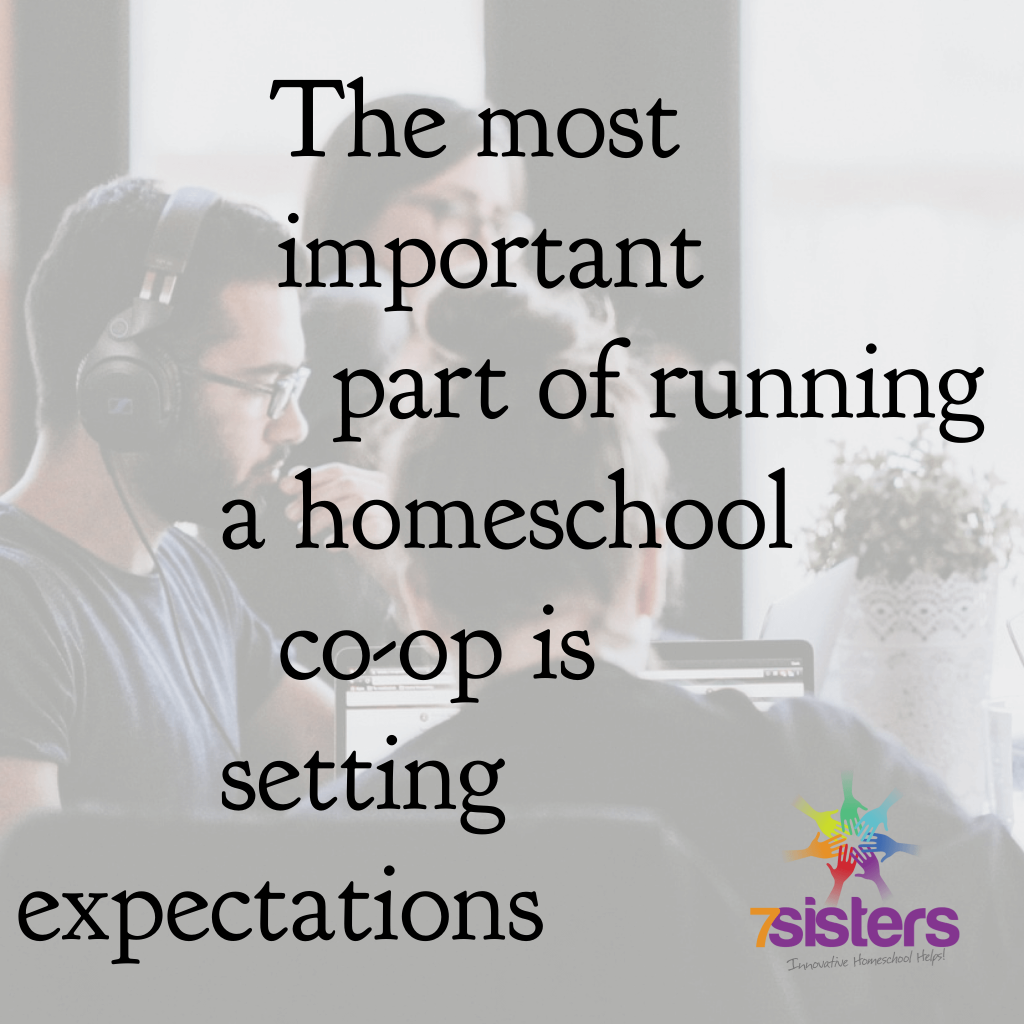 Setting expectations
The most important part of running a homeschool co-op is setting expectations. If something is important, it should be discussed before co-op starts and explained clearly to all moms and homeschool students.
At our homeschool co-ops we had expectations for:
Facilitating Group Discussions.
Group discussion is a learned skill. Here is a post to help teach that skill to homeschool high schoolers.
If you want to make sure everything is financially legit, listen to this episode of Homeschool Highschool Podcast where Homeschool CPA, Carol Topp shares important stuff to know.
Ordering 7Sisters Homeschool curriculum for co-op? Did you know we offer a special discount to co-ops?
Have a little giggle. Read this Homeschool Co-op Acrostic.
Listen to this episode of Homeschool Highschool Podcast for MORE tips on starting a homeschool co-op for high school.
Resources for homeschool co-ops
Boy, do we have resources for you! Since all of our texts and guides have been used in homeschool co-ops and group classes (as well as individual settings), we have LOTS of posts for on how to use specific guides.
Elementary
High School Language Arts
Speech
Electives
Financial Literacy
Social Sciences
World Languages
Chemistry Lab
Troubleshooting for homeschool co-ops
While most of the time co-ops are fun, as long as there are humans in the co-op, there will be times of stress or awkwardness. How do you handle tough moments?