You wouldn't take a road trip without a destination. (Unless the destination was to NOT have a destination!) You shouldn't homeschool without a destination, so here's help: Authoritative Guide to Planning Homeschool High School.
Authoritative Guide to Planning Homeschool High School
When I'm coaching homeschool parents and teens, I start with this illustration:
Let's say your family is going on vacation. Everyone is excited and looking forward to the adventure and the break in routine. On the long awaited day, everyone merrily packs up the family car, climbs in, buckles up and heads toward the highway. When the car nears the entry ramp, the driver must choose: northbound or southbound. Which one will it be?
Let's imagine that for some odd reason, no one had even considered where the family would be going on vacation. Everyone realized that in order to go on vacation bags must be packed and the car loaded. But if no one had planned on where to go on vacation, there would be a lot of confusion at key turns in the road…and you would never know if you ended up where you wanted to be!
In order to have success in vacation, you have to know where you are going and have a plan to get there.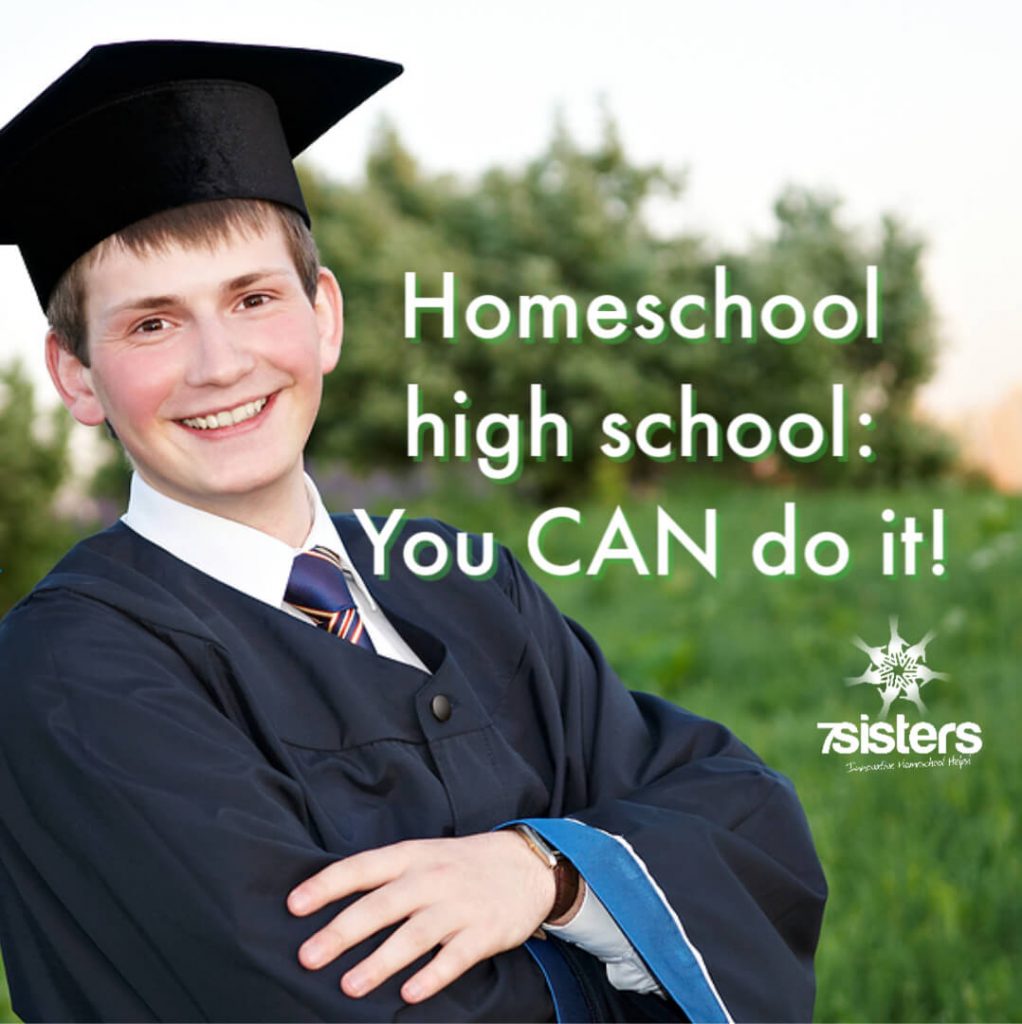 In this post, we will cover:
Planning homeschool high school
Homeschool planning: define the goals

Can you identify your teens' abilities and gifts?
Do your teens' know their interests?
What are your family's needs?
Is your budget defined for this year?
Bonus: Have teens create a mission statement

Now, work on the Long-Term Goals and the Short-Term Goals
Now, Define the credits your homeschool high schoolers will need for graduation
Next, teach your teens to use a syllabus
Optional: Create course descriptions
Now, teach your teens to create a schedule and manage their time
Planning homeschool high school
While homeschooling high school is NO vacation, it is similar in that in order to be successful, you and your teens need to know where they are headed in life. Then, together, you need to create a plan to get there.
Want some tips for homeschool planning? We've got them!
First off, remember that spring semesters can be great for getting things done, so here's a post to help you plan your spring!
Start with the basics
There are a few questions that you and your teens can discuss that will help start the planning process. First, define the overall goals for homeschooling high school! (Also check out Natalie Mack's tips for homeschooling high school.)
Homeschool planning: define your *Why*
A mission statement is a piece of writing that articulates, in summary form, the aims and values of an organization; it captures what is most important to you in brief statements or paragraphs. It is a tool you can use when you are trying to evaluate options and make choices, because it helps you recognize what REALLY matters to you most, so that you can choose actions that will move you toward your goals.
Parents who write a homeschool mission statement will find that the exercise helps them:
clarify priorities

set goals for the long haul

improve communication (inside and outside your homeschool)

stand firm against missional drift
This mission statement is unique to your family, your homeschool. No two homeschool mission statements will be identical because there's not ONE right way to homeschool high school! Download our guide to writing your homeschool mission statement.
This leads to think about your "philosophy" of homeschooling and education
Please do not get hung up on this. Understanding your philosophy just helps you appreciate what you like about education and what you would rather avoid. It can help as you define goals to ask:
Do I (and my teens) prefer:
Hands-on learning
Discussions
Textbooks
Flexibility
Exploring interests
Finding beauty
Learning something completely new or a new life skill?
Most of us are eclectic and that's good! There's not ONE right way to homeschool high school!
For parents interested in unschooling their teens, here's an interview with Julie Polanco to help. AND you need to plan on an answer to the question: "What about socialization?" Here is your answer. 
Homeschool planning: define the goals
Start your homeschool planning by defining the goals for homeschooling high school. What do you want the outcome to be when your teen walks across the stage at graduation (or has the picnic party in the backyard for graduation…there's not ONE right way to have a homeschool graduation ceremony).
Click here for more about creating your goals.
If your teens need to "level up" for a more rigorous credit for their transcript, here's a post that explains how to create an honors credit for your teens.
Can you identify your teens' abilities and gifts?
This can be a tough question. Teens often don't like to discuss what they can or can't do. However, they do often know their basic abilities.
Do they struggle with academics? Do they hate doing math and writing papers?
There's nothing wrong with having other strengths besides academics. Perhaps your homeschool high schoolers are called to:
In my years of coaching homeschool high schoolers, I've noticed s
omething. ALL teens are gifted. All teens have abilities that are right for them.
Listen to this story about all teens being gifted. I shared it on the podcast: Mommy Jammies Night.
Is your teen academically gifted? Do they enjoy the challenge and stimulation of rigorous studies? Perhaps they are called to go to college and train for a profession.
God has plans for each teen as they discover and develop their gifts. Do your teens feel lost about their giftings? Here's a post to help them discover those gifts.
Here's a post with goals for developing your teens' giftings (and remember, all teens are gifted in some way).
Does your teens' know his or her interests?
When a teen is investing in their interests, they are more likely to own their education. That's what we want, right?! Over all the years of working with homeschool high schoolers, I've noticed there are basically three kinds of teens.
Here's a fun interview with homeschool graduate and entrepreneur, Samantha Shank, on helping teens discover and develop interests.
These are teens who have ONE thing they are really interested in. They develop the interest in their spare time, they want to work it into their transcript credits, they talk about it, they want to do that interest for a living.
Interested-in-everything teens
Some teens have their hands in a million pies. They just love everything. That is certainly a gift because they can set goals and set contingency plans if those goals don't work out. However, it can be hard to decide which goal to focus on when graduation starts to loom. It is a good idea to visit interest areas at least once a year through high school. Then try to settle on one during junior or senior year. Here's an episode of Homeschool Highschool Podcast about helping teens who love everything decide on a career goal.
Teens who are clueless about goals
Lots of teens are clueless about goals at first. It might take them a year or two to settle down or gain confidence in themselves and the fact that God has plans for them. The most important place to start with clueless teens is to expand their horizons. Do new things (not just gaming in the basement, although that is fun). Here's an episode of Homeschool Highschool Podcast with advice for homeschool moms whose teens are clueless about what they want to do with their lives.
Don't forget to include soft skills teens will need for life:
Does your family have unusual needs?
Does your family have things that will affect the way you homeschool this year?
upcoming special events like a wedding or missionary relatives coming for a visit
job changes
illnesses that impact academic decisions
homeschooling multiple children
These all affect the time and energy you can invest in your homeschool high schoolers' studies as well as your academic calendar. You may need to include more curriculum that students can work on independently (that's one of our goals at 7Sisters- to provide curriculum that most teens can complete on their own) or do more online or local group classes.
Your budget for this year- what is it saying this year?
Seriously, budget affects homeschooling goals, especially at the high school level. While we might like to make limitless courses and extracurriculars available to our teens, each of us has at least some financial constraints. Being a good steward of financial decisions about homeschooling budget is being a good role model for your teens.
Bonus: Have teens create a mission statement
Your homeschool high schoolers may not be ready for this assignment until they are juniors or seniors. However, it is a good idea to get them thinking about it even as underclassmen. Download 7Sisters Writing Your Personal Mission Statement and have a discussion together.
If they are ready for it, they will remember their mission statements for years to come and will find it a guiding force in their decision-making processes. If they are not ready for it yet, simply being introduced to the process will help them write their mission statement when they are old enough.
Now, work on the Long-Term Goals and the Short-Term Goals
Remember: You can't fit everything in but you can be creative so that your teens has the academics they need and the extracurricular experiences they need. Here's a post to help figure out how to fit things in for homeschool high school.
Now, define the credits your homeschool high schoolers will need for graduation
There's not ONE right way to homeschool high school. In planning homeschool high school credits, you'll take into consideration all the things above (student's abilities, interests, family's needs and goals).
If teens is headed for the workforce after graduation, they will not need as many credits or the level of rigor in their credits that a college-bound teen will need. What you want to do is what is right for your teen.
With that in mind, there are 26 basic credits that you can pull from. The requirement for public school graduation varies state to state with between 14-24 credits. For homeschool graduation requirements for your state, check Homeschool Legal Defense Association's website (it's a good idea to join HSLDA, btw).
Here is a post that breaks down the 26 requirements that you can chose from.
College-bound teens need more than just good academics. Check out this post for the 7 components of a college-attractive transcript.
Non-college-bound teens can minimize the rigorous academics and put more energy into life preparation, career exploration, and preparation for a trade or non-college profession.
One of the best life-preparation courses for teens, college-bound or not, is Financial Literacy.
Here is a post for teens who are not called to college with ideas to get them started thinking about future careers, plus a popular interview on Homeschool Highschool Podcast with our friend, Angela, whose homeschool graduates are successful in their trades.
Next, teach your teens to use a syllabus
Of course, this means you need to create a syllabus for key courses. Syllabi inform teens about what assignments to do and when, along with key information on texts used and grading expectations.
7Sisters has a suggested syllabus you can download for many of our texts (also see below). To create your own syllabi for other courses, here is a download that gives instructions on how to create a syllabus.
Here are sample syllabi for several of our homeschool high school courses. You can adapt them to your needs.
Optional: Create course descriptions
Course descriptions are useful if you think that your homeschool high schooler:
Might want to switch to a new homeschool umbrella/hybrid school that issues credits
May be transitioning to a traditional school setting, so will need explanation of credits earned
Might attend a college that is not familiar with homeschooling
May be interested in the military and the recruiter is not familiar with homeschooling
OR
Your family might move to another state and the new supervisory organization may want to understand how credits were earned
Here is a post with instructions for writing course descriptions.
Also, decide how to assign grades for various courses
Planning for how to assign the grades, varies by the type of course. Check out this Homeschool Highschool Podcast episode on ways to assign grades.
Now, teach your teens to create a schedule and manage their time
Homeschooling high school is the best time to learn to manage time. Once teens are on their own at work or at college (or both), they will need to manage themselves and their productivity without mom helicoptering.
There's not one right way to create a schedule and manage time. Teens (and moms) will be most successful when they find something that fits their personalities. It might take some experimenting. Here are a couple of ideas:
Download our: Scheduling Backwards.

Scheduling Backwards takes teens (or moms) through the process of breaking down a project or course, beginning with the end in mind. Teens start at the desired outcome (the end of the course or project) then work backwards, choosing checkpoints for different parts of the project or course to be completed. It is a simple and useful tool that many of our homeschool high schoolers have loved and used through college.

Use a scheduling planner. One of our favorite planners is Melanie Wilson's The Organized Homeschool Life. (We are not affiliates, we just like Melanie's various formats for her planner.) Check out the The Organized Homeschool Life at PsychoWith6.com.
Teach your teens to use SMART goals. (Specific, Measurable, Achievable, Realistic, Time-bound goals).
Graduation
Planning homeschool high school: Some last pieces of advice
You need to plan to keep records, so here's all you need to know in our Authoritative Guide post on Record Keeping for Homeschool High School.
Hold plans lightly, we never know all the twists and turns there will be during the high school years. We can plan but we have to be flexible! We know that a mom's mind plans her way, but God directs her paths.
Remember, God is in control of the outcome.
Want some encouragement? Read our freebie: Homeschool High School, You Can Do It!
We have a self-paced Homeschool High School You Can Do It!
Also, check out this episode with Sabrina (sharing the things she has learned about homeschooling high school): If I Could Talk to My Younger Self.
If you are a single parent who is homeschooling high school, click here for a post with advice from single parents who have homeschooled high school! You can do this!
Homeschooling high school: You can do this! You can get your high school planning done successfully! Also, you'll be glad you also checked out this important interview with our friend, CJ, with tips for homeschool high school.
Also, here are some tips for preparing your home for homeschooling.
Follow our Pinterest board on Planning Homeschool High School. 
7Sisters email subscribers receive periodic practical encouragement, special offers and NO SPAM EVER.


Click the image above to periodically receive real homeschool value in your inbox.
Authoritative Guide to Planning Homeschool High School