Autism and Asperger's and homeschooling, April is Autism Awareness Month. Of course, if you're homeschooling a child on the autism spectrum, you are ALREADY aware. But for those who are not, please read on so that you can understand the world of our autism spectrum homeschooling families.
Autism and Asperger's and Homeschooling
To begin, here is a lovely infographic from onlinecollege.org.

Autism is a "spectrum disorder". This means that the symptoms that a child experiences vary from child to child. On the continuum, a child with Asperger's Syndrome is on the mild end while a few children on the severe end are extremely impaired. The condition is caused by neurons in the brain doing a faulty job of processing information.
Here are some things to know about children on the autism spectrum. Each child will have different symptoms at various levels:
– They have problems with nonverbal interactions.
They may not make eye contact and their other nonverbal communication may be awkward (gestures, posture, and/or facial expressions may seem off).
– They have difficulty developing age-appropriate friendships.
They tend to miss social cues from others. They often feel uncomfortable around children their age.
– They are not good at social reciprocity.
They do not do well with the give and take of conversation. They might remain silent or talk ceaselessly, not listening or giving others a chance to talk.
– They often have an encompassing interest in one particular topic that is abnormal in intensity or focus.
They get stuck on one thing and have trouble shifting gears. It may be an interest that takes up all their spare time, or can be an addiction- like endlessly playing computer games.
– They might appear rigid in routines and have rituals they perform daily.
They are inflexible in these things and get very upset or stubborn if interrupted.
– They might have motor clumsiness.
The agility needed to climb, run kicking a ball, peddle a bicycle, or open a jar may be missing.
– They may have problems with recognizing their own moods.
They may become angry quickly, may become irritable or contrary, may have depressed mood or anxiety- but be completely unaware.
– Some may have sensory integration problems or hypersensitivity to environment.
Certain lights, sounds, temperatures, or textures may be experienced as distracting or uncomfortable.
– These symptoms cause significant impairment in settings outside the home and often inside the home.
What can you do to help?
If your child has some of these symptoms, here's the major thought you can think: "I will help my child strengthen his gifts and redeem his weaknesses."
Specifically, here are some tips for autism and asperger's and homeschooling:
1- Help him explore his interests
…unless they are unwholesome- 4 hours a day on the computer doing anything is not a good idea for a child. For homeschool high schoolers, it is a good idea to gently work through some Career Exploration together. 7Sisters Career Exploration Bundle is excellent for this. (Some teens will do this on their own, some would rather be coached through the resources with their parents.)
2- Help her find her gift.
All children have God-given gifts.  Any child will feel better about herself if she knows the things God has instilled in her.
3- Expose him to as many new things as possible
Go on field trips, read books together, play board games

4- Teach her social skills and etiquette
Practice etiquette, conversation, watching social cues together. This should be a daily part of homeschooling curriculum. (7Sisters' Social Skills booklet contains exercises that I find helpful for my clients who experience Asperger's Syndrome.)
5- Keep firm yet loving parenting boundaries
Don't let your child's temper tantrums, arguments or anxieties force you to bend or ignore family rules. A good book for parenting these kids is One, Two, Three- Magic for Christian Parents by Thomas Phelan PhD. (Full disclosure: We are Amazon Associates. Purchasing through this link provides a commission to 7Sisters.)
6- Help church and youth group leaders understand your child
Explain autism and Aspergers, help them feel comfortable with support and boundary setting for your child.
7- Explore curriculum until you find good fits
This is important for all kids, but it may be more difficult for a child with Asperger Syndrome. (You might have to give up on your beloved sentence diagramming and concentrate on more basic grammar.) What you want is the balance of good education and low frustration levels.
8- Get counseling and medication, if needed (for you or your child)
Sometimes in my counseling office, I work with the mother of an autism-spectrum child because she gets tired, discouraged, and anxious from working so hard with her special homeschooler. Sometimes I work with the child to learn self-awareness and social skills. Sometimes these precious kids need medication for sleeping or anxiety management.
9- Get support for you and your child
Some of my favorite internet resources are Heart for Peace Facebook group, Parenting Aspergers Community, Understood.org, Our Crazy Adventures in Autismland Facebook group, my Homeschool Special Needs Pinterest board, 7SistersHomeschool.com's Special Needs Pinterest board.
10- Pray a lot
God doesn't make mistakes. When He gives us special kids, He is doing so within His plan. Pray for your child to know God and God's plan for him. Our friend, Lisa Schea, has a prayer journal for homeschooling during challenging times.
If you are a friend of a parent who is homeschooling an autism-spectrum child, you might want to think about:
1- An occasional respite field trip for the child (or mom).
2- Frequent encouraging words.
3- Inclusion in group activities where appropriate.
What are some ways you invest in autism-spectrum homeschoolers that you know?
================================
This week we are concentrating on special homeschool situations.
We would like to recommend that teens read Joni: an Unforgettable Story by Joni Eareckson Tada. This autobiography tells of Joni's life with disability and God's triumph in and through her.
It is so important for young people to understand the lives of others- and to know that God works in everyone.
Download our Study Guide for Joni for help with the story, vocabulary, and comprehension questions.
Click here to listen to our podcast about homeschooling children with special needs.
Check out this interview with Penny Rogers of Our Crazy Adventures with Autism.
7Sisters email subscribers receive periodic practical encouragement, special offers and NO SPAM EVER.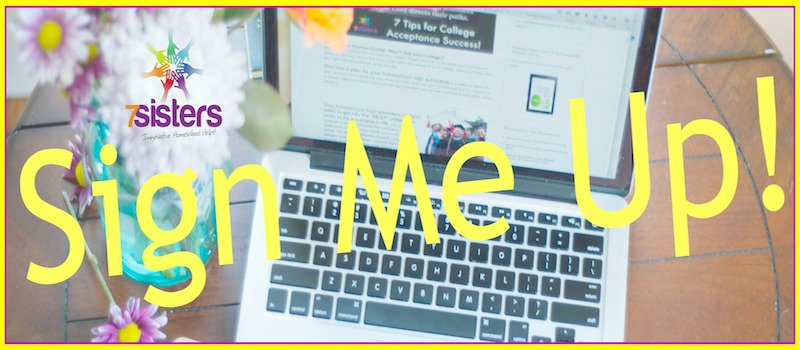 Click the image above to periodically receive real homeschool value in your inbox.
Autism and Asperger's and Homeschooling