Do you have an AVERAGE homeschool high schooler?
Average Homeschool High Schooler
Help! I have an average homeschool high schooler! It is easy to fall into the trap of thinking your teen must be an academic superstar.
Here's the truth: Most teens are average! That's what average means.
But God made each teen in His image and has not goofed up yet. While some teens may be *average* academically, all teens are special in God's eyes. He has gifted each with an interest, ability or personality that will be a blessing for his kingdom. It is our job as homeschooling parents to help our teens explore and discover and appreciate who God made them to be.
Here's a freebie with personal discovery/free personality test links from Vicki Tillman Coaching.
Join Sabrina for encouragement and helpful suggestions.
Help for Average High School Homeschoolers

Need more help planning courses for your average teen? Read our blog post, Planning Homeschool High School Courses for Average Teens. 
Please note: An average homeschool high schooler is not limited to career training. Many go on to college. If your average high schooler wants to go to the local community college, the average curriculum with not hold them back in most cases.
We also suggest completing career exploration so you know exactly what is best for you high school student after high school.
Read about career exploration – from the U. S. Department of Labor.
Listen to this Homeschool Highschool Podcast episode with our friend, Ann Karako, discussing homeschooling for real people.
Sometimes moms who are homeschooling average middle schoolers feel pressure to "get the kids ready for high school". Often that really means, "hurry up and do high school courses in middle school". You can read more at our blog post, Homeschool Average Middle Schoolers: High School Can Wait!
Your average student is still above average in God's eyes!
7Sisters email subscribers receive periodic practical encouragement, special offers and NO SPAM EVER.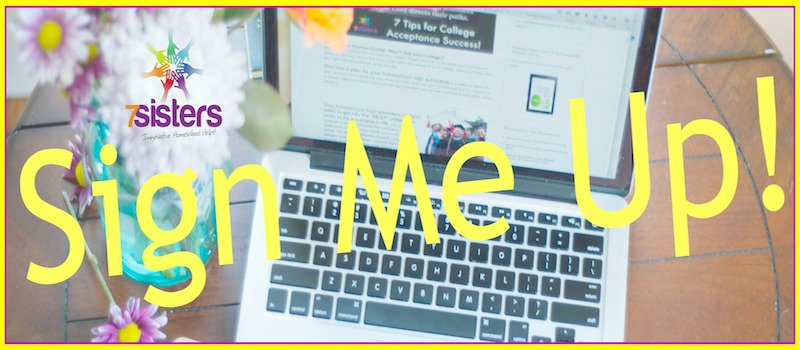 Click the image above to periodically receive real homeschool value in your inbox.
Help! I have an average homeschool high schooler!