We often think of British Literature as a subject for college-bound students in high school. But have you considered ideas for a credit of British Literature for Average high school students? Even non-bookworm high school students should study one year of British literature.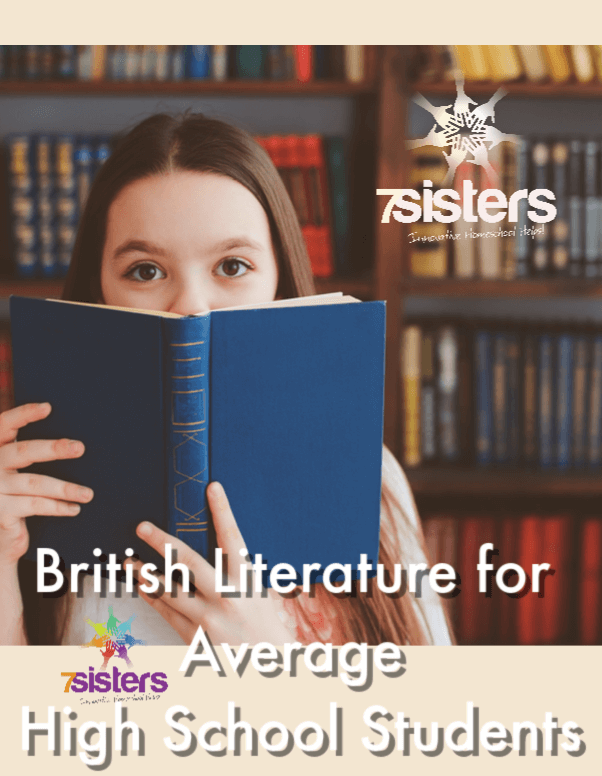 British Literature for Average High School Students
British literature for average high school students is not only possible, it can be enjoyable. Not every title has to be 500 pages long with challenging vocabulary! Average teens can have a meaningful experience with British Literature by concentrating on ideas rather than length and challenge-level of books.
Here are 3 tips for helping your homeschool high schooler enjoy British Literature:
Read real books and poets, but choose those that have clear storylines, understandable lyrics and are at least vaguely familiar to your teen.
That is what the 7Sisters' British Literature: A Full-Year High School Course is about. It brings to life British Literature for average high school students. The titles are familiar to many families. The study guides included are: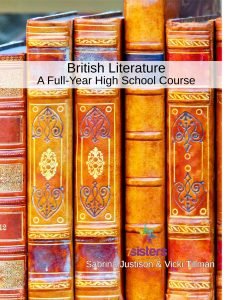 It is important to not kill the book when choosing a text to guide average high school students through British Literature. Do not allow busywork, killer-level analysis, and over-burdensome assignments. Allow an average student to enjoy the story and gather useful take-aways that may be applied to their lives.
7Sisters' British Literature gives just that: a collection of no-busywork, accessible study guides for 8 different full-length books and a short, understandable British poetry unit.
This 120-page downloadable e-text will provide British Literature for average high school students and give them rich ideas and a chance to actually enjoy the subject. Here's an excerpt from British Literature: A Full-Year High School Course.
The information for each book includes a "how-to" section, vocabulary, supplemental ideas, and answer keys for each guide. Download a copy for your homeschool high schooler! You can view an excerpt of British Literature for High School here.
Use audiobooks and family read-alouds for more challenging books like A Tale of Two Cities or Sense and Sensibility. 
Audiobooks and read-alouds really help reluctant readers get into the text. Besides, listening to a good British reader is SO delightful! (There are great readers on audiobooks for The Hobbit, too, you should try it.) 
How do you choose the poetry for your average homeschool high schoolers and not be threatening or overwhelming. 7Sisters British Poetry gives a very simple introduction to the great British poets.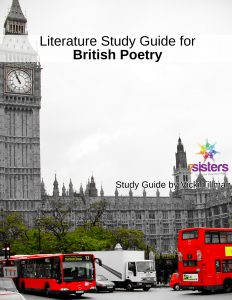 Use movies or televisions series whenever possible for more challenging books like A Christmas Carol or Sense and Sensibility.
Many average high schoolers are visual learners. Whenever possible, show your teens a movie version of the book BEFORE you read the book. This is not cheating. It is leveraging your teens' learning styles.

Here are a few favorites that our teens suggest:
How do you turn all this into a British Literature credit for the homeschool transcript?
Earning an average-level credit for the homeschool transcript is simple:
Studying British Literature will help your teens gain confidence that they understand their cultural roots. It will broaden their perspectives on life. Enjoy!
7Sisters email subscribers receive periodic practical encouragement, special offers and NO SPAM EVER.

Click the image above to periodically receive real homeschool value in your inbox.
British literature for average high school students