Some teens are thinking hard about the future, so can we suggest: careers in psychology for homeschool high schoolers.
Careers in Psychology for Homeschool High Schoolers
One of the hats I wear, besides having homeschooled my kids and been a local homeschool high school advisor, is counseling. I have served my local community as a licensed professional counselor for over twenty-five years, so this topic is dear to me.
Many of our communities across America are experiencing shortages of mental health professionals. I have been praying for years that more teens will consider going into this rewarding field. My I suggest careers in Psychology for homeschool high schoolers?
Our homeschoolers often have a heart to serve and have learned compassion skills at home, at church and/or in volunteer organizations. These are the basic skills in Psychology.
Perhaps your teens would consider taking a Psychology credit (such as 7Sisters' popular Introduction to Psychology) and Human Development (yes, 7Sisters has that, too). For inspiration, here is a look at possible career choices. Psych is a field that is constantly changing, so there are some careers I might have missed- what would you add? (BTW- when your teens work on a Psychology credit, add some activities for enrichment to the calendar. It will help them like psych!)
Click here for an excerpt from Introduction to Psychology.
Careers in Psychology for Homeschool High Schoolers
The links included here are for career descriptions in CareerOneStop.org, the US government's job description site. It provides job descriptions, occupational outlook, salary information, training information and often, interviews.
Advanced Practice Psychiatric Nurse Practitioner
Psychologist

This is the general term for someone who has studied Psychology (Often psychologists choose a specialized field of study)

Counseling Psychology

Specialize in counseling.

Clinical Psychology

Specialize in more intensive settings such as inpatient hospitals or agencies

Look at a career profile for a psychologist for more information
Industrial/Organizational Psychologist

Helps with human resources, psychology of marketing and organizational best practices

Learn more at Career One Stop website

Human Resources Professional
Experimental or Research Psychologist, Psychometry

Does research on psychological health, theory or practice. These jobs are usually a part of a psychology professor's work at research universities
School Psychologist

Diagnose and develop Individualized Education Program for students with learning or behavioral issues. Sometimes do counseling with individuals and groups of students

Look at a career profile for a school psychologist for more information
Performance or Sports Psychologist

Help athletes (and others who rely heavily on their performance for career success) overcome mental obstacles to success

Read this article on What is Sports Psychology for more information
Counselor- Masters Level Mental Health Professional Counseling

Does the same work as a psychologist but has a Masters Degree in Counseling instead of a PhD in Psychology
Marriage and Family Counselor
Addictions Counselor

See Addictions Social Worker (Does the same work)
Career Counseling

Work with people to find a good-fit career or advance in their careers. Often work in agencies or college campuses

Read this article What is Career Counseling for more information
Vocational Rehabilitation Counseling
Social Workers- Licensed Clinical Social Worker

Have similar training to counselors with a specialty on community resources. Social workers work in private practice, agencies, government, hospitals

Medical and Public Health Social Work and Case Managers

Child Advocate/Welfare Worker

Community Service Manager
Non-professional Counseling Careers

Residential Treatment Counselors

Provides direct support to residents at long-term care facilities

Inpatient-Setting Group Counselors and Staff

Lead groups or work with individuals in specific skills for self-awareness and life skills
If you are interested in a career in psychology, it is good to explore options. Ask these (and other) questions:
Which area of psychology interests me the most?

What type of education and credentials are required?

Is the job description of interest to you?

What will be the expected income and work requirements?

Which university has the program I like?

What is their position on integration and Christian psychology?

Also check out this episode of Homeschool Highschool Podcast for more tips on exploring careers in Psychology.
If your teens have not had a chance to do any career exploration yet, I suggest starting with 7Sisters' Career Exploration Bundle to get an overall view of God's plans along their personalities, talents, experiences, skills, and values. This helps them get off to a good start…any maybe some will end up with a career in Psychology!
BTW- If your teen likes online courses, check out our self-paced (asynchronous) Introduction to Psychology from a Christian Perspective course. Read about it here.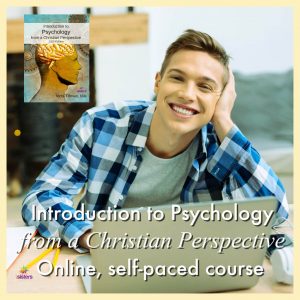 For teens who want to use a syllabus and course description, click the following links:
7Sisters email subscribers receive periodic practical encouragement, special offers and NO SPAM EVER.

Click the image above to periodically receive real homeschool value in your inbox.
Careers in Psychology for Homeschool High Schoolers