Chronicles of Narnia for High School Co-op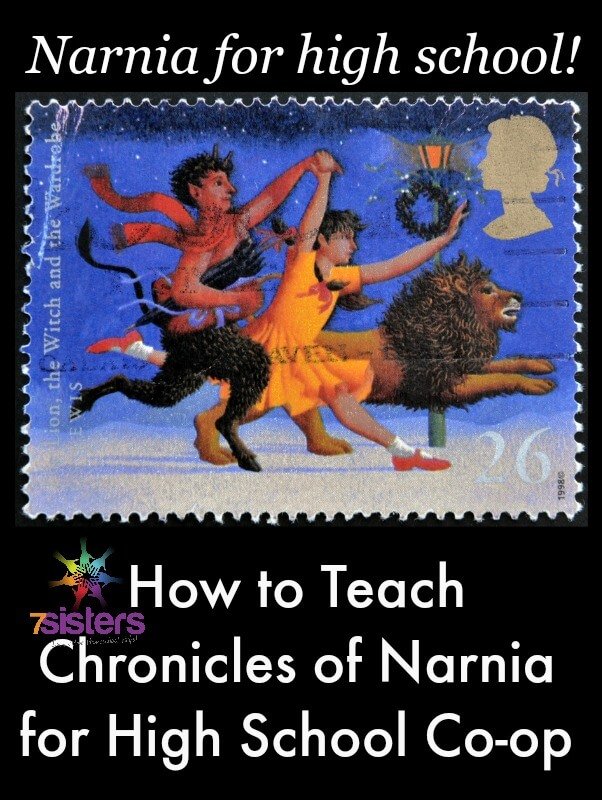 Chronicles of Narnia for High School Co-op
One of my favorite homeschool high school co-op classes is The Chronicles of Narnia. In our homeschool co-op and group classes we have taught Narnia every few years and had a blast. Here is what we do:
These cover vocabulary, Lewis' writing techniques, theology, philosophy and character development in a no busywork format. Teens in the class can adapt the level credit they earn from College Prep to Honors with the guidelines in the guides. (Click here for an excerpt from the Chronicles of Narnia Literature Study Guides.)
2) I often take 15 weeks to do the course.
Create a syllabus that has the teens reading 1/2 of one book each week for 14 weeks. 7Sisters has a free syllabus that you can adapt to your teens' needs as they work through the Chronicles of Narnia.
3) In class, discuss the book so far.
Discuss one of the ideas in the book (beginning information in each study guide). I often take a "Think about it" or "Use your imagination" question from the workbooks and use that as a discussion topic in class.
4) Each class, I show a video from YouTube of Lewis' life, WWII in England, or a theme from one of the books.
There are some fun recordings of Lewis' voice at Into the Wardrobe.
5) The last week can be a Narnia party or project presentations or both.
The students prepare food mentioned in the books. Then we would either eat and watch a Narnia movie (and laugh at the liberties taken by the producers) or teams of students would pick some theme from one of the books and create a short presentation (prepared ahead of time, of course), such as:
WWII in London
Illustration of Plato's cave story
Greek mythical creatures
Giants in English lore
Medieval fashion vs styles of the 1940's
6) Often, our students would also make the most of Lewis' inspiration and creativity by writing their own myth-fantasy story (just 5 pages, not intimidating) using 7Sisters Myth-Fantasy Short Story Writing Guide.
When we do this, we stretch the 5-week guide to 10-weeks so the teens have time to really enjoy it.
Chronicles of Narnia for High School Co-op