What makes for a great co-op class for teens? Great class discussions, for one thing! And using Cinema Studies for Literature Learning in your high school homeschool co-op guarantees great class discussions. Here are some of the things I've done in the last two years as I've used these guides in our local homeschool co-op classes.
Cinema Studies for Literature Learning in your High School Homeschool Co-Op
Our homeschool high school co-op and group-learning classes have loved taking a year to study Cinema Studies for Literature Learning. It has given them a little sparkle in an otherwise heavy-reading 4 years.
Want some advice on how to make the bundle of guides developed for great movies? You've got it!
Cinema Studies for Literature Learning in your High School Homeschool Co-Op: LET THE GUIDES DO THE "WORK" FOR YOU.
Each guide is set up with information and questions that help teens take note of literary elements in the films they are assigned to watch. Even if a literary device is new to them, you don't need to teach the concept first. Let the first viewing of the movie be the students' introduction to ideas like:
allusion
dramatic foils or
irony
Many students find it much easier to make sense of the definition or explanation of literary devices after seeing them used well. The movie chosen for each guide was chosen because it makes really good use of a particular literary device, so let the material do the initial piece of teaching for you.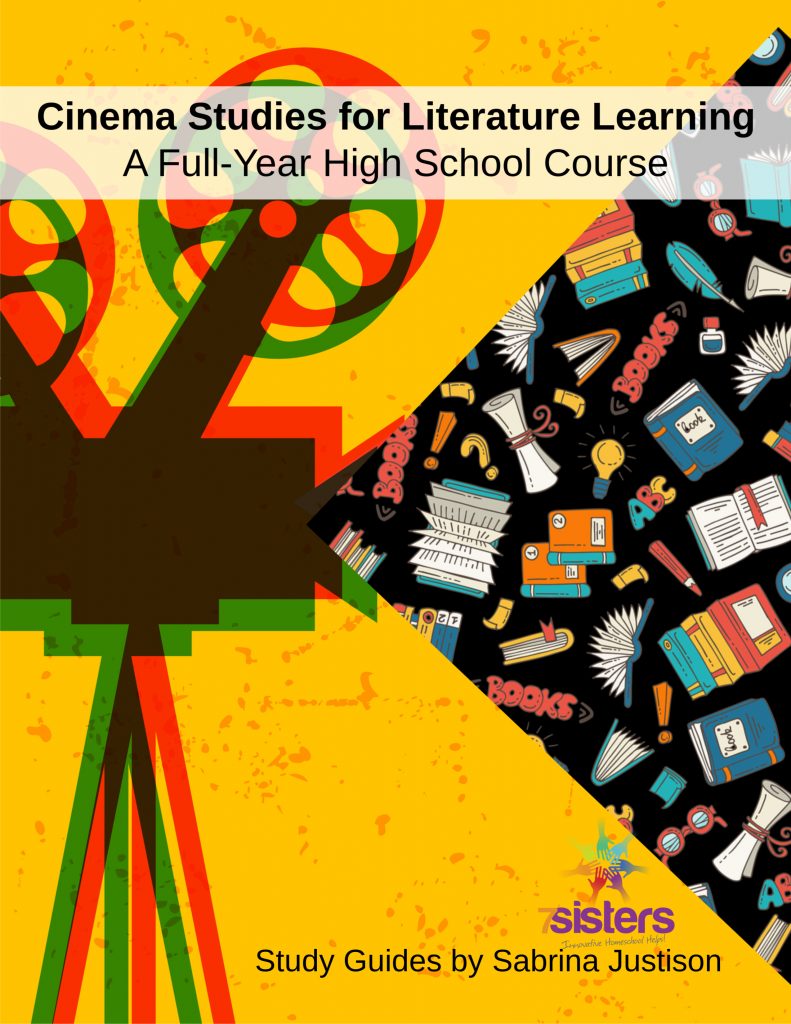 AGREE UPON A JUDGEMENT-FREE ZONE FOR YOUR GROUP DISCUSSIONS.
Tell students at your first class meeting (and remind them every time you meet) that no one will be judged or criticized for comments made during the discussion. That is, they will be expected to have comments show thought and not be disrespectful of anyone else's opinions.
People have very different reactions to the same movie.
It is important for students to learn to respect those differences and discuss the movies regardless of variations in perception:
What is "hard to believe" for one person is "heart-wrenching" for another
Something that is hilarious to one student will not be particularly amusing to another
Good discussion requires a conscious effort to avoid criticizing someone else's experience; there are no RIGHT or WRONG responses to a movie!
GET USED TO ASKING, "WHY?" OVER AND OVER AGAIN.
While students should be encouraged to share their opinions freely and without fear of being dismissed, they should also be encouraged to articulate WHY they formed the opinion they have.
Articulating their opinions is a vital piece of building critical thinking skills.
If they found a character distasteful, they should ask themselves why. If they are not sure why, then it is important to consider the character more closely:
to think beyond the obvious (e.g. words or actions) and examine:
attitudes
physical appearance
worldviews
relationships with other characters
apparent arrogance or callousness of heart or selfish thoughtlessness
As the facilitator for the group discussion, your consistency in asking the question, "WHY?" is a powerful motivator to spur teens on to deeper thinking.

FOLLOW THE GUIDE QUESTIONS for Cinema Studies, BUT DON'T BE BOUND BY THEM.
Your group discussion may address all of the questions in the study guide in order, or you may find that some questions simply don't grab your attention enough to spend time on them in discussion.
You may find one or two questions that take on a life of their own and ignite a wonderful conversation that is not precisely what the guide was pointing toward…that's wonderful!
The ultimate goal is:
to encourage and equip the students to examine ideas
articulate what they are thinking
and share respectfully so that they can learn from one another in the group
Don't let the discussion turn into a free-for-all that is just meaningless chatter, but if the conversation has meat to it, don't worry too much about making the students stay strictly on topic.
For a glimpse at what the study guides are like: Click here to view an excerpt from The Truman Show Cinema Study Guide. 
Here's a post that shares where to find the movies for Cinema Studies for Literature Learning.
REQUIRE THE STUDENTS TO WATCH THE MOVIE A SECOND TIME.
The second viewing of the films is an important part of the learning process. In particular, if the literary element in focus is a new idea to your students, they will need more than one exposure to it in the story for it to really become meaningful.
The guide helps them notice the literary device on first viewing. The group discussion brings further attention to it and helps students learn from the experience of others in the class who may have noticed the device more clearly than they did.
The second viewing of the movie cements the idea in their brains and helps them recognize the same literary element in the future.
RESPECT THE WRITING ABILITY OF EACH STUDENT.
Students needs to write in response to the second viewing of the film. Students also benefit from:
having their writing graded
understanding that corrections recommended or required
being challenged to work hard to improve their essays or personal response papers
But different students have different levels of proficiency in writing when they arrive in your co-op class for the year. With that in mnd, the most important thing about using Cinema Studies for Literature Learning guides is to encourage the THINKING that goes along with the movies.
Being able to articulate those thoughts in writing is a separate skill. Take a close look at each student's first writing assignment and try to get a feel for what writing skills are an area of strength and what parts of the writing process are a struggle.
Grade with grace.
If a student's poor mechanics skills cause him to receive a low grade on every Cinema Studies paper, he will quickly become discouraged with the class in general and be less willing to think hard about the literary devices he is studying.
Encourage continued improvement, but remember that Cinema Studies is first and foremost a LITERATURE study, and writing may be a significant challenge for some of your students, particularly those who are strongly visual learners. (If students are really inexperienced with essay writing, consider using Marilyn Groop's Introductory Guide to High School Essay Writing in a separate class in your co-op.)
HAVE FUN, AND ENCOURAGE THE STUDENTS TO HAVE FUN AS WELL.
Some of the movies are really funny; don't let the fun get squashed as you learn.
Other the movies will spark strong disagreement among students; don't forget that respectful debate over differing experiences is FUN and good for teens as long as they are not permitted to speak unkindly to one another.
Some of the movies will be a huge hit, and some will be a total miss with your group; laugh about it if you find that one title is just a "thumbs-down" for everyone in your class.
BEGIN EACH Cinema Study DISCUSSION WITH, "Show of hands…who liked this movie?
Who didn't? Who felt mixed about it?"
Then follow up with, "Ok. Why?" That begins each discussion with a question to which there is no wrong answer; even students who are shy or nervous about answering questions from the study guide and getting something "wrong" will feel safe to answer whether or not they liked the movie. This opening question also reminds everyone in the room that there will be differing responses to the film, to the questions in the study guide, and to the ideas about to be discussed.
Here are more helpful discussion questions.
I have had some simply fabulous group discussions in our local homeschool community using Cinema Studies guides. If your group has experiences to share, leave a comment! We all do well when we learn from one another!
For more practical planning tips using movies for literature studies and for teaching homeschool co-ops, check out these posts.
Here's a fun post with ways to use these movies and the book that goes with them.
What people are saying about Cinema Studies for Literature Learning in your High School Homeschool Co-Op:
Here's a post by Sara May discussing her family's experience with Cinema Studies for Literature Learning. For more on ways to use movies in your homeschooling, check out this post from Freedom Homeschooling.
7Sisters email subscribers receive periodic practical encouragement, special offers and NO SPAM EVER.


Click the image above to periodically receive real homeschool value in your inbox.
Cinema Studies for Literature Learning in your High School Homeschool Co-Op