Homeschool Coach
Welcome to Homeschool Coaching from 7Sisters Homeschool!
Would you like a "big sister" homeschooling veteran to come alongside you?
Would it build your confidence? Help you overcome a challenge? Re-ignite your passion for homeschooling?
Could it help you achieve more success in your family's homeschool program or your community homeschool group?
Here are some FAQs to help explain homeschool coaching and get you started.
What is coaching?
Coaching is actually mentoring. Our coaches work as mentors to help you realize your homeschooling goals. As part of this process we will work with you to find your strengths, resources, and ideas to help your children's education.
We also work with you to help you develop your local homeschool group.
How does coaching work?
When you meet with your coach (by Skype, or by email), you will tell about yourself, your family, and how you homeschool (or how your group works).
Then you explain what you would like to work on. You might want to concentrate on an area where things aren't going well in your individual homeschool (or are going well but you'd like it to go better).
Or perhaps you'd like to work on forming or improving a homeschool co-op, support group, umbrella school, or group classes.
Your coach will work with you to develop or discover resources, devise goals and plans for positive and powerful results.
What are some topics for coaching?
How do I get through the winter doldrums?
How do I help my middle school student learn to work more independently?
How do I find an English (math, history, science, art, etc) curriculum that works for my child?
What are some ideas for working with a child experiencing dyslexia?
How do you teach a child who is always on the move?
I am sick of textbooks- what to do?
I am sick of hands-on learning- what to do?
How do I get my child through high school?
How can I develop an honest and powerful transcript for my high schooler?
How does the college search and application process work?
How do I help my teen find his gifts and strengths?
Homeschool GROUP Topics
How do I start a homeschool co-op?
How do I start a homeschool support group?
How do I start a homeschool drama program or extra-curricular club?
Our current program needs a breath of fresh air, any ideas?
How do I get started with a Homeschool Coach?

First
Click to fill out the "Get Ready for Homeschool Coaching" Questionnaire , then email it to info@7SistersHomeschool.com 
Then
Choose a package of sessions (either a 45-minute Skype session or 4 email exchanges) in our EBookstore, and click on Contact Us in the Navigation Bar at the top of your screen to schedule an appointment.
We will get in touch with you and schedule a time to chat over Skype, or by email.
 – – – – – – – – – – – – – – – –
What NOT to expect:
Counseling or therapy. Coaching is a support relationship, not a therapeutic relationship. SO, no one is going to analyze you or treat you like you have a defect or illness.
Bossing you around. You will not have a coach tell you "do this or else". You choose what you want to do toward your own goals.
What we promise:
We promise to treat you with respect, to view your homeschool glitches as things waiting for a solution- not as overwhelming problems, to believe in you and God's plans for your family, to do our best to help you find resources and ideas to have a great homeschool experience.
Who are the coaches at 7 Sisters Homeschool?
Vicki Tillman
Homeschooling Mom for over 20 years, Vicki graduated all of her 5 kids. While they have gone on to various forms of higher education and life adventures, Vicki continues to work as a licensed professional therapist and is a Certified Life Coach (American Association of Christian Counselors). Vicki also works as Academic Advisor for Mt. Sophia Academy, a local homeschool diploma program. Vicki holds an MA in Counseling and works as a therapist.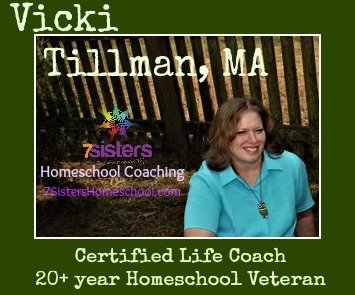 Sabrina Justison
Homeschooler for over a decade, Sabrina has 4 kids graduated from homeschool and off to adventures in college, the workforce and marriage. Natural mom to 4, Stepmom to 3 more, the challenges of a blended family and a shift-working spouse keep time management a top priority in her home. Sabrina served for several years as President of Tri-State Homeschool Network, a large support group based in Delaware and has started a peer support group for broken and blended families. She is beloved by her many students in her Drama Camps and choir programs, as well as the literature courses she teaches to groups of homeschoolers.
Marilyn Groop
Homeschooler for the past 20 years, only one of her 6 kids is still in process, and he begins his senior year this fall. Marilyn is a single mom who has both biological and adopted children, and has experience with parenting through learning differences and emotional/mental health challenges. Certified Life Coach (American Association of Christian Counselors). Academic advisor for Mt. Sophia Academy (a homeschool diploma program).
Kym Smythe
Homeschooler for over a decade, graduated her first two kids and is working on the last 2 as they begin their senior year of high school. Mother of identical twins (an unexpected twin birth!), Kym is a certified lactation consultant, has directed youth groups and choirs, manages her daughters' elite travel ice hockey team,and is a favorite teacher at Mt. Sophia Academy (local homeschool diploma program) where she is in charge of the Spanish program.
What are the fees?
$35/45-minute session  (in person if you are local, or via Skype)
OR 
$35/4 email exchanges
How do I pay?
All payments are handled securely on our website using the shopping cart tool. You may pay by major credit card or via Paypal.
and add it to your Shopping Cart!
Homeschool Coach