In my nearly 20 years as academic advisor to our local homeschool high schoolers, I learned parents want to know about college-attractive transcripts- what to include. Here are some things we've found that admissions officers are finding attractive:
College-Attractive Homeschool Transcripts- What to Include
For high schoolers who are planning on college, it is wise to invest in a competitive transcript. This is especially important for teens who are aiming for:
Competitive colleges
State universities
Military academies
If you start planning when for a college-attractive transcript your homeschool high schoolers are freshmen or sophomores, it will take a big burden of stress out of their senior year. It's tough trying to cram a lot of rigor and sparkle into that last year or two of high school.
Here are 7 things that we always include on our homeschool high school transcripts:
1) Solid GPA
If you check the websites of a few colleges of interest to your homeschool high schooler, you can find what GPA range that each is looking for. Our local homeschool umbrella school calculates GPA on core classes (English/Language Arts, Maths, Social Studies, Sciences, World Languages).
Want some help with determining your teens' GPAs? Here is a post with all the details, explained simply.
2) Strong SAT or ACT scores
Not all colleges require SAT or ACT scores. Some require SAT but not ACT. Some require Subject Tests. Colleges that do require the test usually are looking for competitive scores. You can get free training for the SAT with YouTube lessons from Khan Academy.
You will register for the SAT at College Board's website. You register for ACT at their website.
Many homeschooling high school parents ask us if their teens should take the PSAT. If they are college-bound it is a good idea. Here's a post that takes a realistic look at PSAT.
3) Academic challenge
Many colleges want to know that their incoming students have challenged themselves academically. They want to know:
Are most of his courses at College Prep level or higher?
Is he taking some Advanced, Honors, or AP classes?
If you have a homeschool high schooler who is aiming for a competitive college or state university, be sure to record the level of rigor of your teen's courses. Many high school textbooks are written at college-pre level, so if you want to record a more powerful honors credit for your teen, they will need to do some extra work for each honors credit. That is a good thing! It prepares them for the rigor of college classes.
Listen to this episode of Homeschool Highschool Podcast that explains the concept of levels for the homeschool transcript.
(Check college website for the number of high powered levels they want to see on the homeschool transcript.) Here's more explanation of levels on a homeschool high school transcript.
Did you know that 7Sisters curriculum is created to help teens level up to rigorous honors-level credits? Each text, literature study guide or writing guide is written at an accessible reading level so that most teens can enjoy them. Each text, literature study guide or writing guide includes instructions for additional, meaningful activities that teens can choose to level-up to the rigorous credits. Here's an episode of Homeschool Highschool Podcast that gives examples of ways to level-up with 7Sisters curriculum.
Note: if your teen is aiming for an AP credit, they must take their course through an approved AP provider. College Board owns the name *AP*, so they certify those courses.
Should your homeschool high schooler take a dual-enrollment course through a local or online college? There are pros and cons to this. Here is a post that explores the topic so that you and your teens can make the best choices for them.
4) Academic richness
Academic richness can be defined as: In-depth study in areas of interest and talent OR Wide variety of course-topics and personal development.
Be sure to give a great title to your homeschool high schoolers' academic-richness courses. This gives the transcript some sparkle that college admissions professional like to see. Here's a post that gives you help with developing academic richness.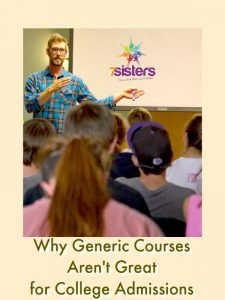 5) Extra-curriculars
We still have to avoid the stereotype that homeschoolers are well-educated misfits who never left the basement for 12 years. Rich extracurriculars are absolutely necessary to show that my student is community minded and has good social skills. Note: Colleges like to see a level of commitment in the extracurriculars- not just one-time events. Here's an explanation of homeschool high school extra-curriculars.
6) Competitions
College is a competitive place. Competitions show drive and diligence in my son's character. He doesn't have to win, just enter. Here's a post that explains more about competitions.
7) Service
Research shows that people who are active and service-minded have lower levels of depression than the general population. Besides, it is Scriptural to serve others! Here's a post with more information on enriching the transcript (and high school experience) with service.
Wondering what highly selective colleges are looking for in a transcript? Click here to find out.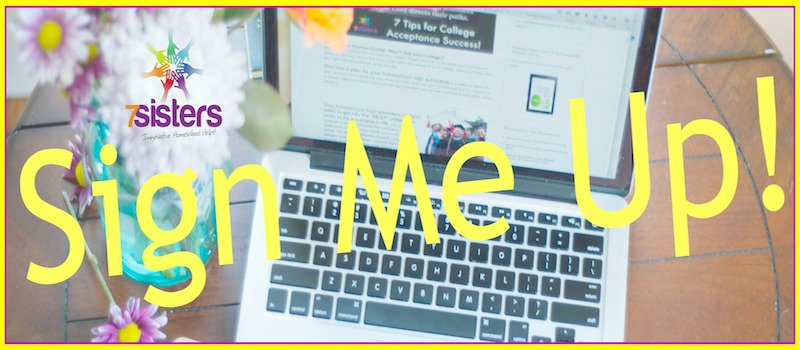 College-Attractive Homeschool Transcripts- What to Include
SaveSave