WOW!!!
You can take an online course with your big sisters!
• These courses are self-paced — you show up when it is convenient for you and complete the lessons as quickly or as slowly as you like.
• Video and text in each lesson bring the topic to life.
• The courses are offered on Teachable.com. Courses are listed below.
Online and ebook courses are unfortunately not available in the European Union.
Courses currently available:
Read more below:
APA-Style Research Paper: Working through a First Paper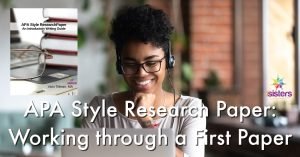 APA Style Papers are good first papers! This online course accompanies 7Sisters APA Writing Guide. It is a series step-by-step, day-by-day, videos and lessons that highlight the topics in the writing guide for homeschool high schoolers.
The lessons help teens learn how to choose topics, organize their research and their writing, use citations (APA style), write to a format and create a reference page.
NOTE: The 7Sisters APA Style Writing Guide will be needed along with the video lessons in this course. Download APA Style Research Paper Writing Guide here.
Click here to enroll in APA-Style Research Paper: Working through a First Paper.
Introduction to Psychology from a Christian Perspective
Based on our popular Introduction to Psychology from a Christian Perspective textbook, homeschool high schoolers earn .5 credit in Psychology. Video lessons by the author (a practicing counselor and homeschool mom) are provided for each chapter, as well as checklist and enrichment activities.
Read this post for more information.
This is a self-paced, asynchronous course. 7Sisters textbook is required. Parents grade assignments and tests. Click here to register.
Check out this video for more information about the online Psychology course:
What people are saying about the online Psychology course:
7 Sisters Homeschool My 16-year old sophomore is finishing up this psychology course with the online component. She has really enjoyed the course material, and said that the videos really help to make it come alive. She said that the videos offer both examples from Vicki's role as a professional on the field and examples of how the material relates to our everyday lives. She does the suggested activities that Vicki mentioned in her post, and said those also add depth to her learning. She thought it was worth the money we spent on adding the online component. -A.M.
Hey, ho! Look what's new! It's Shakespeare for One High School Semester, a self-paced ONLINE course for teens on Teachable, with Mrs. J leading the way to entertainment and learning!
The problem with High School Shakespeare courses is that they often aren't very much fun. Well, William Shakespeare wrote to ENTERTAIN. He told brilliantly crafted stories about characters who needn't be bound by time and place, because they are so wonderfully HUMAN. But too often, we introduce Shakespeare's plays to our teens as complex literature to be dissected, as something difficult to be STUDIED. So, what if we honored The Bard's wishes, and presented his work to teens in a way that could be EXPERIENCED…even ENJOYED? Well, that's the philosophy behind Sabrina Justison's SHAKESPEARE for One High School Semester course.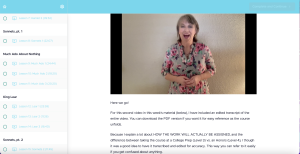 Here's a video that will give you a feel for the course:
Free Mini-Course for Homeschooling Parents: Intimidated by Homeschool High School?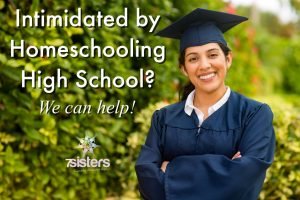 Need a confidence boost to get you started with homeschooling high school? Here's a free mini-course: Intimidated by Homeschool High School?
Don't be intimidated! This course will help you understand how to help your homeschooling high schoolers be prepared for life after graduation.
Do these questions make you nervous: Can my teen get into college? Can I teach what I don't know? How do I handle subjects that are beyond my training?
How to Homeschool High School: You CAN Do It!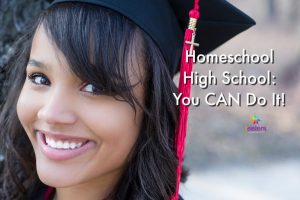 Want to know some in-depth how-tos for homeschooling high school, so you can feel like you CAN do it? It's right in our 16-lesson online course.
We know that homeschooling high school can feel very intimidating. That's why we walk you step by step through the process of starting your homeschool adventures.
You will get the basics down while you find out that homeschooling high school years are the best years yet!