WOW!!!
You can take an online course with your big sisters!
• These course is self-paced — you show up when it is convenient for you and complete the lessons as quickly or as slowly as you like.
• Video and text in each lesson bring the topic to life.
• The courses are offered on Teachable.com. Courses are listed below.
Online and ebook courses are unfortunately not available in the European Union.
Courses currently available:
Free Mini-Course for Homeschooling Parents: Intimidated by Homeschool High School?
16 Lesson Course for Parents: Homeschool High School: You CAN Do It!
Read more below:
Free Mini-Course for Homeschooling Parents: Intimidated by Homeschool High School?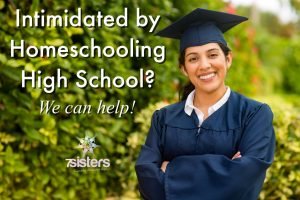 Need a confidence boost to get you started with homeschooling high school? Here's a free mini-course: Intimidated by Homeschool High School?
Don't be intimidated! This course will help you understand how to help your homeschooling high schoolers be prepared for life after graduation.
Do these questions make you nervous: Can my teen get into college? Can I teach what I don't know? How do I handle subjects that are beyond my training?
This no-cost course will get you started towards a successful homeschool high school
Whether your teen is interested in college, vocation or military, they can homeschool high school successfully AND successfully enter the next phase of life. This mini-course will help you have confidence that your teen CAN get into college, it's okay that you don't know everything they need to learn and how to connect with the resources they will need for the subjects you don't know.
Your teen can get into college (or vocation, or military)
Homeschooling high school won't prevent your teen from achieving their goals. In Lesson One, you'll learn tips to help prepare you to prepare them for success.
You don't have to know every subject
How do you teach what you don't know? We give you tips from homeschool veterans on how to make sure your teen learns what they need to know for graduation and life preparation.
How to find the resources you need 
How do you locate the educational resources: texts, courses, support systems that you and your homeschooling high schoolers need? It's out there! We give you tips on how to connect with what is needed.
How to Homeschool High School: You CAN Do It!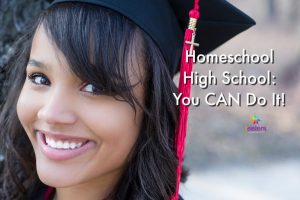 Want to know some in-depth how-tos for homeschooling high school, so you can feel like you CAN do it? It's right in our 16-lesson online course.
We know that homeschooling high school can feel very intimidating. That's why we walk you step by step through the process of starting your homeschool adventures.
You will get the basics down while you find out that homeschooling high school years are the best years yet!
In this course you will learn:
15 Reasons to Homeschool High School
What Subjects Must Be Covered?
What is a Credit and How do You Earn One?
How do You Earn an English/Language Arts Credit?
What are Levels for Homeschool High School?
What Are General Expectations for Student Accomplishment Each Year?
Whom do You Need to Help You?
What is Your Vision for Your Teen?
How do You Set 4-Year Goals?
How do You Set 1-Year Goals?
How do You Match Curriculum to Student?
How do You Create a Transcript?
How do You Assign Grades and GPA?
How do You Choose Electives?
How do You Combine Credits?
What Other Records Should You Keep?
Get started on this $14 course by clicking this link: Homeschool High School: You CAN Do It!