Here is how to create a tall tales unit study for homeschool high school.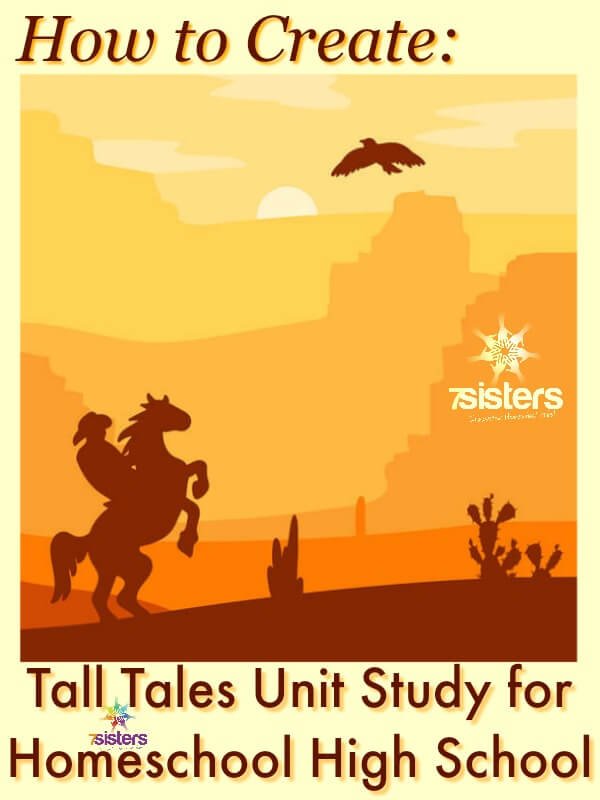 How to Create a Tall Tales Unit Study for Homeschool High School
When I was a very young child, we lived in Texas. This was back before air conditioning and television was young so there wasn't much to watch. In the evenings when the stars were coming out and the jackrabbits were invading the neighbors' gardens, family and friends would gather in the backyard and "set a spell" (sit around for a while) spinning yarns and retelling famous tall tales.
My kids grew up with me telling them tall tales, although I don't think I have the skill that those old-timers had. When my kids were old enough, we made writing tall tales of their own part of their curriculum, especially in high school years. I believe it is important to study them!
We made telling tall tales into a unit study of sorts. Here's how to create a tall tales unit study for homeschool high school (and the whole family).
BTW- 7Sisters has several free unit study posts for various occasions, including:
1. Start with a quick overview of American Westward Expansion. Here is History article with some useful videos.
Listen to ten reasons for writing tall tales on this episode of Homeschool Highschool Podcast.
2. Read about these famous tall tale heroes.
3. Check out this post with tall tale discussion ideas.
4. Watch this delightful movie: Tall Tale (1995) starring Patrick Swayze.
5. Have your teens write their own tall tales. Our 7Sisters homeschool high schoolers have enjoyed this etext for years. It's fun, self-guiding and great for understanding part of American history and the literary genre that illustrates it. Download a copy of Tall Tale Short Story Writing and get started on your unit study!
For more fun unit studies based on a movie, check out this freebie: Unit Studies Based on Popular Movies.
7Sisters email subscribers receive periodic practical encouragement, special offers and NO SPAM EVER.


Click the image above to periodically receive real homeschool value in your inbox.
How to Create a Tall Tales Unit Study for Homeschool High School