Good news: Cyber Monday Sale at 7SistersHomeschool.com!
Cyber Monday Sale at 7SistersHomeschool.com!
With Christmas quickly approaching, we homeschool moms often need to tweak or change our curriculum so that it gives more time to enjoy the activities of the season. We need pleasant-schooling even more in this crazy 2020 year!
We have often noticed that homeschooling families do some switch-ups during the holidays from busywork-oriented curriculum to 7Sisters' no-busywork, level-able, affordable curriculum.
AND what's affordable this Cyber Monday? How about 25% off!
Watch your email for a coupon code for 25% off your cart! The sale starts 12:01am ET 11-30-20 and ends at 11:59 ET 11-30-20.
Not signed up for our email list? NO problem! Just click the link below! Do it now, so you don't forget!
Remember: this 7Sisters are sharing with our 7th Sisters: 25% off your entire cart!
Let me help you get started shopping!
Twas the Week Before Christmas Bundle: Curriculum and resources for various ages with a total value of $32.93, bundled and priced at just $24.99
This bundle is perfect for that last week before the holiday break when everyone is in the Christmas spirit but struggling to care about their usual schoolwork. It includes Reading and Writing, Science and Fine Arts, World Languages, Readers Theater and Cooking, PLUS encouragement for mom to pray and make wise use of time of during the holiday season:
Liven up Reading with 7Sisters' fun Activity Guides for children's classic books!
Phonics, easy-for-mom hands-on activities, meaningful reading for elementary-aged homeschoolers. AND SOOO reasonably priced (just $3.99 BEFORE your 25% discount during the Cyber Monday Sale!).
Activity Guide titles include:
AND what better time to start teaching your homeschool high schoolers Financial Literacy!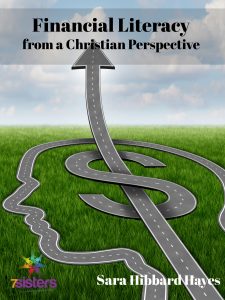 7Sisters' popular, interactive Financial Literacy from a Christian Perspective gives teens practical, hands-on understanding of Consumer Math and the Financial Literacy skills they will need for successful adulting.
The topics in the nine chapters of this Financial Literacy high school curriculum include:
Money – The Basics

Setting Financial Goals

How Values Affect Goals

S.M.A.R.T Goals

Financial Strategy for Achieving Goals

Budgeting

Limited Resources

The Budget – Freedom within Safe Bounds

Income and Expenses

Keeping Your Spending on Track with Your Budget

Saving and Investing

The Time Value of Money

Simple and Compound Interest

Investments: Risks and Rewards

Credit

Revolving and Installment Loans

Benefits and Risks of Credit

Amortizing Loans

Your Credit Report and Credit Score

Debt

Financial Institutions and the Services They Provide

Banks and Credit Unions

Checks

Debit Cards

Bank Statements & Balancing Your Checkbook

Identity Theft

Insurance

Automobile Insurance

Health Insurance

Life Insurance

Disability Insurance

Renter's/Homeowner's Insurance

Your Career

Help for Choosing Your Career

Education and Career Opportunities

Payroll Deductions and Employee Benefits

Christian Work Ethic

Taxes

Record Keeping

Basic Income Tax Vocabulary

Tax Preparation Exercises

Click here to view the Table of Contents and How to Use This Book.
Click here to view an excerpt from the text.
Click here to view a sample Worksheet and Worksheet Answer Key.
Click here to view a sample Study Sheet and Test.
Cathy Duffy Reviews did a review of Financial Literacy from a Christian Perspective:
"Financial Literacy from a Christian Perspective does a more thorough job teaching what teens need to learn about finances than do most standard Economics courses."
PLUS ALL 7th Sisters curriculum…anything in your 7SistersHomeschool estore cart…is part of the Cyber Monday Sale!
Remember, 7th Sisters, the coupon code will be in your email inbox, so watch for it and invest in your holiday homeschooling with this quick Cyber Monday sale!
7Sisters email subscribers receive periodic practical encouragement, special offers and NO SPAM EVER.

Click the image above to periodically receive real homeschool value in your inbox.