This week on Homeschool Highschool Podcast: Encouragement for Homeschool Mid-year, interview with Felice Gerwitz. This post is running concurrently on the Ultimate Homeschool Podcast Network.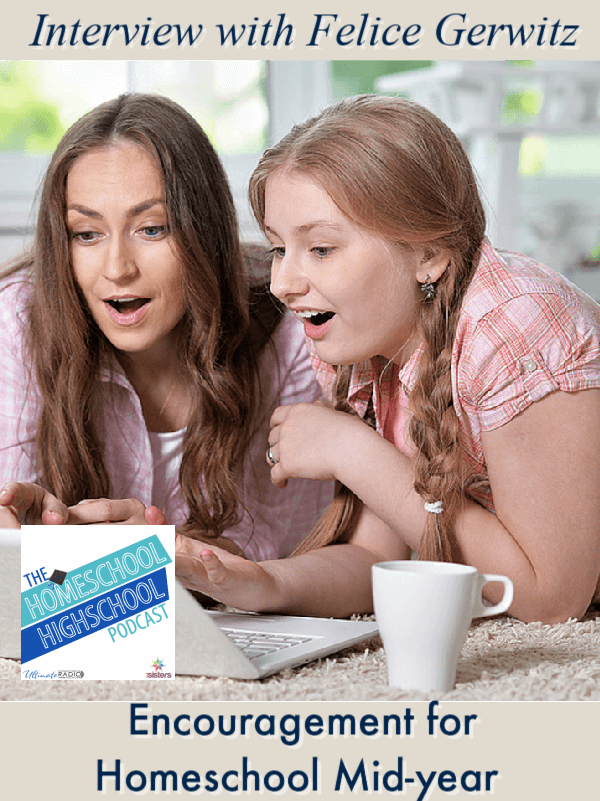 One of the blessings on homeschool communities (online communities as well as IRL communities) is meeting new and fascinating people. One fascinating homeschool friend that we have been blessed some years ago to meet (at our beloved 2:1 Conference) is Felice Gerwitz. Felice is the head of the Ultimate Homeschool Podcast Network, which may sound a bit intimidating. Felice is not intimidating (but she is a natural persuader/influencer).
How we met Felice
We ran into Felice in the elevator a number of times at 2:1 (a conference for Christian homeschool bloggers). After we both attended the same how-to-podcast workshop, Felice approached me and said, "We need a high school podcast!"
Clearly, this had been at the back of my mind (of all the workshops I was attending that morning, I chose to attend one on podcasting by future fellow podcasters, Andy and Kendra Fletcher of Homeschooling IRL. When Felice told me a high school podcast was needed, I instantly saw that we could and should do it! Homeschool Highschool Podcast was born!
So, I finally had a chance to catch Felice, just in time for some encouragement for homeschool mid-year. (Encouraging homeschool moms is one of Felice's many passions!)
Felice is a veteran homeschool mom, from way back in the early days of homeschooling
Some of us old-timers remember those days: hard to find and obtain curriculum, lots of time with legislators and state officials working to make homeschooling laws work for homeschoolers, and more.
Felice's five kids are all homeschool graduates now (the last two are now in college).
Felice started her business career with Media Angels when she was pregnant with her third child. She was a frequent speaker at conferences as well. She published homeschool how-to's, curriculum and faith-based inspirational books. Then she added the podcast network as podcasting became a thing. Her podcast, Vintage Homeschool Mom, was the first on the network and an all-time favorite with listeners.
Felice came from a family of immigrants.
She is first generation American whose parents worked hard and wanted their children to go to college. Felice became an elementary education (with certifications for learning disabilities). When one of her children showed learning struggles, she found her local resources inadequate. Her sister-in-law was already homeschooling and encouraged Felice to use her own training to best help her child. This was life changing for Felice.
This has worked! Her kids have all learned in ways that best fit them.
Let them explore, provide them opportunities, allow them to be who God made them to be, allow them to make mistakes and take reasonable risks
Her kid who loved to tinker, works with their contractor dad and has a profitable side gig of buying things, fixing things and selling them

Don't stand in your teens' way, even if you want something else for them

For instance, her tinkering son was a star pitcher at high school level and was recruited by colleges. He did not want to go, but to work and be in business. This was difficult for Felice. God used her priest to encourage her to get out of God's way and let God develop her son into the man HE wanted.
Fixing tools and equipment became his specialty as Felice allowed him to develop his passion.

Look for courses that will get your kids truly excited.

Felice provided her tinkering son a business course by Carol Topp (of Homeschool CPA podcast). This helped him get excited about the business possibilities of his tinkering skills.
Felice found dual-enrollment courses that expanded interests help by her other kids when the time was right.
Felice allowed her son to explore and prepare for the military (even though she felt nervous about it).

She found veterans for him to interview and be mentored by.

No matter what you and your kids do, pray.

As 7Sister Kym says: Pray first, last and always!

Imagine: a homeschool mom's job for homeschooling high school is to come along side her teens.

Build relationship (as parents, do not worry about being their friend)
Allow them to process ideas and experiences without correcting or forcing them to your will

Ask questions, avoid expounding your personal goals.

Help them find healthy friends (the five people they are around most will shape them)
Remember: NO teen is perfect (nor are their parents)

Check out the practical tips for mid-year reboot in this Homeschool Highschool Podcast episode and these practical ways for create a checkup for the mid-year.
Also, invest in yourself. There may be times where it is wise to take a break.
Hey, want to start investing now in a better homeschool year for next year? Here are some ideas for a gentle start.
For more encouragement, learn about our various resources.
Find Felice and her resources (for mid-year and all year)
Don't stop here with Felice's encouragement!
We have the loveliest interview with our friend, Teresa, about how to love your homeschool (any time of year)! AND check out this sweet interview with second-generation homeschooling mom, Katie Waalkes, about the important things she learned from her parents.
Plus you will love our silly and wise advice about handling tough homeschool times (or tough anytime) with this episode on homeschool mindset…not platypus!
Also, check out this episode with Sabrina (sharing the things she has learned about homeschooling high school): If I Could Talk to My Younger Self.
And help encourage your teens in balancing realistic expectations in this post.
Join Vicki and Felice for some precious encouragement for homeschool mid-year!
PLEASE SUBSCRIBE TO HSHSP VIA COMPUTER
Follow this 

link to our Apple Podcasts page

.
OR take this IMPORTANT STEP: Under our Homeschool Highschool Podcast logo, click on View in "…your favorite podcast source"

This will take you to Apple Podcasts or your favorite podcast source and our own podcast page.

Click SUBSCRIBE.
Click RATINGS AND REVIEW. (Please take a minute and do this. It helps others find us. Thanks!)

Thanks!
OR PLEASE SUBSCRIBE VIA iPHONE
Tap the purple Podcast icon on your phone

Tap the search icon on the bottom-right of your screen

In the search bar type: Homeschool Highschool Podcast

Tap the Homeschool Highschool Podcast icon

Tap *Subscribe*

Please tap *Ratings and Review*
7Sisters email subscribers receive periodic practical encouragement, special offers and NO SPAM EVER.


Click the image above to periodically receive real homeschool value in your inbox.
Encouragement for Homeschool Mid-year, interview with Felice Gerwitz