Why should you consider essay writing for reluctant high school writers? It's a really smart place to start. Got a teen who has favorite subjects that AREN'T Language Arts? Try building on those interests with essay writing!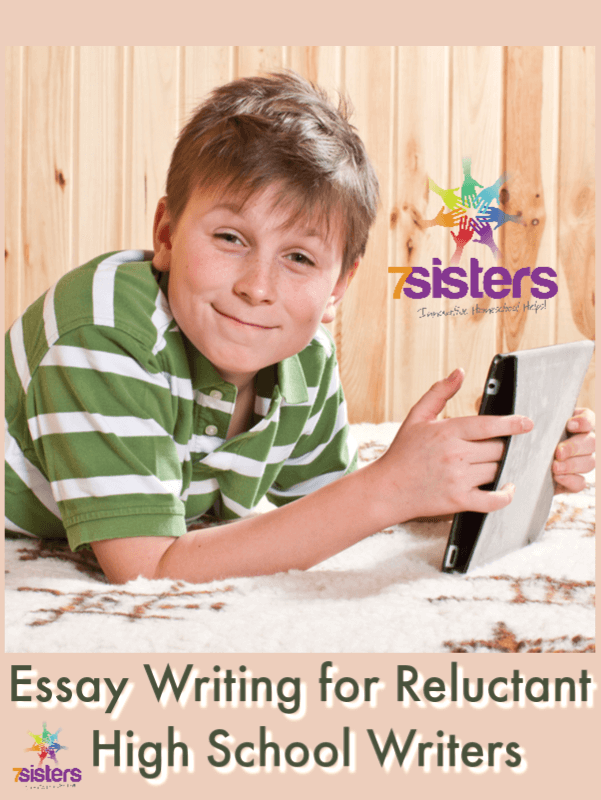 Essay Writing for Reluctant High School Writers
Some of our 7Sisters' high schoolers loved to write. They would happily write everything from poetry to essays. However, most of them did NOT love essay writing. The tough fact those teens had to face was the fact that essay writing is necessary for their yearly Language Arts credits.
Not only that, but essay writing is an important life skill:
College-bound teens write endless numbers of essays.

Teens going into the trades sometimes must write essays in their coursework and testing.

They will need to use the communication skills they learn in essays in many aspects of adult life.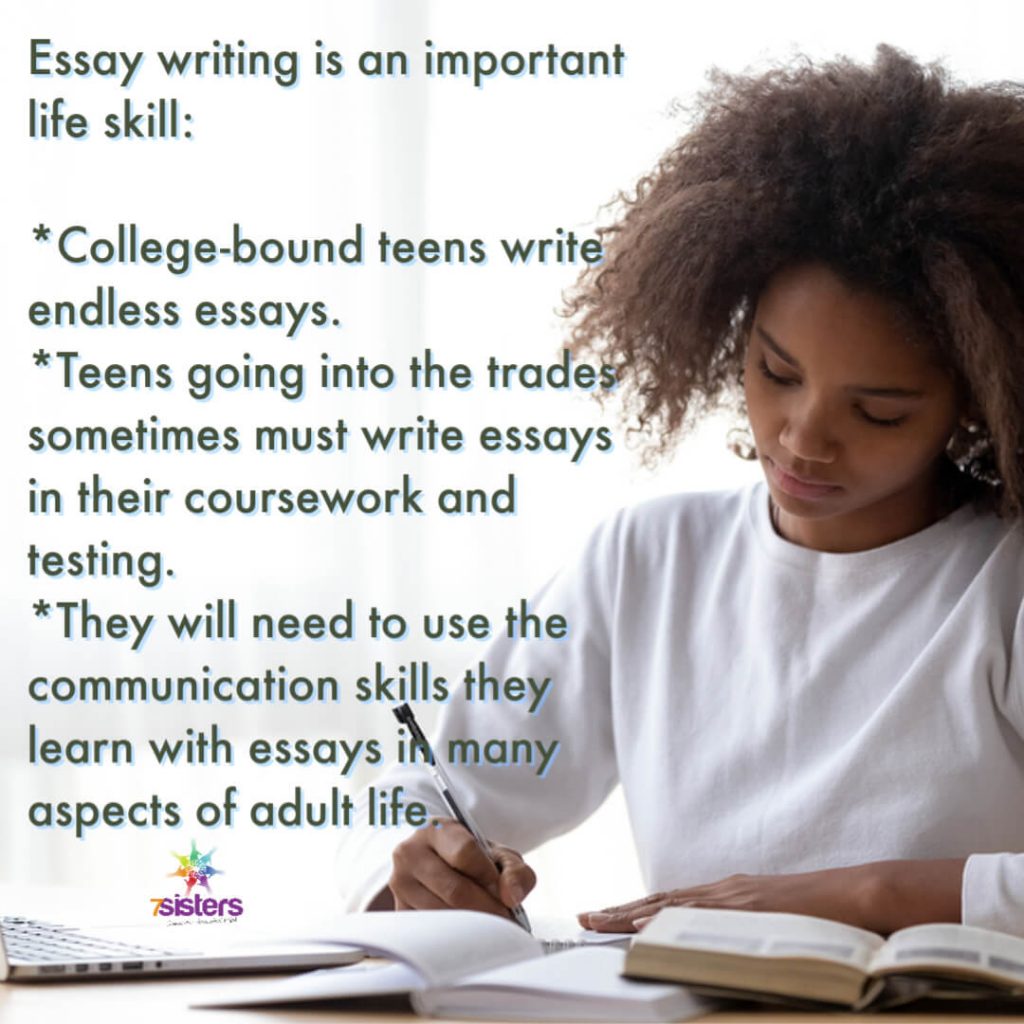 So, even reluctant essay writers, need to learn essay writing. SO, why not start with just the basic skills and take out the intimidation factor that many essay writing curricula uses?
That's what we at 7Sisters have done with our Essay Writing series of downloadable writing guides. We use these guidelines for creating Essay Writing guides that even reluctant writers can enjoy.
For reluctant writers, a simple essay-writing curriculum is a good place to start because:
Typically, our essays are about five paragraphs and are less intimidating than longer writing.

The essays follow a formula, which means that it is easier to get started on covering that terrifyingly blank piece of paper.

Even for students who have not had extensive writing experience, it is possible to conquer something that could potentially only require 15 sentences for beginners.

7Sisters guides are NO-busywork and taught in daily, step-by-step lessons. This makes them user-friendly even for reluctant writers.

Over the series of introductory essay writing, Intermediate Essay Writing and Advanced Essay Writing, teens develop confidence in a non-threatening essay setting. They are able to choose interesting and personally meaningful essay topics while they build skill in the various short essay styles.
How do you start essay writing for reluctant high school writers?
Starting with essays on a topic your high schooler likes to argue about helps the student overcome fear. After all, an essay is really a written argument – and we all know that teenagers excel in that area!
(Of course, arguing using logical thoughts is a little more difficult, but it is important to learn. Writing essays help develop that skill!)
Using a step-by-step process spelled out in a study guide helps.
7Sisters Study Guides help even reluctant high school writers capture ideas, get them organized, and articulated on paper.
Even using the familiar format and taking the process a step at a time, some students have a hard time defending a thesis. One of my children struggled in this area, especially literature analysis (often reluctant writers are also reluctant readers).
He understood that he had to support his thesis with specific examples from the movie that he had watched. Since movies engage multiple senses, this was easier for him. He was able to relate specific examples in the movie to his thesis – an important accomplishment!
Also, some homeschoolers who want more personal prompts or prompts that might be relevant enjoyed this post.
When reluctant-writing teens are allowed to have a sense of humor in their *serious* writing, they do better.
So if you can get them talking and laughing about their essays, or giving them silly topics to write about, they will be happier…and write less reluctantly.
As you work with your reluctant writer, never forget the power of encouragement.
At one time I had a struggling student in one of my homeschool group classes. On one of his essays I wrote, "You have the potential to be a good writer." Later, he told me that it was a turning point for him – he decided to become a communications major in college. Of course, not all students will have such a life-changing experience, but all benefit from knowing that their hard work is being noticed and rewarded.
Encourage and empower your reluctant high school writer with 7Sisters Introductory, Intermediate, or Advanced High School Essay Writing.
BTW- All 7Sisters essay writing guides include writing prompts, but here are some more prompts that might be relevant to your teens.
Need a little encouragement? Our friend, Katie Glennon, explains Language Arts even for reluctant learners in this episode of the Homeschool Highschool Podcast.
7Sisters email subscribers receive periodic practical encouragement, special offers and NO SPAM EVER.

Click the image above to periodically receive real homeschool value in your inbox.
Essay Writing for Reluctant High School Writers