Here are our favorite homeschool curriculums for elementary grades.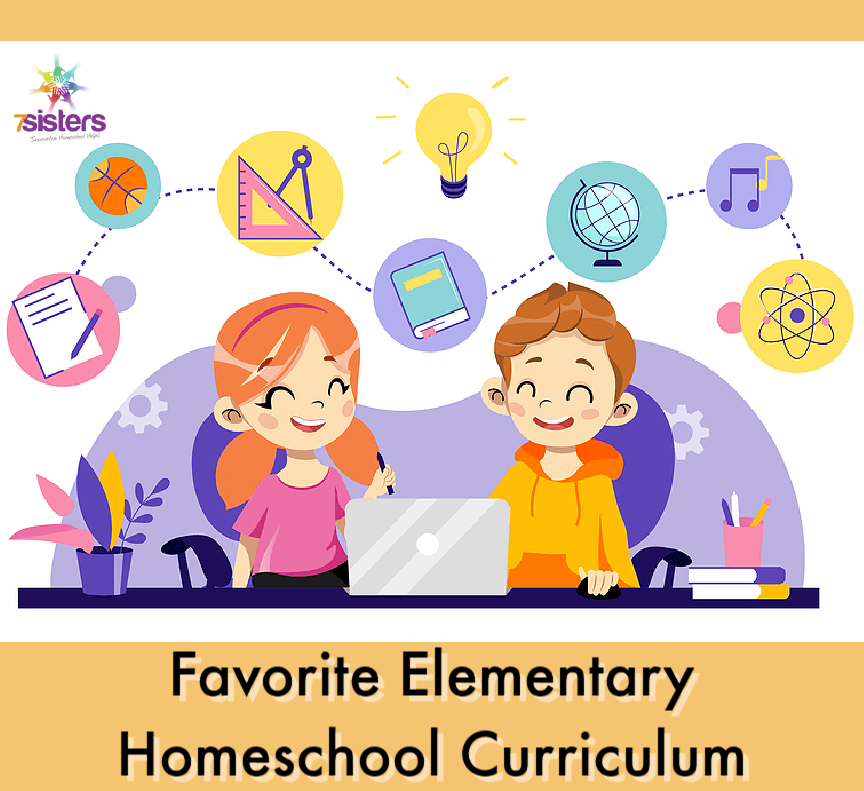 Favorite Homeschool Curriculums for Elementary Grades
One of things we 7Sisters have treasured most about homeschooling our kids is being able to nurture a love of learning. We have found that when our kids learn while they are young that education is fun, the process is easier all the way through graduation!
Our kids have especially loved hands-on and/or enjoyable learning. We have found that young learners (well, learners of any age) remember best when they are engaging in their lessons or laughing while they work.
Over the years, we have found a number of elementary school resources we love. We also know our 7th Sisters (have you joined our Facebook group, if not, please do) have lots of favorites, so we asked them about the elementary curriculum they love. Check out this big list of favorites!
(BTW- We are not affiliates of any of the not-7Sisters curriculum, we just like to share about curriculum we love.)
Here are some of our favorite homeschool curriculums for elementary grades:
7Sister Vicki always felt that children were being forced into formal education way too early. (Better Late Than Early by Raymond and Dorothy Moore has inspired many homeschool moms to invest in developmental, inspiring learning-preparation during kindergarten. This gives youngsters time to build the necessary neural pathways for attention and learning which makes learning so much easier.

So rather than thrust her five year-olds into formal education, she did LOTS of reading and education preparation. She shared her kindergarten program in this simple and cost-effecient, 21-page downloadable pdf resource guide that includes:

an overview of developmental milestones
activities for developing

perceptual motor skills
visual skills
auditory skills
cognitive skills
number skills
reading skills
What are literature activity guides? These fun and cost-efficient guides take classic children's books at various reading levels and give them fun, hands-on activities that aid in learning:
Read Wayne Thorp's post on the philosophy of education.
Literature Guides for Later Elementary 7SistersHomeschool
These are traditional literature study guides but pared down to the basics so that there is no busywork that would kill the book for young readers!
One of the biggest regrets is that this delightful grammar curriculum did not arrive until all our kids were beyond middle school (but that hasn't stopped 7Sister Vicki from listening in on some of the grammar adventures).
This is a series of grammar texts are short, entertaining stories that teach language arts concepts in a memorable way.
The accompanying workbooks are no workbook at all, but a Mission Manual asking your student to help save the galaxy from the chaos the Gremlin creates.
Curriculum for Learning How to Read
All About Reading

This series includes learning activities and is a favorite of several 7th Sisters.

Barton Reading

Classic "how to tutor your child" series, great for learning differences. Recommended by several 7th Sisters.

Horizons Phonics and Reading

Classic, workbook-style phonics and reading program liked by several 7th Sisters.

Explode the Code
Spelling
Writing
Book making activity. Lovely introduction to writing a story in this post by our friend, Betsy.
How to Write a Fable post from Adventures in Mommydom in this post by our friend, Ticia.
How to Write a Progressive Story (fun group activity) 7SistersHomeschool

https://www.youtube.com/watch?v=5-_y7VZG1OQ&t=3s
Drama Resources for Elementary-Aged Homeschoolers 7SistersHomeschool
Kids often love being part of a drama production. Here are a couple of favorite resources:
History Resources
We did much of our history together at co-op. Many of these suggestions work at home and/or co-op!
Language Arts/History/Science Unit Study Approaches
Math Resources
Music
Music in Our Homeschool

Self-paced, online, interesting music appreciation lessons with our friend, Gena Mayo. Check out the freebies.

Musik at Home

Online developmental music education classes with our friend, Kathryn Brunner.
Science Resources
We 7Sisters did most of our science together in co-op. Even if you do not have a co-op, you will enjoy some of these hands-on learning activities and curriculums!
While you are working on academics, you can also increase your children's confidence and good manners with this cost-efficient fifteen-page booklet that describes ten of the most important social skills for children. You and your kids will enjoy it because it includes practical activities to help your children learn each skill.
How about using read-alouds for teaching positive character traits?
Special Needs
If you have a child with learning differences or other special needs, SPED Homeschool is an endless wealth of resources, videos, encouragement and ideas.
World Languages
Elementary years are the best for learning another language. Our Cousin Karim Morato offers popular Spanish course for elementary-aged homeschoolers. Children learn from fun, from-birth Spanish speakers. Check out Spanish Homeschool Curriculum.
One of our friends reminded us of Spanish for You.
Need more homeschool curriculum ideas?
Okay, feeling overwhelmed at this point? That's okay! Take a breath and have some fun with this post where your 7Sisters  get real and share our Aha! moments.
7Sisters email subscribers receive periodic practical encouragement, special offers and NO SPAM EVER.

Click the image above to periodically receive real homeschool value in your inbox.
Favorite Homeschool Curriculums for Elementary Grades