Teen looking for a summer job? Here are first-time job hunting skills for homeschool high schoolers.
First-Time Job Hunting Skills for Homeschool High Schoolers
Teens often get so excited when they think about getting their first real job!
Teens often get so stressed when they start thinking about searching for their first real job!
They don't know where to start! And we parents are mistaken if we think if things are like the old days, when we got our first jobs. Many of us, when we were teens, could just run down to the corner store, fill in a paper application, chat with the boss and get hired.
These days there are online applications and employment divisions…and lots of competition.
But we've got some encouragement for you and your teens.
There are some do-able first-time job hunting skills for homeschool high schoolers:
Skill #1: Prepare an experiential resume and cover letter
If this is your first job, then you won't have a *real* resume. But you do have life experiences: volunteer work, missions trips, competitions, etc. Use these experiences to create an experiential resume. 7Sisters has an inexpensive how-to that is worth the time and money. (Keep a copy in the portfolio as one of this year's writing projects.)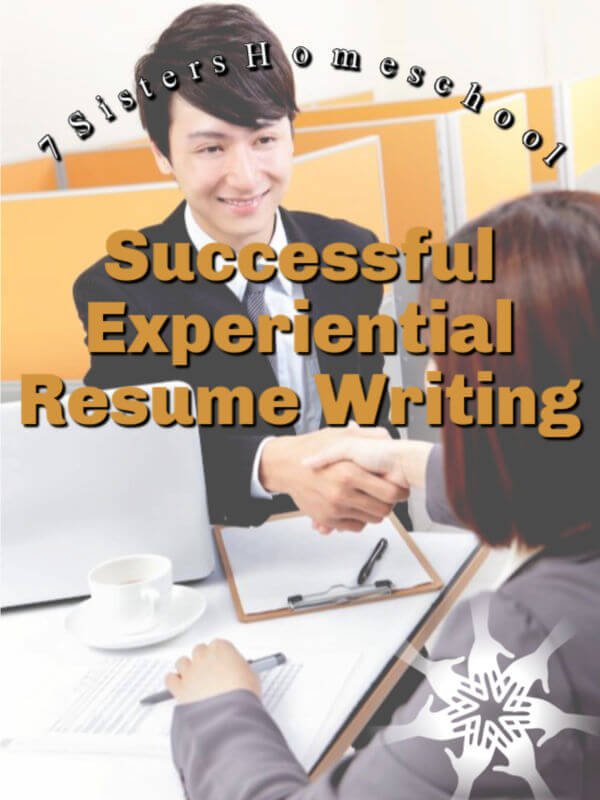 Next, create a generic cover letter that can be tweaked for different jobs. (Another writing project for the portfolio, also.) 7Sisters' cover letter writing guide is easy and inexpensive.
Skill #2 References
Find 2 people who would be willing to be a reference for you. Ask them ahead of time. Once you know where you're applying, let them know what business will contact them. If you know if it will be phone or email, let them know that, also. Read this post on how to request a recommendation letter.
Skill #3 Networking
Make a list of key people who might own a business or know someone who is hiring. This might include:
Family friends
Grandparents and other relatives
Pastors, youth pastors, Sunday School teachers
Co-op moms
Coaches
Drama production directors
Prepare an *ask*. Practice a little fifteen-second speech, such as:
I'm looking for a job. I'm a hard worker and willing to do anything honest. Do you know anyone who is looking for help?
Check out this post about networking for introverts, it can help just about anyone.
Skill #4: Local Search
Just like old days, go around to local businesses. Do you see any *Help Wanted* signs? If so, take the resume and cover letter in. Just in case they give you a paper application to fill out right then and there, make sure you have your references on you, along with key information like the name of umbrella school and location (if applicable).
Skill #5: Online Search
Make a list of local grocery stores, fast food chains and other larger businesses in the area. Many of them will have online applications. Check their websites.
Then check job-hunt sites like Indeed.com and Monster.com for entry-level jobs and apply there.
Skill #6: Prepare for Interviews
While you're at it, start preparing your interview skills. Practice with friends and/or family. Practice some more. You'll be glad you did. Use 7Sisters' Interview Guide for how-to.
Note to parents: When teens apply for local jobs, it is good for parents to check out the business if you're not familiar with it. Do some shopping or order a meal. Are the employees respectful? Is the business honest? While this might seem helicopter-parentish, it is just smart. Teens, who are often a little gullible, will spend a lot of time with these people. It's nice if those first colleagues are good people.
Review: you can help prepare your teen for the job hunt by teaching them good skills about:
Here's a chat Kym and I did on Facebook Live.
If you want to focus just on the job interview, Helping Teens Prepare for Their First Job Interview has some great tips!
7Sisters email subscribers receive periodic practical encouragement, special offers and NO SPAM EVER.


Click the image above to periodically receive real homeschool value in your inbox.
First-Time Job Hunting Skills for Homeschool High Schoolers