Wouldn't it be nice to find fun reading and grammar curricula that kids enjoy?
Fun Reading and Grammar Curricula that Kids Enjoy
One of the joys of homeschooling is to educate our kids in a way that teaches them to LOVE learning, rather than dread it!
Elementary-aged homeschoolers need to learn the 3Rs. The Reading and Writing part of those basics can feel dry and even intimidating to both kids and moms. When children feel intimidated, their brains do not process information well.
However, when they are enjoying their lessons, children's brains:
Produce dopamine, which stimulates the memory centers in the brain
Produce acetylcholinem, which increases attention
An article in Psychology Today called The Neuroscience of Joyful Education gives lots of detail on the benefits of enjoyable lessons.
So, why not add some fun to Reading and Writing for your elementary aged kids? I would like to suggest 2 FUN and easy homeschool curricula to share that can make your homeschooling so much better:
Let us tell you about each curriculum.
7Sisters Literature Activity Guides for Elementary Ages
These are delightful activity guides that build reading and comprehension skills using classic books that elementary-aged kids already love. The guides are full of hands-on activities and games for learning phonics and application concepts. Kids are learning and loving it! Each guide is SO affordable ($3.99) that families can add several to enrich each elementary year's reading experiences.
7Sisters Literature Activity Guides expand the impact of your child's reading experience, making use of good books to:
teach life concepts

reinforce knowledge and already-learned skills

broaden phonics and other learning skills 

have fun learning by doing
Children love books; children love activity.  Combining the two captures the teachable moment! You can start your educational adventures with our FREE Literature Activity Guide for the popular book You Are Special by Max Lucado.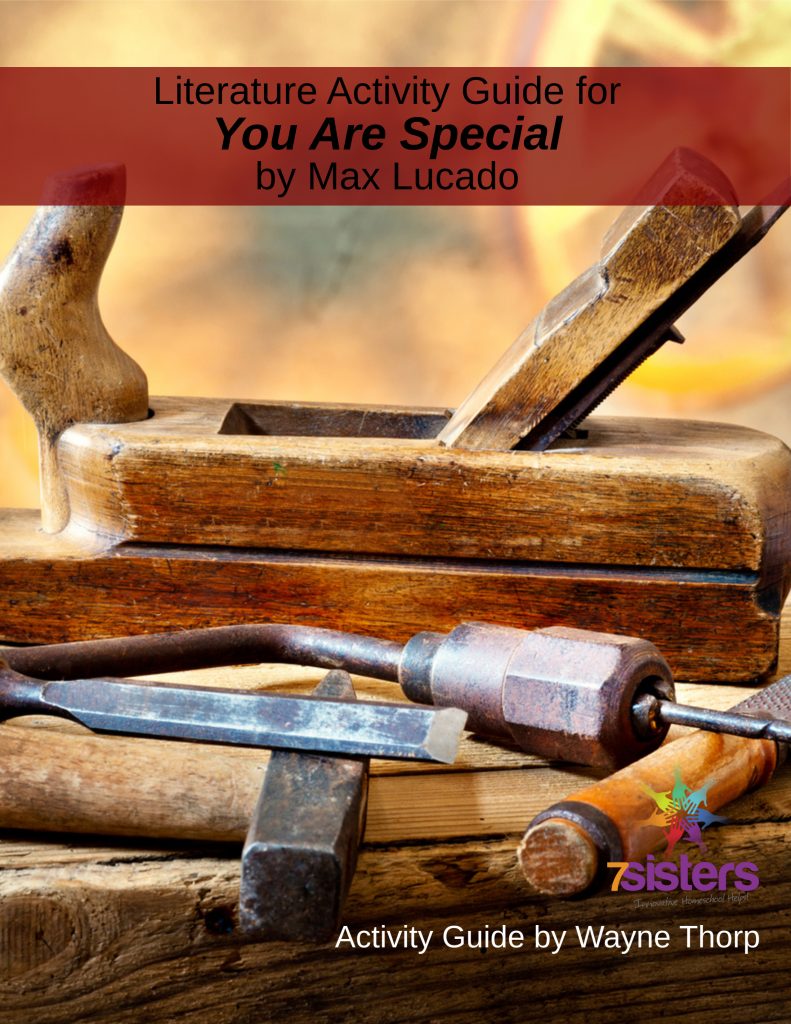 7Sisters Literature Activity Guides are perfect for moms and kids at home OR for co-ops. They are also marvelous as the basis for engaging unit studies. (Here's how to create unit studies from the guides.)
Reading Curricula that Kids Enjoy
Here's a quick look at the digital Literature Activity Guides that are currently available:
Second Grade
Third Grade
Fourth Grade
Fifth Grade
Download You Are Special for a free look at the delightful lessons. You elementary kids are going to love them!
Grammar Curricula that Kids Enjoy
When our friend, Dr. Melanie Wilson, of Homeschool Sanity Podcast and PsychoWith6.com introduced us to her Grammar Galaxy curriculum several years ago, my first thought was *RATS!*.
Why *RATS!*? Because my youngest was about to start college! Where were the FUN grammar books when my kids needed them? No where!
But for homeschool families who have elementary-aged children, Grammar Galaxy is a dream come true. Grammar Galaxy workbooks are:
Fast: Each lesson takes about 10 minutes to do. No kidding!
Easy: The lessons are SO understandable, even if you are NOT a grammar-loving person!
Interesting: The lessons are written in story form. Homeschoolers learn grammar while engaging in a delightful story that they interact with!
Fun: I can't say it better than Melanie explains: *The evil Gremlin tries to destroy Grammar Galaxy and the guardians have to save it by completing missions. Grammar Galaxy includes humor and mystery, but it doesn't include dry exercises. Young writers are asked to do very little handwriting. Instead, they enjoy learning by doing.* I can tell you, they are wonderful stories and *missions*!
Each level includes a book with the story of the guardians of the galaxy. A second workbook contains quick and understandable grammar, writing and comprehension lessons.
The books can be purchased in print or digital formats.
Visit Grammar Galaxy and get your elementary agers busy saving the galaxy with good grammar!
Want more information about Grammar Galaxy? Here's a video review by Homeschool On. (BTW- We are not affiliates of Grammar Galaxy, we just like the curriculum!)
7Sisters email subscribers receive periodic practical encouragement, special offers and NO SPAM EVER.

Click the image above to periodically receive real homeschool value in your inbox.
Fun Reading and Grammar Curricula that Kids Enjoy