Graduation party part two: drinks, delegating, and set-up!
Graduation party part two: drinks, delegating, and set-up
Day Two of How to Throw a Graduation Party!
I am getting ready for my son's graduation party! Good thing for me that our sister, Allison, is an expert in the party-prep details that drive me bonkers.
Here are her thoughts for today:   
Beverages: If you are looking mainly for convenience, cans of soda and tea and water bottles are the way to go.
You will need to line up extra coolers or plastic bins in which to put ice and the cans.  Again, you can keep extras cooling in the fridge (if you have room) and refill your cooler/bin as it empties.  The main drawback to this choice is the cost.  You will spend more buying individual servings of beverages and some may be wasted as guests pick up a can and only drink half.
Another option is making large batches of iced tea and lemonade and serving them in large beverage servers. You can use the old standard "cooler" style servers which hold several gallons and keep the contents cold.  A prettier option is the newer 3 gallon beverage servers with pour spout.  You might not want to invest in these for one event, but if you host a lot of parties at your house they are definitely worth it.  You might also ask friends if they own one.  Most people are happy to share an item like this that they only used periodically.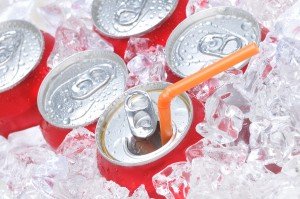 Delegating: Drinks are something that can easily be delegated. You can ask a helpful family member or friend to purchase the beverages and bring them.  No prep is needed so it is a relatively easy way for someone to pitch in and help.
Set Up: The best plan for setting up your food tables will depend primarily on your setting.  Pick the area which works best with the size and configuration of your home and property.
Whenever possible it's best to keep the food indoors, or at least in a screened area. Otherwise you will have to contend with bugs helping themselves to your dishes.  Also, keeping the food indoors on a hot day decreases concerns about spoilage.
It's helpful to have the drinks located away from the food tables.  Many guests will be getting drinks throughout the party and they need to have access without getting in the way of those who are getting their food.
Think like a guest: Try to arrange food, plates, plastic ware, and drinks to make it easy for guests to get what they want, carry it, and find a spot to eat it.
One trick I have found very helpful goes against the standard buffet arrangement.  Place the napkins and plastic/silverware AFTER the food dishes. This way guests don't have to juggle all of these items while serving themselves.  This also avoids wasting plastic/silverware.  (Guests will only take what they need if they come to these items after they have their food.  If they must pick up their silverware first, they have to assume that they will need everything – fork, spoon, knife – even if they do not.)
Of course, the most important part of your homeschooler graduating is that he/she's…GRADUATING! What comes next?! Need a refresher in Career Exploration (especially seeking God's leading, noticing God-given gifts and experiences)? This is the guide we use with our kids (I created it out of my experiences as homeschool advisor and professional counselor.)
7Sisters email subscribers receive periodic practical encouragement, special offers and NO SPAM EVER.

Click the image above to periodically receive real homeschool value in your inbox.
Graduation party part two: drinks, delegating, and set-up