High school book list is one of my favorite things! Teaching reading and writing to homeschool teenagers is one of my favorite things to do.
An unusual book list that can bring life to your literature is one that includes works by Great Christian Writers.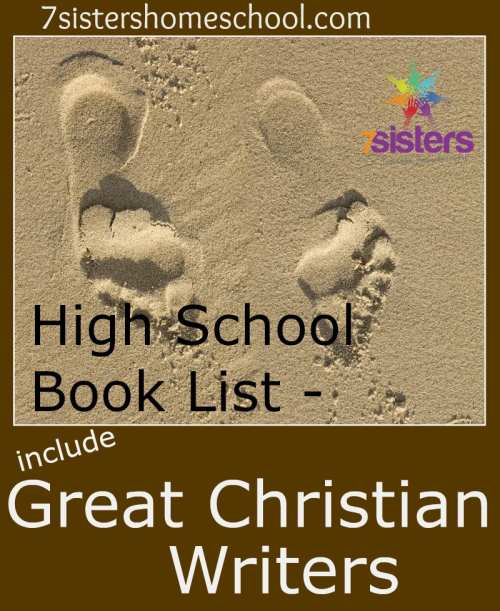 High School Book List – Include Great Christian Writers
One of the many blessings of homeschooling through high school is getting to choose books to read with our kids, and then discussing those books.
Here's a vlog to help you figure out how to choose books for high school student each year:
While I make sure we spend time on American Literature, British Literature  and World Literature, it's also wonderful to spend a half-credit or even a whole-credit on a specialized category of literature, or a topic, or a particular author's work (like C. S. Lewis – check out our lit. guides that accompany his books here).
You can tailor your book selection to your child's unique interests, for example. One of my sons earned credit for reading books about great filmmakers, and reading classic works of literature that were made into classic movies, then analyzing the transfer from page to screen in papers he wrote. A student with a passion for history could focus on books about a favorite time period for literature. A kid with a passion for animals might want to choose books that center on that topic, and so forth.
Great Christian Writers came out of the desire of some of us moms to see our kids read well-written books by Christian authors who want their readers to meditate deeply in their spirits about the things of God as well as have their intellect stretched and entertained with their words. We wanted to include biographies and autobiographies, books of theology, devotional materials, and fiction.
This is the book list I've used in Great Christian Writers:
* The Hiding Place (Corrie Ten Boom)
* Pilgrim's Progress (John Bunyan)
* The Practice of the Presence of God (Bro. Lawrence)
* The Essential Father Brown short stories (GK Chesterton)
* Armchair Theologians Series – Augustine
* God's Smuggler (Bro. Andrew)
* Something Beautiful for God (Malcolm Muggeridge)
* Hymns & Creeds
* Poetry
* The Normal Christian Life (Watchman Nee)
* This Present Darkness (Frank Peretti)
* Mere Christianity (CS Lewis)
* Prayers
* Devotions
* Joni (Joni Eareckson Tada)
* Born Again (Chuck Colson)
* The Great Divorce (CS Lewis)
A few of the selections are obviously not books. For the hymns, poetry, prayers and devotions I used the internet as a resource for compiling great examples of these forms of writing, and assigned these collections to the students in lieu of a regular book.
Because we are reading these books with a class, for each book I have created a study guide of some type for the students to use in preparing for their class discussion. (You can find several of these study guides in our EBookstore by clicking on the links above.) The study guides really help the students focus on important themes in the books, and they provide background information about the authors and vocabulary resources, as well as supplemental activities and suggestions.
I have enjoyed this class more than I can say! The kids amaze me with their insights in discussion, and it is so interesting to see which kids fall in love with which books…and which they deem "boring"!
Can reading good books help build character in your student? According to the Department of Education, the answer is yes! Click here to read more.
7Sisters email subscribers receive periodic practical encouragement, special offers and NO SPAM EVER.

Click the image above to periodically receive real homeschool value in your inbox.
====================================================
And now, here's a review of God's Smuggler by Seth Tillman, who read this book during his sophomore year of homeschool high school!
God's Smuggler by Brother Andrew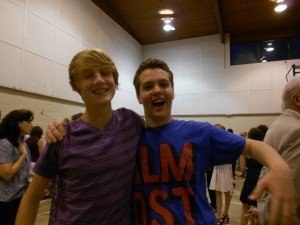 God's Smuggler is an inspiring true story filled with adventure, suspense and faith. It is the autobiography of Brother Andrew. During the Cold War, Brother Andrew smuggled Bibles into countries behind the Iron Curtain.
The book is also the story of his conversion to Christianity. Brother Andrew went from rebellious boy, to reckless young man, to great man of God.
God's Smuggler really showed me how much God cares for His children. He kept Andrew safe through many dangers. Every time he passed through a border he would pray what he called "the Prayer of God's Smuggler":
"Lord, in my luggage I have Scripture that I want to take to Your children across the border. When You were on earth, You made blind eyes see. Now, I pray, make seeing eyes blind. Do not let the guards see those things You do not want them to see."
Because of Brother Andrew, many people behind the Iron Curtain received Bibles and were shown that God cared about them. You will not want to put God's Smuggler down.
For Literature Study Guides for Great Christian Writers selections plus many more terrific books, visit the EBookstore!
High School Book List – Include Great Christian Writers