By request: Handling High School for Homeschool Working Moms.
Handling High School for Homeschool Working Moms
You can do it. I know this because I worked through most of my homeschooling years- and so do many homeschooling moms.
However, homeschooling is not easy. It can feel intimidating. Then, when you add juggling a working-mom schedule and a homeschooling high school schedule, well, that is even more challenging. BUT it CAN be done and done with success.
SO, as a veteran homeschool working mom, let me share some tips that I found helped us make the high school years the best years yet.
How to handle homeschool high school for homeschool working moms
Remember, there's not ONE right way to homeschool high school while being a working mom. Therefore, take from these ideas the tips that will work for you. Everyone is different and that is okay!
Priorities
Do not go a step further until you have clarified your priorities. AND get together with your homeschool high schoolers and help them understand the purpose of their homeschooling high school and their priorities for these years.
Sometimes in the busyness of life, we plug along and plug along but never have time to actually figure out why. Here is a suggestion: Sit down with a cup of coffee and brainstorm a list of your top priorities. Not a fairy-tale list but a list of necessary priorities for the next four years (because high school is generally a four-year process).
Your priorities might include:
There is not a bad priority (so if someone tries a mom-shame on you, ignore it!).
Now, spend a little time with your teens and discuss their priorities for homeschooling high school. Help them clarify their goals for these years. Are they:
When you get them down on paper you and your teens will feel better. However, there are three important things you need to know:
There's no such thing as a Pinterest-perfect homeschool.
Not only that but, there's no such thing as a perfect working mom (or perfect homeschool mom of any kind)
Anything worth doing is worth doing badly. -G.K. Chesterton (my favorite quote of all time)
With those things in mind, remember that clarified priorities give you energy to: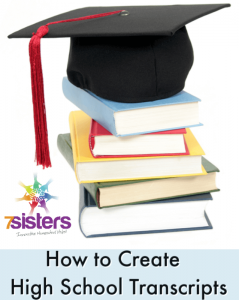 Think things through logically
Pray about them
And then, start planning!
Planning
Now, you and your teens can do some planning. Here are a couple of posts to help:
Next, get practical with some tools:
It helps to have a scheduler. Our friend, Stacey Lane Clendaniel uses apps on your phone. If you want something more comprehensive, get our friend Melanie Wilson's homeschool scheduler (and check out her posts on organization and scheduling).
Now, help your teens set up their schedules:
For this, they need to use their syllabi
They also need to use "scheduling backwards skills"
One on ones
This is the key to success. Teens, just like adults, do better when they know someone cares. The best way you can show you care when it comes to academics is to hold one-on-ones.
Many of us working moms know how these work from our jobs. A simple one-on-one might look like:
Daily- check before the day starts to see what your teens will be working on.
Weekly- check at the end of the week to see what your teens have accomplish
Mid year- check in at the mid-year to make sure everything is on task
Community
You may feel too busy for this one, but hang in there and let me explain. Even if you can only be involved a little bit, get involved in some kind of homeschool community. For instance:
Communities are places where you get the support you genuinely need in order to succeed.
In digital or IRL communities, you can:
Ask homeschool-related questions
Look for resource ideas
Have a place to share ideas
Talk to real people who really understand because they are in the same boat!
Prayer
As 7Sister Kym always says: Pray first, last and always.
For more practical tips on homeschooling high school, join the many parents who have taken our 16-lesson, online, self-paced course.
You've got this! You can do it!
And for more help encourage your teens in balancing realistic expectations in this post.
7Sisters email subscribers receive periodic practical encouragement, special offers and NO SPAM EVER.

Click the image above to periodically receive real homeschool value in your inbox.