Help your teen create SMART goals. Teens have lots of ideas but often don't know how to accomplish them. Here are steps for teaching them to set and achieve goals.
Help Your Teen Create SMART Goals for the New Year
Having raised five homeschool high schoolers of my own, I understand how wonderful and challenging it can be for us moms to watch them in their idealistic glory. Every new year, many teens (and their parents, we know) set goals for themselves:
"THIS year, I'm going to…."
At the end of the year, many times those goals were not achieved. For many homeschool high schoolers (and their parents, really), there are feelings of disappointment and even guilt. That sets up a cycle of self-doubt and self-doubt often brings feelings of:
Being overwhelmed
Being stuck, not able to accomplish goals
Can you relate? I know I've watched my homeschool high schoolers set and sometimes achieve their goals, sometimes forget them and sometimes get swamped in trying to figure out how to organize themselves to start and complete their goals. (I've been there myself, really.)
Many times, the problem with goals (whether a mom or a teen is setting the goals) is that we think that a goal is an endpoint, not a process. Successful goal-setting requires process-setting also.
How can you teach goal setting to your teen? Teach them workable processes. Start with SMART goals.
Help your teen create SMART goals. Here's how:
SMART is an acronym for goals that are:
Specific
Measurable
Achievable
Relevant
Time-limited
To teach your homeschool high schooler to create SMART goals, help them write out the answers to the SMART questions. Put these SMART goals in writing. Remember Habakkuk 2:2, "Write the vision and make it plan…so that he may run that reads it."
BTW- SMART goals is a concept developed by George Doran in 1981. Click here to read his historic article.
Here is a modification of Doran's SMART goals that has worked for me.
Specific: A workable goal has to be specific. Answer these W's:
What are you trying to accomplish?
Why are you working on this anyway?
Who do you need to help you?
Where do you need to go to make your goal happen?
When will you finish your goal? What will your Scheduling Backwards look like? (More on Scheduling Backwards in a moment.)
Which resources will you need?
Measurable: A workable goal has to be measurable. (In other words, your homeschool high schoolers need to be able to know if and when they achieved their goals.) Answer this question:
How will you know you achieved your goal?

What has happened to tell you you met your goal? For example was your measure:
Achievable: A workable goal must be achievable. Answer this question:
Is your goal realistic? Can you really get it done?

For instance, if you are a couch potato, it might not be realistic to have the goal of running a marathon in 3 months. However, having a goal to run a 5k might be realistic. (I know several people who have used Couch to 5K to get up and get running. We are not affiliates, btw.)
Relevant: A workable goal must be relevant. Answer these question:
Does your goal matter to you? (This does not necessarily mean that you love the goal. Getting a passing grade in Chemistry may not be exciting, but it matters for meeting high school graduation requirements and college-application requirements.)
Time-limited: A workable goal must be time-limited, otherwise the process might go on-and-on and never get finished…or never even get started. Answer these questions:
When you help your teen create SMART goals, they will gain the mental discipline and life skills for genuine goal setting. These are certainly keys for success both today and in the future. (While you are teaching your homeschool high schoolers about SMART goals, you will improve your goal-setting skills, too!)
You can download these SMART Goal questions in worksheet form as our gift to you. Simply click here.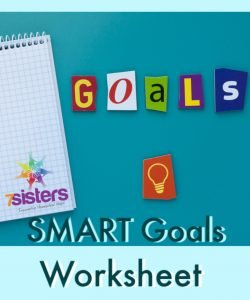 Include goal-setting skills in your homeschool high schoolers' Health curriculum. It fits perfectly in the second section of 7Sisters popular and useful Health curriculum. (If your homeschool high schoolers log hours on this project, they can use those hours if they want to *level up* to an Honors credit for their transcripts.) The second part of the Health curriculum covers healthy lifestyle and habits!
Download 7Sisters High School Health for the Whole Person for a meaningful health curriculum (in our famous, no-busywork format).
Remember: You can't fit everything in but you can be creative so that your teens has the academics they need and the extracurricular experiences they need. Here's a post to help figure out how to fit things in for homeschool high school.
Also, check out this post on how to do a goals review for your teens.
7Sisters email subscribers receive periodic practical encouragement, special offers and NO SPAM EVER.


Click the image above to periodically receive real homeschool value in your inbox.