We had a request from one of our many 7th Sisters for suggestions for high-interest books for struggling high school readers.
High-Interest Books for Struggling High-School Readers
Know anyone with homeschool high schoolers who are struggling readers? The several of the six of us 7Sisters certainly did. (BTW: Who's the 7th Sister? YOU are!)
It is tough being a teen who struggles with dyslexia or other issues that slow the reading process down. Having reading difficulties can really shake a teen's confidence and sometimes trigger arguments or resistance. Here are some tips:
Make sure your homeschool high schoolers understand that reading difficulties DO NOT:
Limit their intelligence
Limit their gifts (As we always say, "All kids are gifted in God's eyes!".
Make them less than their peers
But the truth is, at high school level, whether they struggle or not, homeschool high schoolers must read. Each one must have a booklist that shows that they have been reading.
Since our teens need a booklist for Language Arts credit, we asked our teens who struggled in reading, their moms and homeschool graduates who remember the books that inspired them to read.
We compiled them into this high-interest books for struggling high-school readers list.
Let's start with format. The beauty of homeschooling is that your teens can make that booklist happen in a way that is right for each individual.
Books for the booklist can include:
At least some books of the Bible (get a readable version for this project or audio)
Audiobooks

Teens who have reading struggles can often listen at a higher level than they can read, so they can listen to a longer, more complex story.

Family read-alouds

Meanwhile my family has never outgrown read-alouds because we sometimes read to each other at gatherings. Some of my kids had read-alouds in their college dorm rooms.

Graphic novels

The illustrations often help with the attention and comprehension process. We have several suggestions from high schoolers in this post.

Simple reading

Reading books that are at their level, whether that level is grade level or not

Remedial books in workbook form

We like (but are not affiliates of) Edcon's Classics series

Edcon's book levels refer to their own process, not grade level. Their Level 1 is not Grade 1.

Abridged classics
Cinema Studies for Literature Learning

7Sisters has a popular series that teaches great literature themes by studying great movies: Cinema Studies for Literature Learning. Each of the movies, if done with the study guide can count as a book. (Of course, not ALL books can be recorded this way but these 15 will certainly do!)

Our friend, Ticia, has a post with more movie ideas.
Sometimes you just have to gamify the process. Why not make the booklist a reading challenge program? Here's our friend, Marcy's post on how that worked for her teen.
Here is a post with more information on creative book formats.
Note: Some supervising organizations do not like to count books that are not in actual bound-book format. While we do not agree with that, we realize we do not set the rules for anyone but our own homeschool high schoolers. If you run up against an obstacle like that, choose bound-books that are the simplest, shortest and highest-interest for your teens.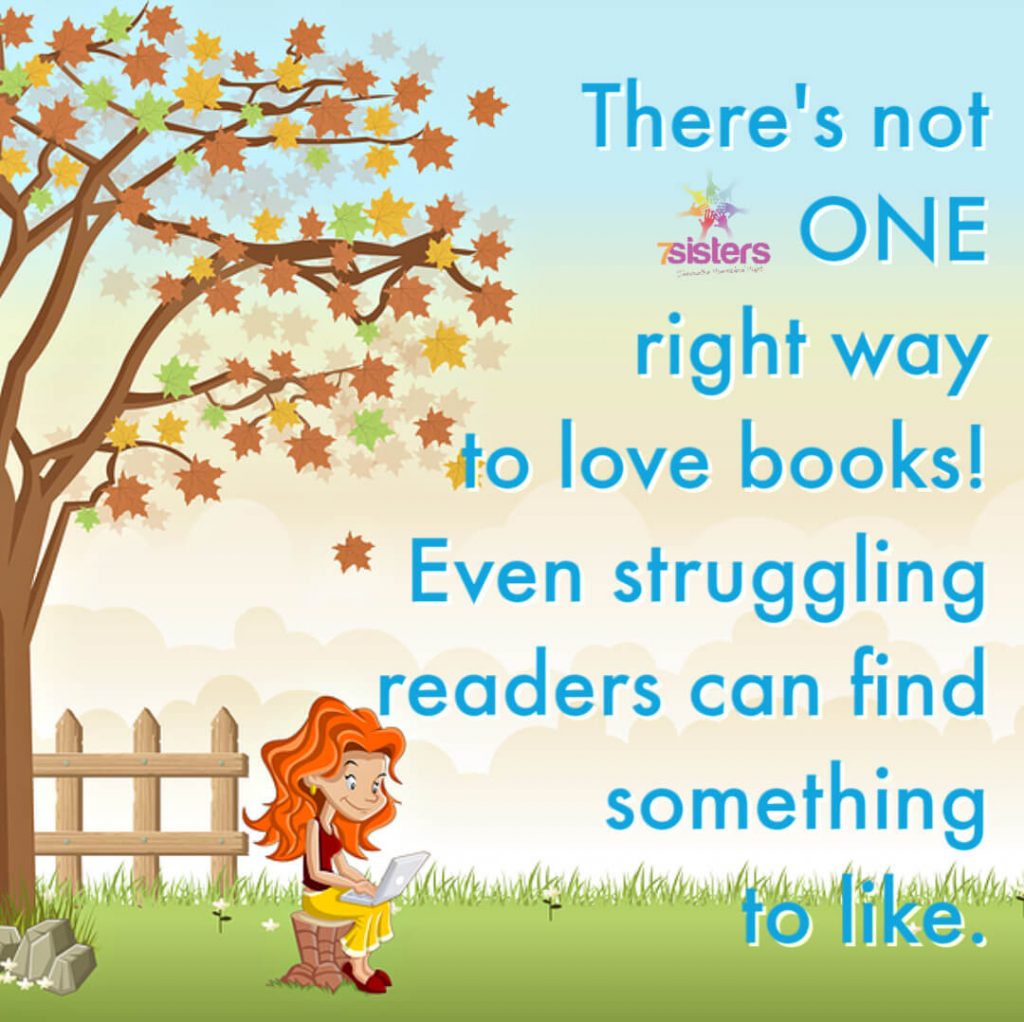 Now, here's the list of high-interest books for struggling high-school readers
Likewise, these are suggested by teens who are struggling readers, their moms and homeschool graduates who remember the books that helped them learn to love reading.
Various authors

High Noon Books (high interest, low reading level chapter books. We are not affiliates.)
Books by Sigmund Brouwer (prolific Christian author. Kym's struggling readers LOVED his Lightning on Ice sports series for teens. Again, we are not affiliates.)
Gary Paulsen novels such as Hatchet
Rick Riordan's Percy Jackson series
Meg Cabot books
How to Train Your Dragon series (teens recommend the David Tennant audio version)
How to Argue with a Cat

Graphic novels

Myth-Fantasy novels

Newbery Award Winners

Holes
Lincoln, A Photobiography

Biographies

God's Smuggler
Heroes of History (Bengebooks.com. We are not affiliates, but our kids have loved the series.)
Lastly, want some more information on reading for struggling readers? Check out our friends at SPED Homeschool.
However, what books would your struggling readers add to this list?
Just like there is no one right way to homeschool, there are numerous approaches for handling literature in high school.